Photo Flash: Lifeline Theatre's THE TRUE STORY OF THE 3 LITTLE PIGS Extends thru March 2
To accommodate ticket demand, Lifeline Theatre announces eight added performances of its KidSeries production of The True Story of the 3 Little Pigs!, a family musical based on the popular children's book by Jon Scieszka and Lane Smith, with script and lyrics by Lifeline Theatre ensemble member Robert Kauzlaric (two-time Non-Equity Jeff Award-winning adaptor), music by Paul Gilvary and William Rush, and directed by Lifeline Theatre ensemble member Amanda Link. Scroll down for photos from the production!
There are two sides to every story and the long-suppressed account of the Big, Bad Wolf is finally brought to light in Piggsylvania's Trial of the Century. Can a lone wolf get a fair trial in a corrupt piggy court? And will anyone believe that all the "huffing and puffing" nonsense was just a cover-up for a simple story about a sneeze and a cup of sugar? Enter the jury box and decide the fate of Big 'n Bad in this hit musical for the entire family. This production is recommended for children ages five and up (children under two not permitted), and runs one hour with no intermission. The book is on sale in the lobby.
The True Story of the 3 Little Pigs! runs through Sunday, March 2 at Lifeline Theatre, 6912 N. Glenwood Ave. Performance times are Saturdays and Sundays at 11 a.m. and 1 p.m. Tickets are $15 and may be purchased at the Lifeline Theatre Box Office, 773.761.4477, or by visiting www.lifelinetheatre.com.
Join Lifeline Theatre every Saturday and Sunday at 12 p.m. during the run of The True Story of the 3 Little Pigs! (following the 11 a.m.show, or before the 1 p.m. show) for our Stories Come Alive! Hour. Children will get up-close and personal with the book behind the play with an interactive storytelling session and on-your-feet theatre games. The cost is only $5 per child. Reservations are recommended, though not required. Contact Lifeline Theatre at 773-761-4477 for more information.
The complete cast and production team for The True Story of the 3 Little Pigs! includes: Guest artists Allison Cain (Prudence), Diana Coates (Magill), Marissa Lessman (Rocky/Bobby/Martha/Maxwell), Amanda Roeder (Julia), and David Sajewich (Al). With understudies Alexandra Gonzalez, Bailey Heinz, Charlotte Long, and Timothy Maples. The crew includes Lifeline Theatre ensemble members Alan Donahue (Lighting Designer), Robert Kauzlaric (Adaptor), andAmanda Link (Director); with guest artists Jennifer Aparicio (Stage Manager), Benjamin W. Dawson (Production Manager), Amanda Herrmann (Properties Designer), Anthony Ingram (Sound Designer), Joanna Iwanicka (Scenic & Puppet Designer), Paul Gilvary (Co-Composer), Emily McConnell (Costume Designer), Laura McKenzie (Musical Director), Danny Osburn (Master Electrician), William Rush (Co-Composer), and Joe Schermoly (Technical Director).
Photo Credit: Suzanne Plunkett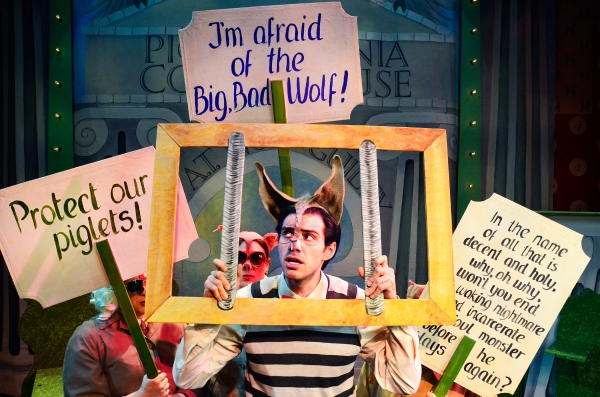 David Sajewich (The Big Bad Wolf)

Diana Coates (Magill the Reporter)

Diana Coates (Magill the Reporter), Allison Cain (Judge Prudence), and David Sajewich (The Big Bad Wolf)