Photo Flash: Goodman Theatre's A CHRISTMAS CAROL In Rehearsal
Acclaimed Chicago actor Larry Yando commands the stage as Scrooge in A Christmas Carol, "Goodman Theatre's annual Christmas gift to Chicago" (Daily Herald) for over three decades. In his 17th year with A Christmas Carol, Chicago actor/director William Brown stages the production hailed as "a joyous present for the entire family" (Chicago Sun-Times) and "ideal family fare, both heartwarming and spectacular in its familiar tale" (Chicago Tribune). The 2009 production will feature a new hand-painted backdrop designed by Olivier- and Tony Award-winning set designer Todd Rosenthal, in addition to twelve newcomers to the production. A Christmas Carol runs November 20- December 31, 2009 in the Goodman's Albert Theatre. Tickets are $25- $74 and can be purchased online at www.GoodmanTheatre.org, at the box office (170 North Dearborn) or by phone at 312.443.3800. Production sponsors for A Christmas Carol include Major Corporate Sponsor Harris Bank and Corporate Sponsor Partners Aon Corporation, AT&T and Chapman and Cutler LLP.
"As the annual holiday tradition for thousands of families, as well as the entry point to theater for a legion of young people, A Christmas Carol at the Goodman has made an astonishing impact on Chicago," said Executive Director Roche Schulfer, who was instrumental in originating the production at Goodman Theatre 32 years ago. "We are proud to consistently deliver the definitive holiday theatrical offering in our region a first-rate, glorious production that has touched the lives of over a million theatergoers."
New talents to this year's production include John Babbo (River Forest) as Tiny Tim; Susan Felder (Chicago) as Mrs. Fezziwig; Jessie Mueller (Evanston) as Belle; Christine Sherrill (St. Charles) as Mrs. Cratchit; Behzad Dabu (Chicago) as Dick Wilkins; Matt Gold (Deerfield) as Turkey Boy; Lauren Patten (Downers Grove) as Martha Cratchit; Michael Perez (Chicago) as Mr. Ortle; Nathan Sabo (Darien) as Peter Cratchit and Scrooge as a Boy; Alex Weisman (Evanston) as Ghost of Christmas Past; Mackenzie Wilkin (Wilmette) as Belinda Cratchit and Fan; Andy Truschinski (Chicago) as Young Scrooge and Ghost of Christmas Future.
Veteran Chicago actors returning to the production include Tim Gittings as Topper; Caroline Heffernan as Emily Cratchit; Katie Jeep as Abby; Anish Jethmalani as Ghost of Jacob Marley; Anne Joseph as Mrs. Crumb; Adam Poss as Percy, Ron Rains as Bob Cratchit; Matt Schwader as Fred; Brett Tuomi as Mr. Fezziwig; and Penelope Walker as Ghost of Christmas Present. Also returning to the production are musicians Justin Amolsch, Greg Hirte, Bethany Jorgensen and Malcolm Ruhl (Highland Park).
Based on Charles Dickens' 1843 novella, A Christmas Carol is the tale of the miserly Ebenezer Scrooge, who is opposed to holiday cheer and indifferent to the sufferings of the poor in Victorian London. Scrooge is visited by four ghosts who offer him the opportunity to sympathize with his fellow man. Dickens' famous characters include Scrooge's kind-hearted clerk, Bob Cratchit, and his family, including Tiny Tim; the Ghosts of Christmas Past, Present and Future; the merry-making Fezziwig couple; and the Ghost of Jacob Marley. Throughout its history at the Goodman, over 1 million people have experienced A Christmas Carol and the production has hosted six directors, seven Scrooges, 27 Tiny Tims, and nearly 20,000 "Bah, Humbug!"s.
Bio information for the company and Todd Rosenthal (Set Designer), Heidi Sue McMath (Costume Designer), Robert Christen (Lighting Designer), Cecil Averett (Sound Designer), Susan Hart (Choreographer) and Andy Hansen (Composer/Music Director) is available through Goodman Theatre's Publicity Office.
About the Director
William Brown returns for his fourth year as director of A Christmas Carol at the Goodman, where he was last seen as Ebenezer Scrooge. He recently directed the world premiere of Brett Neveu's Old Glory at Writers' Theatre where he also directed As You Like It, Another Part of The Forest, Our Town, Arms and the Man, Rocket to the Moon, Misalliance, The Glass Menagerie and Incident at Vichy. At American Players Theatre in Spring Green, Wisconsin, he directed last summer's Comedy of Errors and Hay Fever and, previously, productions of A Midsummer Night's Dream, Night of the Iguana, The Matchmaker, Twelfth Night, The Cherry Orchard, Antony and Cleopatra, All's Well That Ends Well and Shaw's You Never Can Tell. At Northlight Theatre he directed Lady Windermere's Fan, The Chalk Garden and his own musical adaptation of She Stoops to Conquer. He recently directed the Midwest premiere of Curtains for Drury Lane Oakbrook. For TimeLine Theatre Company in Chicago, he directed Steven Dietz's Halcyon Days and Paragon Springs and Tennessee Williams' Not About Nightingales. Brown is the Associate Artistic Director of Montana Shakespeare in the Parks where he most recently directed Romeo and Juliet and Heartbreak House. He received a Jeff Award for Best Actor for his portrayal of Henry Kissinger in Nixon's Nixon.
Larry Yando (Ebenezer Scrooge) returns to the Goodman, where he has appeared as Ebenezer Scrooge in A Christmas Carol for the last two years. He currently appears in Fake at Steppenwolf. Other leading Chicago roles include Titus Andronicus at Defiant Theatre; The Two Noble Kinsmen, Cymbeline, The Tempest, Timon of Athens, All's Well That Ends Well, King Lear, Henry IV Parts I and II, Antony and Cleopatra and Two Gentlemen of Verona at Chicago Shakespeare Theater; Fake, Travesties, An Ideal Husband, Ghosts, Electra, Measure for Measure, The Importance of Being Earnest and Travels with My Aunt at Court Theatre; Mother Courage at Steppenwolf Theatre Company; Bach at Leipzig, As You Like It, Nixon's Nixon and Rocket to the Moon at Writers' Theatre; The Birthday Party and Eastern Standard at Apple Tree Theatre; and I Hate Hamlet and Jacques Brel is Alive and Well and Living in Paris at Royal George Theatre. His regional credits include Angels in America, Arcadia and Amadeus at Milwaukee Repertory Theater; Glengarry GLen Ross, Cloud Nine, Betrayal, Cat on a Hot Tin Roof and Six Characters in Search of an Author at Indiana Repertory Theatre; and Burn This, I Hate Hamlet and Private Lives at Madison Repertory Theatre. Yando also performed as Scar in the national tour of The Lion King for three years. He was honored as Chicago magazine's Best Actor in Chicago and received DePaul University's prestigious Excellence in the Arts Award. Yando has taught advanced acting classes at The Theatre School at DePaul University, Northwestern University, Columbia College, Chicago Shakespeare Theater's Classical Training Program and Act One Studio's Conservatory Program. He also serves as a verse/text coach at Chicago Shakespeare Theater.
Photo credit: Liz Lauren

Christine Sherrill and Caroline Heffernan

Behzad Dabu, Ron Rains, Matthew Gold, John Francis Babbo, Nathan Sabo, Christine Sherrill and Mackenzie Wilkin

Greg Hirte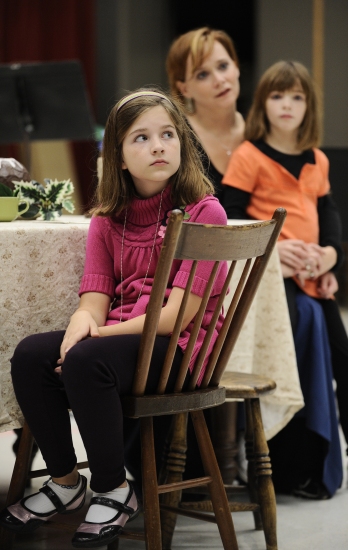 Mackenzie Wilkin, Christine Sherrill and Caroline Heffernan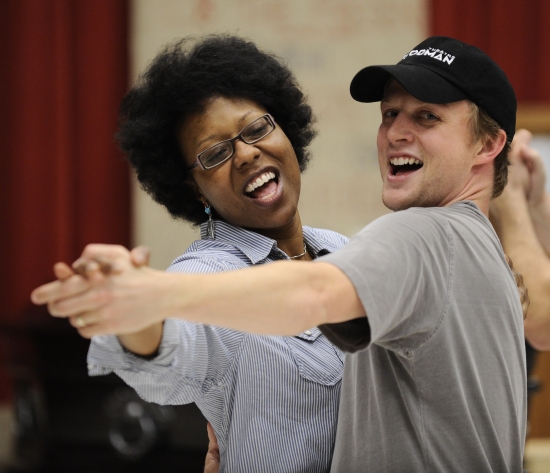 Penelope Walker and Matt Schwader

Katie Jeep and Caroline Heffernan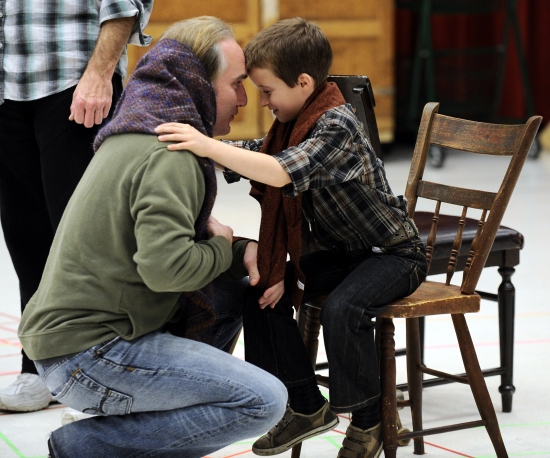 Ron Rains and John Francis Babbo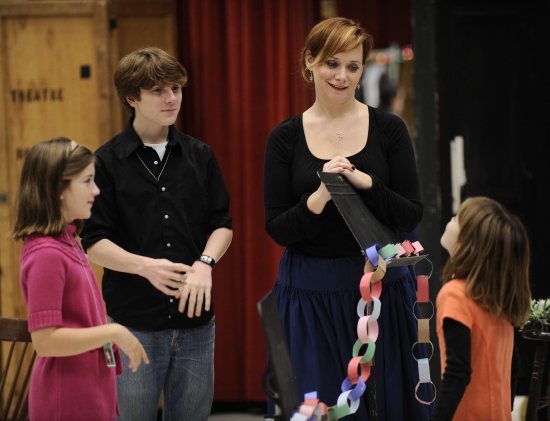 Mackenzie Wilkin, Nathan Sabo, Christine Sherrill and Caroline Heffernan

John Francis Babbo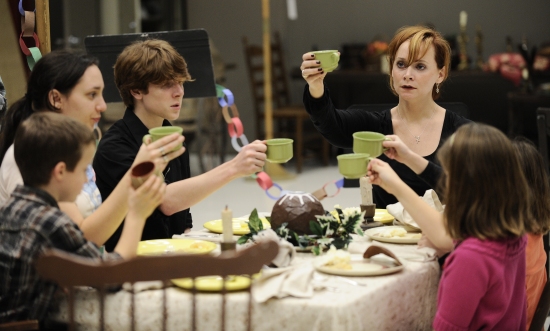 Christine Sherrill, Caroline Heffernan, Mackenzie Wilkin, John Francis Babbo, Lauren Patten and Nathan Sabo

Lauren Patten, director William Brown, Ron Rains and Christine Sherrill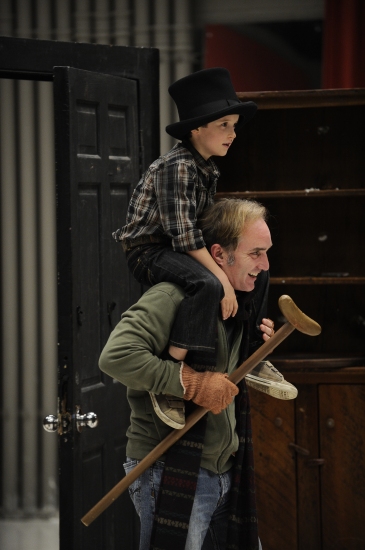 John Francis Babbo and Ron Rains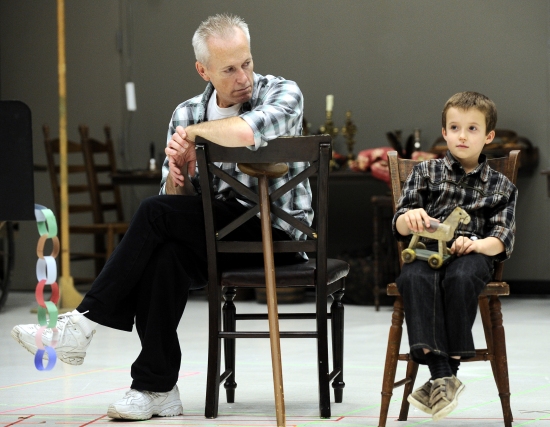 Larry Yando and John Francis Babbo