Photos: First Look at Sideshow Theatre's 9 CIRCLES, Opening Tonight
Sideshow Theatre Company, in association with the Chicago Department of Cultural Affairs and Special Events, is pleased to open its 2013-14 season with the Chicago premiere of 9 CIRCLES by Bill Cain, directed by Marti Lyons, playing now through October 6, 2013 at The DCASE Storefront Theater, 66 E. Randolph St. in Chicago. BroadwayWorld has a first look at the cast in action below!
9 CIRCLES features Sideshow Artistic Associate Andy Luther (Sideshow's The Gacy Play) with Andrew Goetten (ATC's The Big Meal) Amanda Dahl Powell (UrbanTheatre's Brainpeople) and Jude Roche (The Hypocrites' Coriolanus).
Private Daniel Reeves was never good at anything but being in the army. Now he stands accused of a horrific war crime and has been disowned by the nation that recruited him. As he sits in a cell and awaits his day of judgment, time seems to expand and contract around him, while a surreal progression of lawyers, clergy and his own memories carry him deeper and deeper into his alleged crimes. Can he find any light to guide him out of the darkness, or will the weight of his past bind him down? Sideshow returns to its roots - examining Dante's Inferno with a startling and searingly relevant Chicago premiere that provides a razor-sharp look at the search for life in a place that seems made to extinguish it.
The production team for 9 CIRCLES includes: Courtney O'Neill (scenic designer), Kristin DeiTos (costume designer), Mac Vaughey (lighting designer), Artistic Associate Christopher M. LaPorte (sound designer), Michael Huey (composer), Ryan Milosevich (technical director), Arianna Soloway (properties coordinator), Jeffrey Gardner (dramaturg), Cate Anderson and Brittany Parlor (stage managers) and Benjamin W. Dawson (production manager).
The show runs at the DCASE Storefront Theater, 66 E. Randolph St. in Chicago. Press Performance: TONIGHT, September 5 at 7:30 pm. Gala Opening: Friday, September 6 at 7:30 pm. Regular run: Friday, September 6 - Sunday, October 6, 2013. Curtain Times: Thursday, Fridays and Saturdays at 7:30 pm; Sundays at 2 pm. Tickets: Previews: $10 in advance or pay-what-you-can at the door. Regular run: $15. Tickets are available at www.sideshowtheatre.org.
Photo Credit: Jonathan L. Green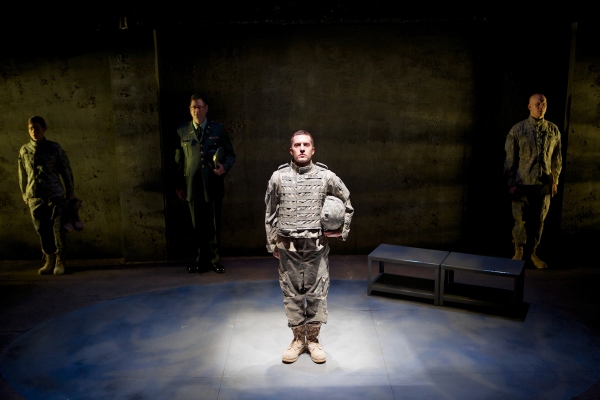 Andrew Goetten (front center) with (back, left to right) Amanda Dahl Powell, Andy Luther and Jude Roche

Andy Luther and Andrew Goetten

Amanda Dahl Powell and Andrew Goetten