Photo Flash: First Look at American Blues Theater's IT'S A WONDERFUL LIFE: LIVE IN CHICAGO!
American Blues Theater, Chicago's second oldest Equity ensemble, is proud to announce the return of the critically acclaimed IT'S A WONDERFUL LIFE: LIVE IN CHICAGO!, on the main stage of the Greenhouse Theater Center, 2257 N. Lincoln Ave., now through December 27. The opening night performance is this Wednesday, Nov. 25 at 7:30p.m. BroadwayWorld has a first look at the cast in action below!
From the original Ensemble that brought this holiday tradition to Chicago since 2002, the American Blues family takes you back to a 1940s radio broadcast of Frank Capra's holiday classic-It's a Wonderful Life (based on the short story "The Greatest Gift" by Philip Van Doren Stern) with live Foley sound effects, an original score and a critically-acclaimed cast of eight that bring the entire town of Bedford Falls to life. This production that has been called "perfect Christmas theater" and "first-class holiday fare" returns to the Greenhouse Theater Center this season.
Once you walk through the doors, you will be transported back to the "Golden Age of Radio" and experience the story of George Bailey like never before. In addition to the heart-warming story performed, the production includes 1940s-style commercials from actual local sponsors, holiday carols, telegrams from the audience read live on the stage, the "Soldier Spotlight;" when American Blues Theater honors one serviceman or servicewoman per performance; and after the show, the entire audience is invited to join the cast and crew for milk and cookies.The 2015 production includes a new George and Mary Bailey, Artistic Affiliate Zach Kenney and Amanda Tanguay. Gwendolyn Whiteside, who played Mary Bailey for six years, updates the pre-show entertainment and the production and directs Kenney and Tanguay in the tradition of American Blues' award-winning ensemble acting. The performance also includes musical additions by Music Director Michael Mahler and Austin Cook's original score for the production.
Returning are American Blues Theater Ensemble Members John Mohrlein (Mr. Potter/Clarence) and Michael Mahler(pianist/announcer). Also returning this year are American Blues Theater Artistic Affiliates James Joseph(Uncle Billy), Jarrod Zimmerman (Harry) and Shawn Goudie (Foley artist) with guest artist Denice Mahler (Violet).
The production crew includes American Blues Theater artists Marty Higginbotham (original direction); Gwendolyn Whiteside (direction); Michael Mahler (music direction); Samantha Jones (co-costume design), Christopher Neville (co-costume design), Austin Cook (underscore composer), Grant Sabin (scenic design), Kathryn Lochert (stage manager), Arianna Soloway (props), Paul Deziel (video) and guest artist Katy Peterson (lighting design).
The running time is approximately 90 minutes. Tickets are $19 - $49 and are on sale now through the box office 773.404.7336 or online at AmericanBluesTheater.com.
Photo Credit: Johnny Knight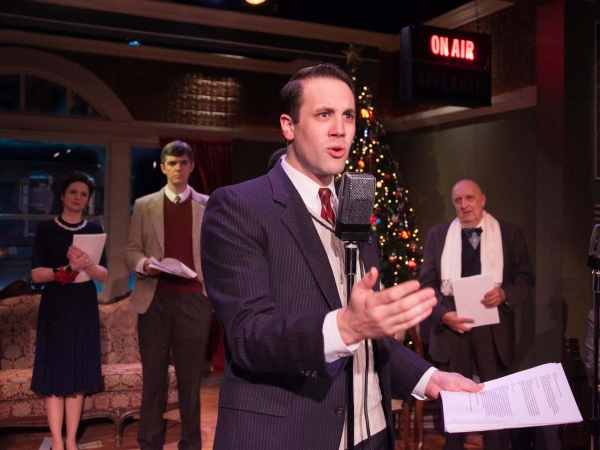 Zach Kenney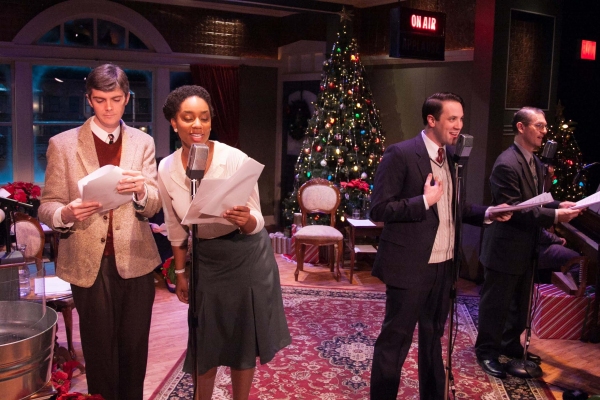 Jarrod Zimmerman, Camille Robinson, Zach Kenney and James Joseph

James Joseph, Zach Kenney and John Mohrlein

Zach Kenney and Amanda Tanguay

The cast of IT'S A WONDERFUL LIFE: LIVE IN CHICAGO!