Photo Flash: Attic Playhouse Presents ETHAN CLAYMORE
ATTIC PLAYHOUSE PRESENTS Ethan Claymore, a reclusive artist and struggling egg farmer, has given up looking for love or laughter...even if Christmas is just a week away. Much to his surprise, Ethan is visited by the spirit of his long-estranged older brother, who - along with an enthusiastically meddlesome neighbor and the town's pretty, new school teacher - is determined to bring the sparkle back into Ethan's life. An uplifting and magical holiday comedy by the same author of "Drinking Alone" and "The Affections of May". A Chicago area Premiere!
Ethan Claymore
by Norm Foster
November 12 - December 19, 2010
Performances: Fridays & Saturdays at 8 p.m. and Sundays at 3 p.m.
(Cast of "Ethan Claymore": Top row - Philena Gilmer (as "Teresa Pike"), Jeff SegalL (as "Martin Claymore"), DEAN GALLAGHER (as "Douglas McClaren")
Bottom row - DYLAN ROSE (as "Young Ethan"), ROBERT ARBAUGH (as "Ethan Claymore") and DANNY MULAE (as "Young Martin")
Featuring:
ROBERT ARBAUGH as "Ethan Claymore"
DEAN GALLAGHER as "Douglas McClaren"
Philena Gilmer
as "Teresa Pike"
DANNY MULAE as "Young Martin"
DYLAN ROSE as "Young Ethan"
Jeff Segal
L as "Martin Claymore" Director:
DONNA LUBOW
Assistant Director:
AMY T. DICKINSON
Producer:
KIMBERLY LOUGHLIN
Set Designer / Technical Director:
JACK ZORDAN
Lighting Designer:
FRANK ROSE
Stage Crew:
JOSH PHILLIPS
Box Office:
LAURAL A. REINHART
LORETTA LOUGHLIN
TOM LOUGHLINCALL (847) 433-2660 FOR TICKETS!
Tickets are $20 with advanced purchase and $22 at door.
Special discounts for Season Subscribers and Groups of 20 or more
General Admission - Reserved seating for groups of 20 or more - Tickets are non-refundable
ATTIC PLAYHOUSE is located at 410 Sheridan Road, Highwood, Illinois.
(Just north of Route 22 / Half Day Road - One block east of Green Bay Road - Across from the Highwood train station)"Produced by special arrangement with PLAYWRIGHTS GUILD OF CANADA - www.playwrightsguild.ca"More about "ETHAN CLAYMORE"...
Norm Foster's play "ETHAN CLAYMORE" was first produced at the Grand Theatre In London Ontario in October of 1998. Attic Playhouse is thrilled to present the Chicago area Premiere of "Ethan Claymore", and it's second production for Illinois. Having performed two other of Norm Foster's hit plays our last two seasons (the Midwest Premiere of "Drinking Alone" in 2008, and the Illinois Premiere of "The Affections of May" in 2009 ), we are excited to introduce another one of his works to our patrons! NORM FOSTER (Playwright) was born in Newmarket, Ontario on St. Valentine's Day. Raised in Toronto, he attended West Hill Collegiate Institute and then went on to study Radio & Television Arts at Centennial College in Toronto and then Confederation College in Thunder Bay. Upon completion of his studies, he began a radio career that would span 25 years and which would take him from Thunder Bay to Winnipeg, to Kingston, and finally to Fredericton, New Brunswick. It was in Fredericton in 1980 that Norm was introduced to the world of theatre. "A friend of mine was going to audition for a community theatre production of 'Harvey' and he asked me to go along. I went, just for a lark, and I wound up getting the part of Elwood P. Dowd. The funny thing is, I had never even seen a play in my life before this." Foster fell in love with the theatre right then and there, and two years later he penned his first professionally produced play, "Sinners". It was produced by Theatre New Brunswick and directed by
Malcolm Black
, who would also direct Foster's next effort - the highly successful "The Melville Boys". "The Melville Boys" would go on to be produced across Canada and in the United States, including a well-received run off-Broadway in New York. It would become Foster's signature play, and the one which would bring his name to the forefront of Canadian theatre. Since then, Norm Foster has produced an astonishing output of work - nearly forty plays in all; including "The Affections of May", the most produced play in Canada in 1991. He has also written a musical with composer
Leslie Arden
("The Last Resort") and four musicals ("Jasper Station", "Race Day", "Sitting Pretty" and "One Moment") with composer Steve Thomas. Foster's plays are known mainly for their comedic qualities, but they are not without their serious moments as well. "I find it far more satisfying if I can make an audience laugh and feel a little heartache within the same story. The farces ("Sinners", "Self-Help") are a lot of fun to write but it's the stories that touch an audience's heart as well as it's funnybone that are the most rewarding." Foster has had several plays published by Playwright's Union Press. They are: "Sinners", "The Melville Boys", "The Affections of May", "The Motor Trade", "Wrong For Each Other", "Office Hours", "Opening Night", "The Foursome" and "Ethan Claymore". He has also had his work published in various compilation volumes such as 'Vintage Foster.' "Looking" and "The Love List" are published by Samuel French. Norm Foster does not limit his efforts to writing. Lately, he has returned to what brought him to the theatre in the first place - acting. When asked to try and pin down a common theme that runs through his plays, Foster says he's not sure. "I think for the most part, they're about ordinary people just trying to get by in life. I never set out with a monumental purpose in mind. I'm not trying to teach an audience a lesson or pass along some profound message, because I don't think I'm qualified. What I am trying to do is make them feel a little better about this world, and that's not easy these days." (normfoster.com)


Philena Gilmer, Jeff SegalL, DEAN GALLAGHER, DYLAN ROSE, ROBERT ARBAUGH and DANNY MULAE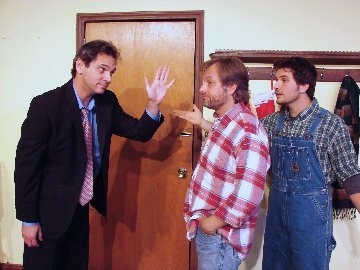 Jeff Segall, Dean Gallagher & Robert Arbaugh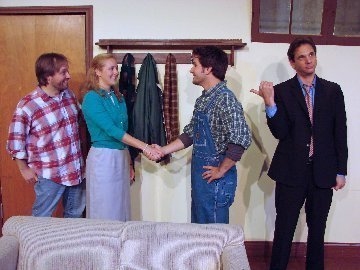 Dean Gallagher, Philena Gilmer, Robert Arbaugh & Jeff Segall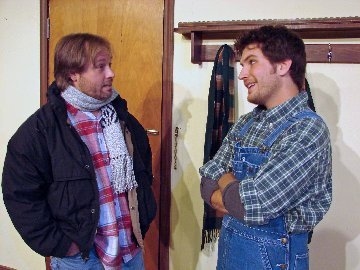 Dean Gallagher & Robert Arbaugh

Danny Mulae, Robert Arbaugh & Dylan Rose

Danny Mulae, Robert Arbaugh & Dylan Rose

Dylan Rose, Jeff Segall & Danny Mulae

Dylan Rose & Danny Mulae

Jeff Segall & Danny Mulae

Robert Arbaugh & Danny Mulae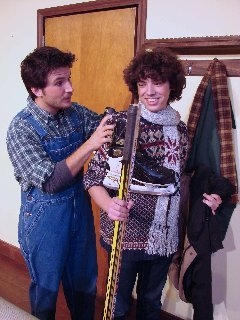 Robert Arbaugh & Danny Mulae

Robert Arbaugh & Danny Mulae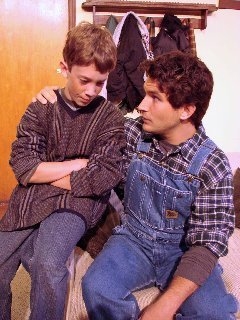 Dylan Rose and Robert Arbaugh

Dylan Rose and Robert Arbaugh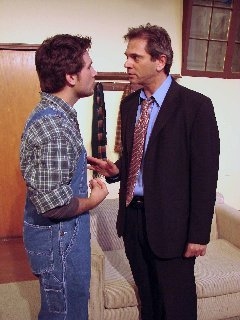 Robert Arbaugh & Jeff Segall

Robert Arbaugh & Jeff Segall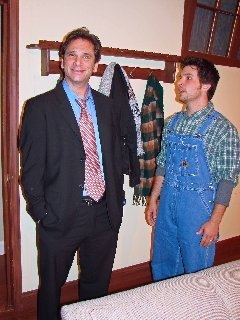 Robert Arbaugh & Jeff Segall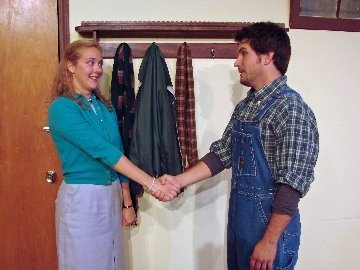 Philena Gilmer and Robert Arbaugh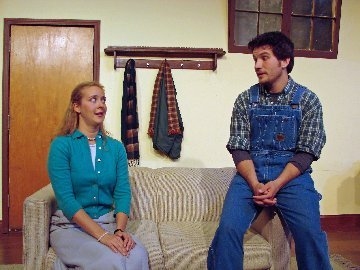 Philena Gilmer and Robert Arbaugh

Philena Gilmer and Robert Arbaugh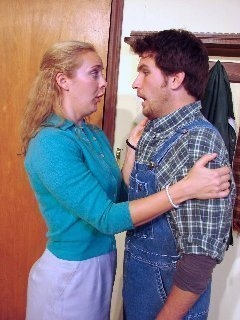 Philena Gilmer and Robert Arbaugh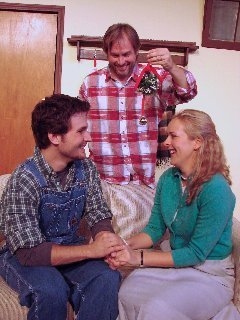 Dean Gallagher, Robert Arbaugh and Philena Gilmer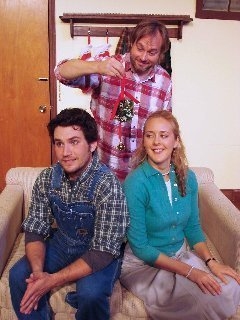 Dean Gallagher, Robert Arbaugh and Philena Gilmer

Dean Gallagher, Robert Arbaugh and Philena Gilmer

Related Articles View More Chicago

Stories

Shows
More Hot Stories For You