Otherworld Theatre Opens World's First Venue Dedicated To Sci-Fi And Fantasy Theatre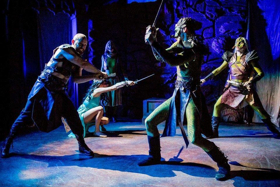 Otherworld Theatre will officially open its newly acquired theater location, 3914 N Clark Street, Chicago, IL 60613; the world's first venue dedicated to the performance of Science Fiction and Fantasy genre July 14, 2018. The property, a two-stage facility with a 120 seat main stage, 40 seat black box, bar, and lobby located a few blocks north of Wrigley Field is located at 3914 N Clark Street was home to the former Public House Theatre and Live Bait Theatre. The new season will be announced at a gala event July 14, 2018, 7:00pm - 12:00am. Tickets include food, drinks, entertainment and the 2019/2018 Season announcement. Attendees will be able to purchase 2018/2019 Season tickets before they become available to the general public. $25 tickets to the opening gala are available at www.OtherworldTheatre.org
Otherworld Theatre is Chicago's only Science Fiction and Fantasy theatre company and one of the few theatre companies in the world dedicated to live performance in these genres. The company produced mainstage theatrical productions while
itinerant in theaters with house capacities anywhere from 30 - 150 seats, utilizing various venues in the Chicago area.
Otherworld plans to maintain its mission to keep theatre accessible for all. All mainstage tickets are pay-what-you-can,
allowing people of any and all means to experience live performance.
While the focus of Otherworld Theatre will remain theatrical productions, the company also plans to use the new space to create a unique community hub for fans of Science Fiction and Fantasy genres that celebrates geek culture unlike anywhere else in the world. The company will host community events like cosplay meetups, premier watching parties, trivia nights, game nights, and more. Otherworld will also develop daytime classes, including stage combat workshops run by Resident Fight Director Kai Young. Otherworld describes their target audience as anyone who enjoys live performance, Science Fiction and Fantasy literature, film, and television, and fandoms that fall within "popular geek culture".
"We are extremely proud to create a space that celebrates Science Fiction and Fantasy performance and provide a community hub for fans of all stripes to explore their passions for these genres and express themselves in a safe and inviting environment. Whether you are mildly interested in Science Fiction and Fantasy or a die hard fan, we welcome you to Otherworld Theatre to enjoy these stories together," said Tiffany Keane Schaefer, Otherworld Theatre founding artistic director.
"I am very excited for this chance to have a dedicated theater space for Otherworld Theatre, especially in such a prominent location. Otherworld has been putting out quality entertainment but to have a facility like this will just allow for an even higher level of quality. More important, having this dedicated space for such a unique purpose, as this will be the only theater in the country dedicated to science fiction and fantasy, is sure to not only draw a large local following but act as a tourist attraction for visitors. This will become a space were I will end up spending a lot of my idle time," said Otherworld board member Rhys Read.
Otherworld already supplements programming with community-based events and one-off shows, tapping into the fandoms that surround its unique genre focus. Otherworld's Juggernaut Film Festival, a Science Fiction and Fantasy film festival draws submissions and attendees from all over the world and is hosted annually at Chicago's Music Box Theatre drawing hundreds of patrons. The company routinely engages with their fans and patrons through other small artistic events, like the monthly reading and talkback series, convention panels, galas, and more.
Otherworld targets theatre patrons of all ages, genders, and races, with a particular focus on fans of Science Fiction and Fantasy, or "genre" storytelling. This is a large, underserved market, particularly when it comes to live theatre. Otherworld's productions reach a wide ranging audience and multiple fandoms. Several of the productions (Fight Quest, A Princess of Mars) attracted families, while others targeted genre-specific fans such as the Steampunk and Dieselpunk community with The Rogue Aviator, and the horror and vampire fandoms for the immersive, site-specific play, Gone Dark.
Otherworld Theatre Company, a non-profit arts organization, was founded in June 2012 with the mission to bring a theatrical experience to the science fiction and fantasy genre. Our work celebrates the depth of human imagination by engaging our patrons with high quality storytelling. Otherworld Theatre also curates events to create dialogue between patrons and artists, furthering our connection to the Chicago community.