Ken Clark, Christy Altomare & More Star in Drury Lane Theatre's CAMELOT, Beginning Tonight
Drury Lane Theatre presents the iconic love story CAMELOT, the winner of four Tony Awards, previewing tonight, October 30, opening November 6 and running through January 4, 2015.
The all-star cast is led by Ken Clark (Titanic on Broadway, First National Tour of La Cage Aux Folles, Netflix's House of Cards) as "King Arthur," Christy Altomare (Mamma Mia! on Broadway and First National Tour of Spring Awakening) as "Guenevere," and Travis Taylor (LES MISERABLES and Young Frankenstein at Drury Lane Theatre) as "Lancelot." CAMELOT is directed by Alan Souza (World Premiere musicals The Little Hours and Exposure Time for New Jersey Repertory Theatre, and The Full Monty for Maltz Jupiter Theatre) making his Chicago debut.
Drury Lane's production shines new light on this majestic musical that will feature new orchestrations by Matt Aument and a unique scenic approach that blends medieval fantasy with the opulence of the 12th Century court life.
Adapted from T.H. White's novel The Once and Future King, the legendary characters King Arthur, Queen Guenevere, Sir Lancelot and Merlyn come alive in this thrilling story of love and intrigue, chivalry and betrayal. According to Souza, "The legend of King Arthur inspires a dream of strength giving way to justice and highlights the aching passions that both inspire idealism yet falter in their thrust towards glory."
CAMELOT originally opened on Broadway in 1960 starring Julie Andrews and Richard Burton and spawned several revivals and an Academy Award-winning 1967 film version. CAMELOT won four 1961 Tony Awards and the 1961 original cast recording was number one on the Billboard Pop Albums chart for 60 weeks. The lush, romantic score includes "If Ever I Would Leave You," "Camelot," "How to Handle a Woman," and "I Wonder What the King is Doing Tonight."
The cast also includes Jonathan Weir (National Tours of Jersey Boys, and The Lion King) as "Merlyn" and "Pellinore," Patrick Rooney (Next to Normal at Drury Lane Theatre) as "Mordred," and Gabriel Stern (A Christmas Carol at Theatre at the Center) as "Tom of Warwick." The ensemble includes Alec Barbour, Michael Brown, Don Denton, Devin DeSantis, J. Michael Finley, Nathan Gardner, Travis A. Knight, Philip Lacey, Megan Long, Henry McGinniss, Keewa Nurullah, Erin Oechsel, Tony Pellegrino, Allison Sill, Andrea Louise Soule, and Glenn Stanton.
The intricately designed set by Jeff Award-winning Scenic Director Kevin Depinet (The Game's Afoot at Drury Lane Theatre and Set Designer for the film Public Enemies) brilliantly depicts the changing seasons to represent the passage of time in the kingdom. Heavy armor and lush gowns trimmed with fur typify the regality of the costume design by Maggie Hofmann (The Game's Afoot and Young Frankenstein at Drury Lane Theatre). The artistic team also includes Lee Fiskness as Lighting Designer (Young Frankenstein at Drury Lane Theatre), Rick Jarvie as Wig Designer (The Game's Afoot and Sound of Music at Drury Lane Theatre), Ray Nardelli as Sound Designer (The Game's Afoot, The 25th Annual Putnam County Spelling Bee, LES MISERABLES, Miss Saigon, Young Frankenstein, Next to Normal at Drury Lane Theatre), John Tovar as Fight Choreographer (Seven Brides for Seven Brothers at Drury Lane Theatre), and Nick Heggestad as Properties Design (The Game's Afoot, The 25th Annual Putnam County Spelling Bee at Drury Lane Theatre).
The performance schedule for CAMELOT is as follows: Wednesdays at 1:30 p.m. ($40), Thursdays at 1:30 p.m. ($40) and 8 p.m. ($50), Fridays at 8 p.m. ($55), Saturdays at 5 p.m. ($55), and 8:30 p.m. ($55), and Sundays at 2 p.m. ($55), and 6 p.m. ($50). Lunch and dinner theatre packages are available. Student group tickets start as low as $30 and Senior Citizens start at $35 for matinees and $50 for a matinee luncheon package. For reservations, call the Drury Lane Theatre box office at 630.530.0111, call TicketMaster at 800.745.3000 or visit www.drurylane.com.
| | |
| --- | --- |
| Vote Now for the 2022 BroadwayWorld Chicago Awards | |
| voting ends in | |
More Hot Stories For You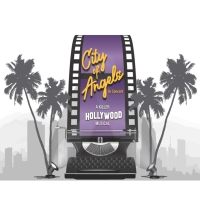 BrightSide Theatre Presents CITY OF ANGELS in Concert Next Month

December 9, 2022

​​​​​​​BrightSide Theatre, Naperville's only professional theatre performing in the historic downtown district, continues with their Season 10 Again – to Fully Celebrate our 10th Anniversary – with this "killer" Hollywood musical comedy. 
---
Wise Children Presents WUTHERING HEIGHTS Next Month

December 9, 2022

Chicago Shakespeare Theater's WorldStage Series returns with groundbreaking theatermaker Emma Rice's exuberant reimagining of Emily Brontë's gothic masterpiece, Wuthering Heights. 
---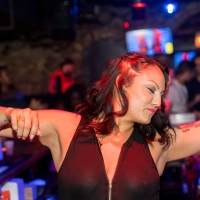 The Original Mother's Returns To Its Live Music Roots With Weekly Performances

December 9, 2022

​​​​​​​The Original Mother's, located at 26 W Division St, has announced the debut of weekly live concerts and live band karaoke. A return to its roots with live music at its pulse, Mother's dance floor— the oldest and largest on Division street— will be the place to gather and revel in live performances every Thursday, Friday, and Saturday.
---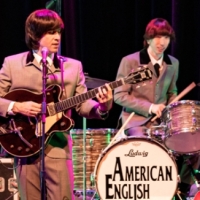 Kick Off 2023 With Beatles Tribute AMERICAN ENGLISH The U.S. Capitol Albums Show At Raue Center 

December 8, 2022

Kick off 2023 with a musical blast from the past! Raue Center For The Arts will welcome the award-winning Beatles tribute band, American English, back to the stage for another look into The Beatles' vast history book at 8 p.m. on December 31, 2022.
---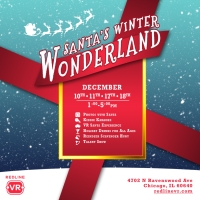 Ravenswood's Redline VR Announces A Santa Photo Experience For Youth, SANTA'S WINTER WONDERLAND

December 8, 2022

Redline VR, located at 4702 N. Ravenswood, is Chicago's immersive entertainment center and virtual reality arcade bar. This Holiday season, Redline VR is welcoming Santa and other actors to transform the bar into a Winter Wonderland.
---