Click Here for More Articles on Ballet!
Joffrey Ballet Announces Winners of 2018 'Winning Works' Choreographic Competition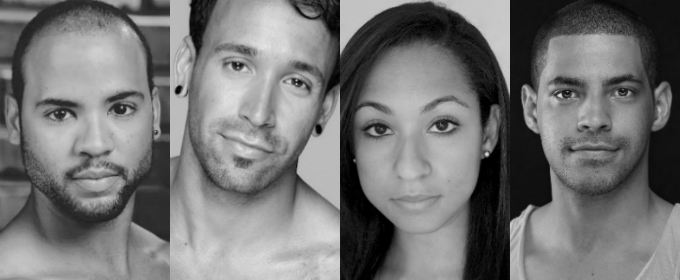 The Joffrey Academy of Dance, Official School of The Joffrey Ballet, announces the recipients of the eighth annual Winning Works Choreographic Competition: Telmo Moreira, Omar Román De Jesús, Claudia Schreier and Luis Vazquez.
This announcement follows a national call for ALAANA (African, Latino(a), Asian, Arab and Native American) artists to submit applications, which began in June.
The choreographers' world premiere works will be showcased on the members of the Joffrey Studio Company and the Joffrey Academy Trainee Program. "Winning Works" returns to the Museum of Contemporary Art Chicago's Edlis Neeson Theater (220 E. Chicago Avenue) for three performances, Saturday, March 3 at 2:00 PM and 7:30 PM and Sunday, March 4 at 2:00 PM. Tickets for "Winning Works" are $25 and now available for purchase at joffrey.org/winningworks.
The Winning Works Choreographic Competition was created to recognize talented and emerging ALAANA choreographers and to provide them with a platform to showcase their original and innovative work. The winning choreographers are awarded a $5,000 stipend and have the opportunity to seek guidance from Joffrey Artistic Director Ashley Wheater and Head of Studio Company and Trainee Program Raymond Rodriguez.
"These wonderful artists have demonstrated exceptional talent, and we're so pleased they will have an opportunity to work with the members of our Studio Company and Academy trainees to create original material," said Wheater. "As in past years, the process is invaluable-from promoting rising choreographers to giving our young dancers a professional experience unlike anything else."
"We take a holistic approach to the education and training of our Studio Company and Academy members," said Rodriguez. "Part of that approach is introducing them to new people with new ideas. Winning Works is wonderful because it encourages the type of thoughtful, diverse thinking that young people need as they pursue their professional careers."
---
Telmo Moreira began his training at the National Conservatory Dance school of Portugal. After being awarded one of the top prizes in the 2007 Prix de Lausanne, he received a scholarship to complete his studies at the Vaganova Ballet Academy, where he had the opportunity to perform Flower Festival Pas de deux at the Marinsky Theatre in St. Petersburg. Moreira has also received the Outstanding European Dancer award at the Youth American Grand Prix (YAGP) finals, the Judges Prize at the 2008 Varna International Ballet Competition, was a finalist at the 2008 Bejing IBC, and was a semi-finalist in Jackson USA IBC 2014. After competing in the Prix de Lausanne for the second time, Moreira received the apprenticeship award and chose to join American Ballet Theatre's Second Company, where he danced works by Jerome Robbins, George Balanchine, and Eduard Liang. Moreira has been invited to participate in international galas such as YAGP Japan's Gala. Moreira joined Orlando Balled in 2011 where he danced numerous leading roles and danced works by Jessica Lang, Peter Chu, Abdur Jackson, Robert Hill, George Balanchine, and Jerome Robbins. During his time with the company, Moreira had the opportunity to choreograph his own ballets and created Barco Negro (2014) Unsaid (2015) and Same Old Fear (2016). He also created his own production of Firebird for Florida Ballet. In 2016, he won best choreography at the YAGP regionals in Tampa. In September 2017, Moreirabecame a full-time faculty member with the Rock school.
Omar Román De Jesús began his formal training at the School for the Performing Arts in Guaynabo, Puerto Rico. Román was a member of Balleteatro Nacional de Puerto Rico from 2006-2011. During this period, he won the Championship Cup and Gold Medal at the National Dance Competition in Puerto Rico. He received a scholarship to the Ailey School in 2011 and he recently finished his fourth season with Parsons Dance. Román has presented his choreography at Baruch Performing Arts Center, Peridance Capezio Center, Sala Sinfónica Pablo Casals, Joe's Pub, Ailey Citigroup Theater, the 14 Street Y and The Joyce Theater. In 2013, Román's piece, (DES)PAIR, received the audience award at the Dance Gallery Festival. Following this, the piece was commissioned by Instituto de Cultura de Puerto Rico. After presenting his work SAAKASU at Reverb Dance Festival, Román won a commission for the Steps Repertory Ensemble. This year, Instituto de Cultura de Puerto Rico commissioned Román to create an original work for Dramadanza. After presenting his new work, EN UNA NOCHE OSCURA, he received a medal for Ambassador of Dance for the International Festival of Dance 2017. Recently, Román's new piece, DANIEL, was commissioned by Parsons Dance for the company's 2017 Joyce season as part of its initiative to support emerging choreographers through David Parsons' GenerationNow Fellowship.
Claudia Schreier has been commissioned by organizations including the Vail Dance Festival, New York Choreographic Institute, Ballet Academy East, and The Ailey School. Since 2015, Claudia Schreier & Company has presented several full-evening length performances of her choreography featuring dancers from New York City Ballet, American Ballet Theatre, Miami City Ballet, Dance Theatre of Harlem, and other leading companies. In 2017, the company made its Joyce Theater debut, which included three world premieres choreographed for former NYCB principal Wendy Whelan, current principal Jared Angle, and soloist Unity Phelan. Schreier serves as rehearsal assistant to Damian Woetzel and has contributed to programs at the White House, Jazz at Lincoln Center, New York City Center and the Kennedy Center. She is the recipient of the 2017 Virginia B. Toulmin Fellowship at the Center for Ballet and the Arts at NYU; other awards include the 2017 Lotos Foundation Prize, the 2014 Breaking Glass Competition Prize, and the 2008 Suzanne Farrell Dance Prize. She has been featured in The New York Times, Dance Magazine, Pointe, ELLE, and Harvard Magazine and was a featured guest on the television program Black America. Schreier received a B.A. from Harvard University in 2008.
Luis Vazquez was born and raised in Chicago and began his dance training with various studios throughout the city, before attending the dance program at Interlochen Summer Arts Camp with an emphasis in modern technique. His passion for dance grew as he went on to earn his BFA in Dance from the University of Illinois at Urbana Champaign. While studying at the University of Illinois, he had the pleasure of performing works by Rebecca Nettl-Fiol, Jennifer Monson, Tere O'Connor, Sahar Azimi, Elijah Gibson, and Jennifer Archibald, among many others. Vazquez continued his professional training through numerous intensives including Deeply Rooted Dance Theatre, Hubbard Street Dance Chicago, and Alonzo King LINES Ballet, for which he received a scholarship to attend. Upon graduation, Vazquez immersed himself in the Chicago dance community, participating in workshops with Visceral Dance Chicago, DanceWorks Chicago, Elements Contemporary Ballet, and Hubbard Street resident choreographer Alejandro Cerrudo. Vazquez began his professional career when he joined Thodos Dance Chicago for two seasons, where he performed works by Melissa Thodos, Ann Reinking, Brian Enos, Shannon Alvis, Kevin Iega Jeff, and Garfield Lemonius. He made his debut as a professional choreographer when his piece Siren premiered at the 2017 Thodos New Dances concert.
---
Tickets for "Winning Works" at the Museum of Contemporary Art Chicago's Edlis Neeson Theater are $25 and now available at joffrey.org/winningworks. Performances take place on Saturday, March 3 at 2:00 PM and 7:30 PM and Sunday, March 4 at 2:00 PM.
The Joffrey Studio Company is a scholarship program of the Joffrey Academy of Dance, Official School of The Joffrey Ballet. The Joffrey Studio Company consists of outstanding students selected by Joffrey Artistic Director Ashley Wheater and Head of Studio Company and Trainee Program Raymond Rodriguez. The Joffrey Studio Company and Trainees have performed on some of the most prestigious stages, including Lincoln Center in NY, the Auditorium Theatre, Harris Theater for Music and Dance, Cadillac Palace Theatre and MCA Stage in Chicago, Music Hall in LA, The Kennedy Center in Washington D.C. and more. The individualized training and performance opportunities provided by the Joffrey Studio Company offers students unique insight into the life of a professional dancer, assisting students in preparation for a professional career in dance and helping them expand their technique and artistry.
The Joffrey Academy Trainee Program is a one to two-year program for students ages 17 and older who are preparing for a professional dance career. Students are selected to participate in the Trainee Program by invitation from Artistic Director Ashley Wheater and the Head of Studio Company and Trainee Program Raymond Rodriguez. This esteemed and rigorous program gives students a unique and well-rounded experience to prepare them for the next step in their careers. Trainees rehearse and perform classical and contemporary works from The Joffrey Ballet's extensive repertoire and have the opportunity to work with guest choreographers throughout the year. Graduates of the Academy have gone on to dance professionally with companies throughout the world including The Joffrey Ballet, American Ballet Theatre, New York City Ballet, Staatsballett Berlin, Dresden Semperoper, Complexions, Milwaukee Ballet, Memphis Ballet, Kansas City Ballet, BalletMet, Polish National Ballet, Slovak National Ballet, and many more.
For more information on the Joffrey Academy of Dance, Official School of The Joffrey Ballet and its programs, visit joffrey.org/academy. Connect with the Joffrey on Facebook, Twitter and Instagram.