Hannah Starr's BOOMBOX Continues Season at Brown Paper Box Co.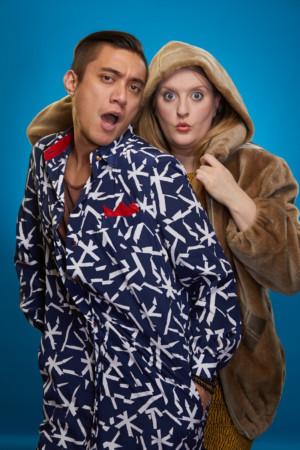 Following their Jeff Award Recommended run of Branden Jacobs-Jenkins' regional premiere of EVERYBODY, Brown Paper Box Co. continues their 2018/2019 season with a 2-night presentation of BOOMBOX: a (sort of) solo show by Jeff Award nominee Hannah Starr (they/them). BOOMBOX runs 2 nights only - November 26, 2018 and December 1, 2018 at The Frontier (1106 W Thorndale Ave.).

Performed by Jeff-nominated actor Hannah Starr (FUN HOME, Victory Gardens Theater) and their 1979 Montgomery Ward boombox, BOOMBOX: a (sort of) solo show is a theatrical sketch piece timed to a pre-recorded cassette tape. The boombox serves as the music, sound effects, and scene partner as Hannah maneuvers through the day of a working actor. Once they press "play," there's no stopping them or the show. Through characters, sketches, and song, Hannah reveals a world in which constant noise is the norm, success is mandatory, and the quest for peace is never-ending.
Opening the evenings will be Evan & Mary-Jane, a Chicago-based music comedy duo made up by Evan Mills and Brittany Flynn. The 2-night event will also feature pre-curtain raffles including a Finished Hoop from StephXStitch, Cidery Tour for 2 from Right Bee Cider, Certificate for 1 Month of Yoga from Uptown Power Core, Meal Vouchers from Chipotle, Movie Passes from Davis Theater, & more!

The staff and design team includes Zach Dries* (Photographer/Videographer), Jeremy Hollis* (Production & Stage Manager), Evan & Mary-Jane (Opening Act), Catharine Savage (Director), Charlie Sheets* (Graphic Designer), Hannah Starr (Writer & Performer), and Kristi Szczepanek* (Host).
About Brown Paper Box Co.
Based in Chicago, Brown Paper Box Co. produces theatre that connects audiences to the heart of the story and to our shared human experience. By combining smart, simple design with clear storytelling, we make traditional pieces relevant and new work accessible.

BIOS
Hannah Starr (Writer & Performer) is an actor, comedian, and writer originally from Eau Claire, WI. Hannah was in the regional premiere of Fun Home at Victory Gardens Theater, for which their portrayal of Medium Alison was recognized as one of the Top 10 Performances of 2017 by the Chicago Tribune and received a Jeff nomination for Best Supporting Performer. Other Chicago theater credits include Chicago Shakespeare Theater, No Stakes Theater Project, pH Comedy Theater, and Quest Theatre Ensemble among others. You can see them performing sketch comedy and improv regularly throughout the city, having performed at Second City, iO, The Annoyance Theater, and many others. Hannah is a graduate of Columbia College, the Second City Conservatory, and studied classical voice at the MacPhail School of Music (Minneapolis). In their spare time Hannah sleeps.

EVAN & MARY-JANE (Opening Act) Formed a little over two years ago, Evan & Mary-Jane can be seen performing all over the city. Together they have written three musical revues including Almost Holding Hands at the Second City and Hey Peter, Bye Peter at the Annoyance Theater. They have performed in the Breakout Comedy Festival, the LA Comedy Fest, and just filmed their first live comedy special Sleeping Together (In Separate Beds). https://www.youtube.com/watch?v=qHq8a2hKPHU

For additional information and ticketing information, please visit www.BrownPaperBox.org.
* denotes Brown Paper Box Co. member