HOLMES AND WATSON Opens Season at BTE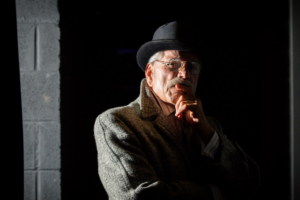 Buffalo Theatre Ensemble (BTE), the professional Equity company in residence at the McAninch Arts Center, opens its 2019-2020 season with Jeffrey Hatcher's "Holmes and Watson," directed by Ron May, Sept. 5-Oct. 6. There will be a preview performance Thursday, Sept. 5. Press opening is Friday, Oct. 6. Full of twists and turns, this is a riveting and clever adventure from award-winning playwright Hatcher, who co-wrote the stage adaptation of "Tuesdays with Morrie" with author Mitch Albom and penned the screenplay to the 2015 film "Mr. Holmes" starring Ian McKellen.
Three years following the mysterious "death" of Sherlock Holmes at Reichenbach Falls, there have been many who have claimed to be Holmes, all de-bunked as imposters by the faithful partner of the sleuth, Watson. Now three separate men insist that they are the famous sleuth, having survived that encounter at the Falls. "Holmes and Watson" was commissioned by the Arizona Theatre Company for its 2016-2017 50th anniversary season.
The cast features Buffalo Theatre Ensemble members Robyn Coffin* (Matron), Kurt Naebig* (Holmes #1) and Norm Woodel* (Watson). The cast also includes Ken Borden (Sherlock #2), Matt Penn (Dr. Evans), Mike Speller (Holmes #3) and Steven Winterstein (The Orderly).
Director Ron May is a COD alum (Class of 1994) and past John Belushi Scholarship recipient who studied with BTE Artistic Director Connie Canaday Howard. Says May, "Back when I was a student at COD, it was Connie that suggested I turn my focus to directing. Her suggestion changed the direction of my life so I see the chance to direct for BTE as an opportunity to complete a wonderful karmic circle."
May is also the founding Artistic Director for Tempe Arizona's Stray Cat Theatre where he has directed more than three dozen shows. Other directing credits include Phoenix Theatre Actors Theatre, Phoenix's Nearly Naked Theatre, Black Theatre Troupe and Planet Earth Theatre and Arizona State University's Mainstage in Tempe, Ariz. He was named a finalist for the 2018 Zelda Fichandler Award recognizing an individual who has made, and who continues to make, a significant contribution to their community through extraordinary work in theater in the Western region of the U.S. He also was nominated as an Artist for the 2019 Governor's Arts Award.
The rest of the artistic/design team includes Pauline Olesky (Scenic Design), Rachel Lambert (Costume/Hair/Makeup Design), Claire Chrzan (Lighting Design), Christopher Kriz* (Sound Composition and Design) and Amanda Herrmann (Properties Design). Violence choreographer is John Tovar. Stephanie Hurovitz is Stage Manager. Anthony Urso is Assistant Stage Manager.
* Denotes Buffalo Theatre Ensemble Member
Buffalo Theatre Ensemble presents Jeffrey Hatcher's "Holmes and Watson" directed by Ron May in the McAninch Arts Center's Playhouse Theatre, 425 Fawell Blvd., Sept. 5-Oct. 6. There will be a preview Thursday, Sept. 5. Press Opening is Friday, Sept. 6. Performances take place at 8 p.m. Thursday-Saturday, and at 3 p.m. on Sunday. (1 p.m. Sunday, Sept. 8 only). Tickets are $42. Running time is 90 minutes/no intermission. For tickets or more information visit AtTheMAC.org or call 630.942.4000. Please note: this play contains adult themes and language.
Related free events: Pre-show discussion with the director and designers at 6:45 p.m. Thursday, Sept. 5; Post-show discussion with director, actors and crew, Saturday, Sept. 7.
Featured BroadwayWorld Events
Check out these concerts...




More Hot Stories For You