Eclipse Theatre Announces 9th Annual Corona Award; Ceremony On 1/22/18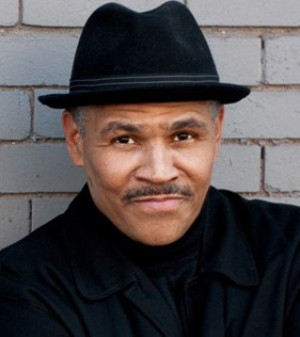 Eclipse Theatre Company announces the recipient of 2018's Ninth Annual Corona Award: Ron OJ Parson, Court Theatre Director and Resident Artist. The Corona Award honors individuals who play support and nurture the growth of the Chicago theatre community at-large as well as small- to medium-sized theatres like Eclipse Theatre. The evening will be hosted by Eclipse ensemble member and Goodman Theatre artist emeritus Steve Scott, with other guest presenters to be announced.
The 2018 Corona Award event will be held on Monday, January 22, 2018, beginning at 6:30 p.m. with a buffet dinner and entertainment, followed by the award ceremony at 7:30 p.m., at the Athenaeum Theatre, 2936 N. Southport Ave. in Chicago. Tickets are $30 in advance at www.eclipsetheatre.com and $35 at the door. Past Corona Award Recipients include casting director Jane Alderman, Timeline Theatre Managing Director Elizabeth K. Auman, Steppenwolf Associate Artistic Director Erica Daniels, Goodman Theatre Associate Producer Steve Scott, Goodman Theatre Resident Director Chuck Smith, League of Chicago Theatres Executive Director Deb Clapp, Mary-Arrchie Artistic Director Richard Cotovsky, and Goodman Theatre Stage Manager Joseph Drummond.
Eclipse Artistic Director Nathaniel Swift said, "Ron OJ Parson has long been a strong supporter of Eclipse and all theatre artists throughout Chicago. His impact on theatre here has been enormous, and Eclipse is excited to honor his work with the 2018 Corona Award."
Ron OJ Parson is a resident artist at Court Theatre, and co-founder and former artistic director of Onyx Theatre. Recent directing credits include Gem of the Ocean, Seven Guitars, The Mountaintop, and Waiting For Godot (Court Theatre); Sunset Baby and A Raisin in the Sun (TimeLine Theatre, associate artist); The Who & The What (Victory Gardens Theater); Detroit 67 (Northlight Theatre). Ron has also worked with Black Ensemble Theatre, eta, Congo Square Theatre, Goodman Theatre, Writers Theatre (associate artist), Teatro Vista (associate artist), Chicago Dramatists, Urban Theatre Company, Steppenwolf Theatre, Chicago Theatre Company, and City Lit Theatre. Ron has worked regionally with Virginia Stage Company, Portland Stage, DC's Studio Theatre, Studio Arena Theatre, Roundabout Theatre, Mechanic Theatre, Center Stage Baltimore, Actors Theatre of Louisville, Milwaukee Rep, St. Louis Black Rep, Pittsburgh Public Theatre, Pittsburgh Playwrights Theatre, Geva Theatre, NYC's Signature Theatre, ALLIANCE THEATRE, South Coast Rep, and Pasadena Playhouse. In Canada, Ron directed the world premiere of Palmer Park by Joanna McClelland Glass at the Stratford Shakespeare Festival. Ron is a proud member of AEA, SAG-AFTRA, and SDC Unions.
Steve Scott recently retired as Producer of Goodman Theatre, where he had overseen more than 200 productions; he is also a member of the Goodman's Artistic Collective. Goodman directing credits include Horton Foote's Blind Date; Rabbit Hole; Binky Rudich and the Two-Speed Clock and No One Will Be Immune for the David Mamet Festival; Dinner With Friends; Wit; the world premiere of Tom Mula's Jacob Marley's Christmas Carol; A Midsummer Night's Dream (co-directed with Michael Maggio) and the 2011 and 2012 editions of A Christmas Carol. Other recent directing credits include Yellow Face, The DNA Trail and Yohen (Silk Road Rising); American Myth (American Blues Theatre); The Mandrake (A Red Orchid Theatre); Clybourne Park, Elemeno Pea, Elling, A Delicate Balance, Lettice and Lovage and Shadowlands (Redtwist Theatre); Souvenir and Black Pearl Sings (Northlight Theatre); The Beauty Queen of Leenane, Buried Child and Dealer's Choice (Shattered Globe Theatre); Frozen (Next Theatre Company); A Midsummer Night's Dream and Much Ado About Nothing (St. Lawrence, Ontario Shakespeare Festival); The Teapot Scandals of 1923 and Falsettos (Porchlight Theatre); The Grapes of Wrath, A Streetcar Named Desire, Execution of Justice, Ah, Wilderness!, God's Country and Judgment at Nuremberg (Theatre Conservatory at Roosevelt University's College of Performing Arts, where he is a faculty member); and a number of productions for the Eclipse Theatre (where he is an ensemble member) including Alan Ayckbourn's Woman in Mind, Arthur Miller's After the Fall, John Guare's Six Degrees of Separation, Rebecca Gilman's Boy Gets Girl, Keith Reddin's Big Time, Neil Simon's Plaza Suite and Lanford Wilson's The Moonshot Tapes. He is a member of the Jeff Committee's Artist and Technical Team, a board member of Season of Concern, artistic advisor for Silk Road Rising and an associate artist with Chicago Dramatists and Collaboraction Theatre companies. He was one of six resident directors for WBEZ's series Stories on Stage, and has contributed articles to a variety of publications including the Encyclopedia of Chicago. Scott is the recipient of five Jeff Award nominations, an After Dark Award, the Illinois Theatre Association's Award of Honor and Eclipse Theatre Company's Corona Award.
Eclipse Theatre Company presents the work of one playwright each season. Eclipse offers the audience an opportunity, unique in the Midwest, to journey through the playwright's works. Join Eclipse in exploring the breadth and depth of one playwright's artistic worlds. One playwright, one season, one illuminating journey.
More Hot Stories For You