Chicago Shakespeare Theater Announces Casting For SHORT SHAKESPEARE! MACBETH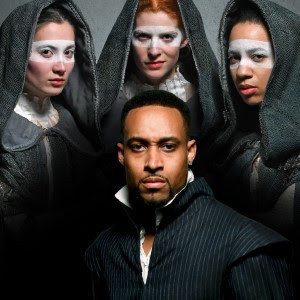 Chicago Shakespeare Theater announces the cast and creative team for Short Shakespeare! Macbeth, a 75-minute abridged production of William Shakespeare's tale of political intrigue and personal ambition. Adapted and directed by Marti Lyons and featuring a dynamic ensemble cast, the production will be performed for the public on Saturdays at 11:00 a.m., February 16-March 16, 2019. After each performance, the actors remain on stage for a question-and-answer session, before joining the audience in the Lobby for one-on-one conversations and photo opportunities.
In addition to public performances on Saturdays, Short Shakespeare! Macbeth will welcome 30,000 students during its seven-week run of weekday matinees in the Courtyard Theater, followed by a three-week tour to schools across the region through April 12, 2019.
Short Shakespeare! Macbeth adapter and director Marti Lyons is quickly becoming one of the most sought-after directors in American theater, with credits at Studio Theater, Woolly Mammoth Theatre Company, American Players Theatre, Writers Theatre, Lookingglass Theatre Company, and Victory Gardens Theatre. Lyons returns to Chicago Shakespeare, where she most recently adapted and directed Short Shakespeare! Romeo and Juliet. She credits attending a Chicago Shakespeare production while in high school as her first introduction to Shakespeare's work-and a formative moment in pursuing theater and directing as a career. In addition to serving as a Maggio Directing Fellow at Goodman Theatre in 2015, she is an ensemble member at The Gift Theatre and an artistic associate with Sideshow Theatre.
Lyons shared, "Macbeth is a play not only about violence, but about consequences. It's about people who think they know what they want and make rash decisions. The ripple effect of their choices will change the course of countless lives. Consequence, conscience, irrevocability-and how punishing getting what you want can be-are central to the story I want to tell."
The Short Shakespeare! Macbeth cast features Amir Abdullah as Macbeth and Tiffany Scott as Lady Macbeth. Portraying the Weyard Sisters are Caroline Chu, Emma Ladji, and Caitlan Taylor. Completing the company are Ninos Baba (Malcolm), Yao Dogbe (Macduff), Ty Fanning (Lenox), Eric Parks (Banquo/Seyton), Cage Sebastian Pierre (Ross), Sadieh Rifai (Porter/Murderer), Leslie Ann Sheppard (Lady Macduff/Doctor), and Kevin Theis (Duncan/Murderer/Siward).
Creating the world of Macbeth are Scenic Designer Scott Davis, Costume Designer Mieka van der Ploeg, Lighting Designer Paul Toben, Sound Designer Mikhail Fiksel, and Hair and Make-up Designer Richard Jarvie. Also joining Lyons on the creative team are Assistant Director Jerrell L. Henderson, Choreographer Erin Kilmurray, Fight Choreographer Matt Hawkins, and Dialect Coach Larry Yando.
Chicago Shakespeare's Short Shakespeare! series is a cornerstone of the Theater's nationally recognized Team Shakespeare education programs, which have impacted two million students to date. Chicago Shakespeare brings Shakespeare's work to life in the school curriculum-through live performance, professional learning for educators, comprehensive teaching resources, and opportunities for students to perform Shakespeare. These initiatives-in concert with the free citywide Chicago Shakespeare in the Parks tour and summer family musical series-exemplify the Theater's steadfast commitment to young audiences, and ensure that one in four audience members is age 18 or under.
For more information, visit www.chicagoshakes.com/ssmacbeth.
Public performances for Short Shakespeare! Macbeth will be presented in Chicago Shakespeare's Courtyard Theater on Saturdays at 11:00 a.m., February 16-March 16, 2019. Single tickets ($22 for audience members age 18 and under; $34 for adults) are on sale now. Special discounts will be available for groups of 10 or more. For more information, contact Chicago Shakespeare Theater's Box Office at 312.595.5600 or visit the Theater's website at www.chicagoshakes.com.
More Hot Stories For You