COMMUNION: An Evening Of Magic Comes to The Den Theatre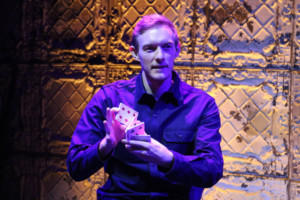 Due to popular demand, actor and magician Brett Schneider's hit one-man show COMMUNION: An Evening of Magic, returns to Chicago for six performances only! Directed by Elana Boulos, COMMUNION will play September 13 - 22, 2018 at The Den Theatre's Upstairs Main Stage, 1331 N. Milwaukee Ave. in Chicago. Tickets are currently available at thedentheatre.com. Recommended for ages 13+. The press opening is Thursday, September 13 at 8 pm.
Have you ever wished you could know what someone else is thinking? What if you could? COMMUNION: An Evening of Magic is a 70-minute performance that blurs the line between magician and spectator, and explores how illusion can create true human connection. Highly interactive and unconventional, COMMUNION blends world-class magic, sleight of hand, and psychological suggestion with live participation from the audience. No two performances are alike. For additional information, visit brettschneidermagic.com.
Brett Schneider is an actor, magician and illusion designer. Brett has been performing magic professionally for over 20 years and is a regular performer at The Magic Castle in Hollywood, California and the Chicago Magic Lounge. His work has received numerous awards and citations and he was a finalist in the World Magic Seminar. Recently, Brett has been touring the country playing the lead role and creating the illusions for the hit production of The Magic Play, which had its world premiere at The Goodman Theatre in 2016. In addition to magic performance, Brett is an actor who has worked with Steppenwolf, The Goodman, Lookingglass, Roundabout Theatre, Actors Theatre Louisville, and many others across the country. His illusion design work has appeared in theatre, network television and film. For more information, visit brettschneidermagic.com.
Elana Boulos is a producer, casting director and stage director who works in Chicago and New York City. Elana currently resides in New York City where she is attending Columbia University in pursuit of her MFA in Theatre Producing. Elana has worked at such companies as Jackalope Theatre Company, Manhattan Theatre Club, Steppenwolf Theatre Company, Two Birds Casting, Griffin Theatre Company, Dog and Pony and Collaboraction.
Artistic Director Ryan Martin opened The Den in 2010 with a single theatre space. Seven years later, The Den boasts five intimate and unique theaters on two floors ranging from 50 - 200 seats, as well as two additional spaces primarily used for classes and rehearsals. The Den is also equipped with two bars enveloped by a never-ending field of lounge space for audiences and like-minded culture hounds to drink, talk, read, watch, think, listen and live. The Den is home to seven resident theatre companies including First Floor Theater, Haven Theatre Company, Griffin Theatre, The New Colony, Broken Nose Theatre, WildClaw Theatre and Firebrand Theatre. Hundreds of other companies from Chicago and beyond have also called The Den home, utilizing its theaters, studio space and easily convertible cabaret space to accommodate a stream of programming, including plays, musicals, film screenings, classical and jazz performances, dance, improv and stand-up, seminars and speaking engagements. For additional information, visit www.thedentheatre.com.

Related Articles View More Chicago

Stories

Shows
More Hot Stories For You