Black Ensemble's WOMEN OF SOUL Opens Oct 28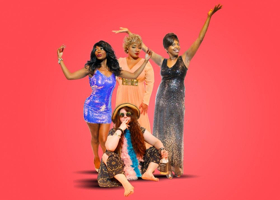 Black Ensemble Theater continues its 2018 Season (Movers and Shakers) with Women of Soul, (With a Tribute to the Queen) written and directed by Black Ensemble Theater Associate Director Daryl D. Brooks. Women of Soul will be performed at the Black Ensemble Theater Cultural Center, 4450 N. Clark Street in Chicago, beginning October 20, 2018 with an unlimited run. The press opening is Sunday, October 28 at 3:00pm.
Women of Soul guides pays tribute to some of the most powerful women in soul music, including Chaka Khan, Diana Ross, Tina Marie, Natalie Cole, Janis Joplin-and a special tribute to Aretha Franklin, just to name a few. This show takes a look at the struggles and the triumphs these women went through to reach the pinnacle of their success. The production of Women of Soul is written and directed by Daryl D. Brooks, whose hits with Black Ensemble include Men of Soul in 2015.
The cast includes Cynthia Carter, Robin DaSilva, Jerica Exum, Hannah Efsits, Dwight Neal, Colleen Perry, Rhonda Preston, Jessica Seals, Aerial Williams, and Jayla Williams-Craig.
The creative team includes Denise Karczewski (set and lighting design), Aaron Quick (projection design), David Samba (sound), Reuben Echoles (costume design), and Nic Bellanger (technical direction).
As with all Black Ensemble Theater productions, Women of Soul features live musicians led by musical director/arranger Robert Reddrick (drums). Musicians include Adam Sherod (keyboards), Dolpha Fowler Jr. (keyboard 2), Mark Miller (bass), and Gary Baker (guitar).
Tickets are available at the Black Ensemble Box Office located at 4450 N. Clark St in Chicago, or online at www.blackensemble.org, or by phone at (773) 769-4451. Tickets are $45 for previews (October 20, 21, 26 and 27), $55 (Saturday matinees) and $65 (Fridays, Saturday evenings and Sunday matinees). A 10% discount is available for students, seniors, and groups.
The Black Ensemble Theater is also selling the Five Play Card which allows the holder to see 5 plays or bring five friends to one play or any combination of 5. The Five Play Card is a great deal at $225 which represents a significant savings of $20.00 per full price ticket. For more details or to purchase a Five Play Card contact the box office at 773-769-4451.