BWW Review: Homespun BARBECUE APOCALYPSE Improves With Age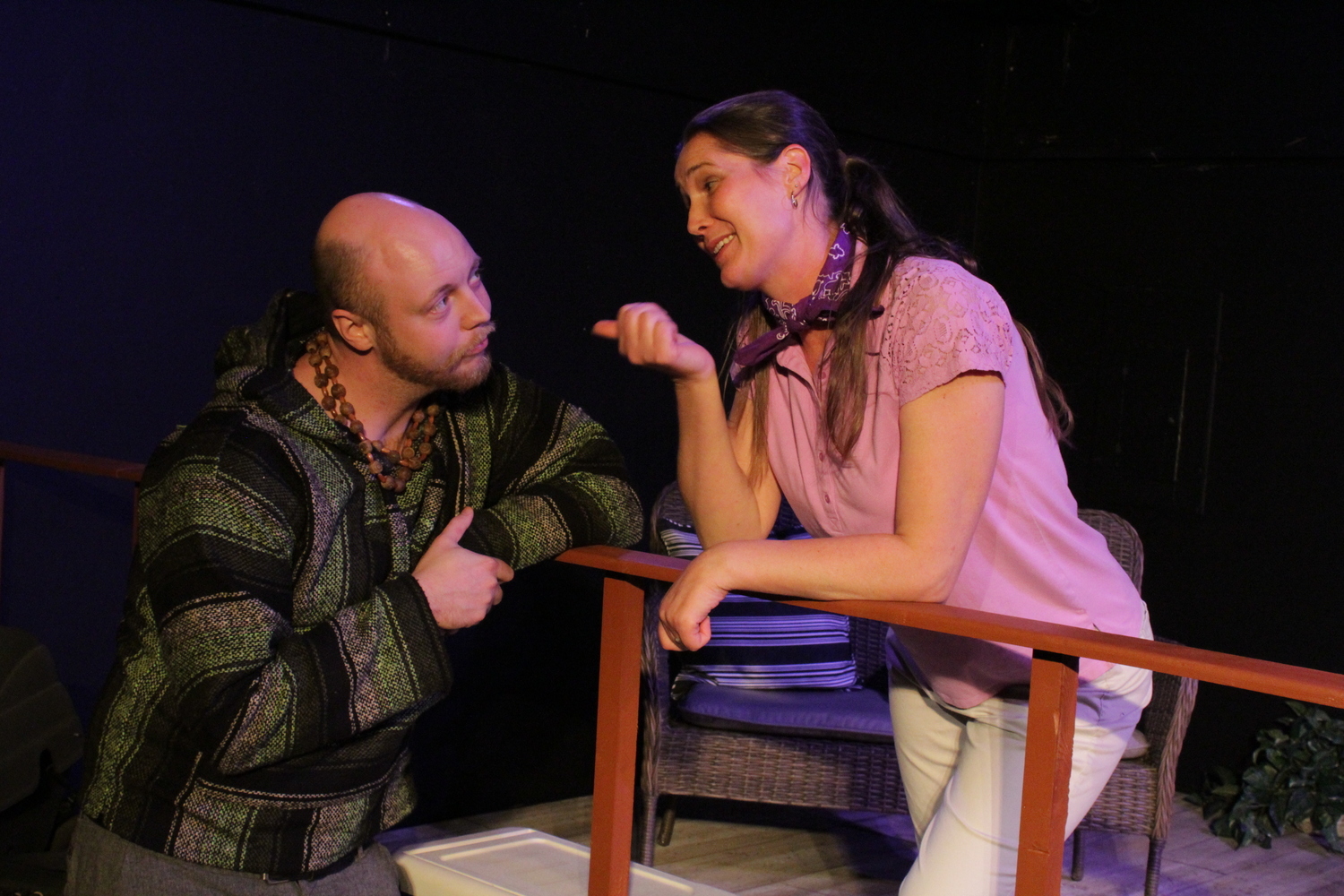 In a year that included Lucas Hnath's The Christians, Robert Schenkkan's The Great Society and Rebecca Gilman's Luna Gale among the top contenders, I could only give Matt Lyle's BARBECUE APOCALYPSE a lukewarm endorsement for best new play of 2015, ranking it #13 among 27 eligibles that I read for that year's Steinberg Awards. Nor did colleagues from the American Theatre Critics Association strongly disagree with my verdict, since Lyle's dystopian comedy didn't make the cut for the second ballot, when we considered our consensus top 10.
But before Charlotte's Off-Broadway decided to stage this show at The Warehouse PAC up in Cornelius, they did some reading and balloting of their own. From January through March, the company offered monthly "Page to Stage" readings presenting two different plays on each occasion. Then they asked ticketholders to vote on which of the six plays they would like to see in a fully staged production. Less than two months after the votes were counted, BARBECUE is back for my reconsideration as the audience favorite.
And on further consideration, I must credit director Anne Lambert and her professional cast for convincing me that BARBECUE APOCALYPSE is even better than I thought it would be - far more to my liking than real barbecue.
Lyle would probably concur, since his patio hosts, Deb and Mike, are only grilling and basting because they want to avoid the embarrassment of having their friends - who are more trendy, stylish, and successful - see the interior of their home, decorated with lame movie posters. Deb succinctly describes her strategy as lowering expectations for the cuisine and the ambiance. Outdoors, she can point with pride to the fact that Mike has built the rear deck himself. Yet the barbecue event has obligated Mike to buy a propane grill off Craig's List, and he's afraid to light it.
He would also like Deb not to mention that he's a professional writer, for his career earnings, after one published short story, now total 50 bucks.
All four of the guests feed the hosts' sense of inadequacy. Deb is a decorator, foodie, and gourmet cook who makes sure to bring her own organic meat, and her husband Ash is a gadget freak, armed with the best new smartphone equipped with the most awesome apps. Win pretty much embodies his name, a former high school QB, now a successful businessman with Republican views. He lives to put Mike down and can seemingly get any woman he wants. Even his bimbo of choice, Glory with her Astrodome boobs, can claim formidable accomplishments, arriving late to the barbecue after nailing her Rockette audition.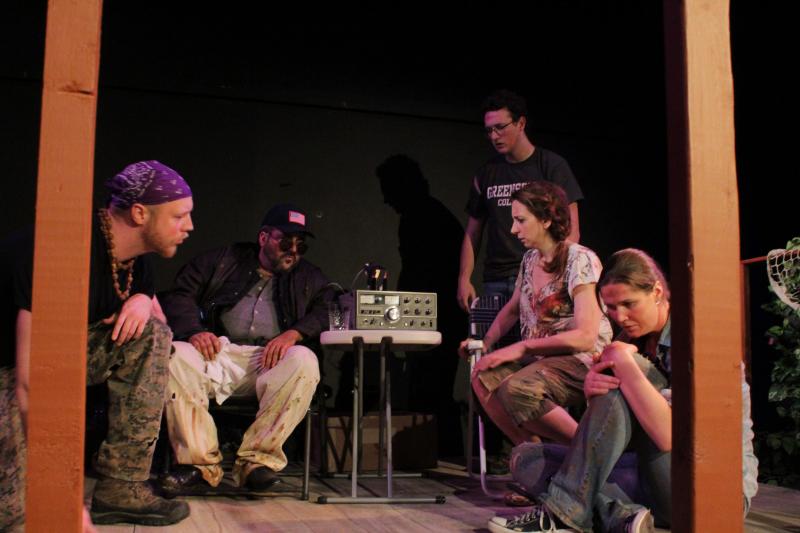 What ultimately happens to this insulated suburban group reminds me of The Admirable Crichton, the excellent James M. Barrie tragicomedy I came across a couple of times during TV's golden age, when colleges had core curriculums. A perfect butler to the Earl of Loam in Mayfair, London, Crichton and his betters were shipwrecked on a desert island in the Pacific, where his natural superiority emerged.
There are two basic differences between Barrie's back-to-nature tale and Lyle's. The shipwreck situation was reversible with rescue. Apocalypse isn't. More to the point, Barrie was clearly targeting the blind rigidity of class distinctions. Here if we consider the implications of BARBECUE APOCALYPSE, Lyle seems to have modernity in his crosshairs - how our world warps our aspirations and our self-worth, how it channels us into modes of living that are far from our authentic selves.
In the cramped storefront confines of The Warehouse, Lambert doesn't attempt to design a deck that lives up to Mike's pretensions, and Donavynn Sandusky's costume designs are similarly déclassé, especially for the nerdy Ash. This robs Lyle's concept of much of its slickness, which for me turned out to be a good thing. Aside from the Craig's List mention, Lambert also dropped in a couple of local references that added to the overall homespun flavor.
Becca Worthington and Conrad Harvey were nearly ideal as our hosts, keenly aware of each other's limitations and their own, yet visibly crazy for one another. Worthington with her status-conscious rigidity and stressing was clearly the closest actor onstage to Lyle's vision, beautifully flipping her "We suck" persona after intermission and the apocalypse, when a full year of roughing it has elapsed. Harvey was more than sufficiently cuddly and self-deprecating - but credulity is stretched when a man of such size and stature is repeatedly dominated by his adversaries.
If you can accept that Greg Paroff was ever on a football field, let alone as a QB, you'll be quite pleased with how he handles Win's asshole antics. He is confident, he is arrogant, and if he's possibly past 40, that only increases the disconnect between Win and his limber Rockette. Julia Benfield is absolutely adorable as Glory, and I absolutely adore how she's still mincing around in high heels when she makes her disheveled entrance in Act 2. We totally believe that her familiarity with Tom Wopat doesn't extend to The Dukes of Hazard in the '80s.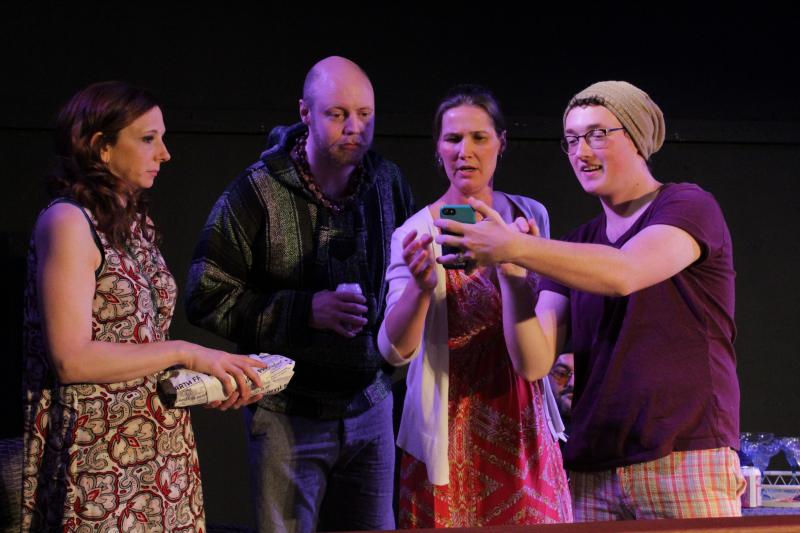 Probably not the best moment for Lambert when she cast Cole Pedigo and Jenn Grabenstetter as Ash and Lulu. They should remember the '80s, but I needed to stifle my doubts. Wardrobe and just the way he's absorbed in his iPhone might help Pedigo out - and make him less wholesome, winsome, and juvenile before the apocalypse. Grabenstetter overcomes all objections when free-range Lulu gets snockered on generic canned beer, and both Pedigo and his scene partner truly click when adversity brings Ash and Lulu to a new lease on life in Act 2. I believe that's an antler dance.
I won't disclose what happens when Maxwell Greger walks on for his cameo deep in Act 2, but I do respect how Lyle makes him earn his paycheck with a sizable monologue. Greger does the denouement with a slight manic edge, and the technical aspects of his departure are impressively handled.
So it's fair to say that apologies are in order for rating BARBECUE APOCALYPSE in the middle of the pack when I first read it. Or excuses, since a rational man resided at the White House in 2015, and apocalypse seemed so fantastical.
But hold on. Charlotte's Off-Broadway has already programmed two other plays from their "Page to Stage" readings for two fully-staged productions in the near future, Susan Lambert Hatem's Confidence (and The Speech) for September and Lauren Gunderson's Exit, Pursued by a Bear for next February. Maybe when these runner-ups get fleshed out, supporters of Lyle's winning script might reconsider their votes!
Photos by Ramsey Lyric
Related Articles View More Charlotte

Stories

Shows