Twelfth Night at Upstart Arts
Join us for a Stay-At-Home Shakespeare matinee event. William Shakespeare's poignant Twelfth Night is a tale full of shipwrecks and heartwrecks, the weathering music a comfort and goad to fools blind to their obvious affections. We'll be doing this on Zoom and streaming to YouTube so the cast and audience can stay safe at home. Free. 2 p.m.
News About Twelfth Night at Upstart Arts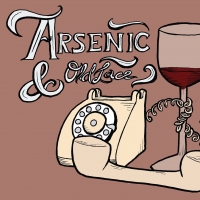 BWW Review: ARSENIC AND OLD LACE at Upstart Arts
February 24, 2020
Joseph Kesselring's Arsenic and Old Lace has long been a staple of high school and community theaters ever since playing on Broadway for four straight years from 1941-1944. But for director Michelle Denise Norton of Upstart Arts in York, Arsenic and Old Lace is what passes for a 'new' play. That's because for 20 years, the theater group of which she is the self-described 'creative engine' has been bringing Shakespeare to the York public in parks and on bridges and streets and wherever it's a good idea to bring live theater; namely, everywhere.

Upcoming Non-Equity Auditions Sunday, Jan. 13
January 13, 2019
Updated this week! Check out upcoming Non-Equity Auditions from Sunday, January 13, 2019 for productions in your area and around the country.
Upstart Arts Frequently Asked Questions
What shows are coming up next at Upstart Arts
Where is Upstart Arts located?
Upstart Arts is at 140 N. Beaver St., York.
What shows have played recently at Upstart Arts