BWW Review: HOW TO SUCCEED IN BUSINESS WITHOUT REALLY TRYING at Susquehanna Stage Company
Susquehanna Stage Company, although tucked away in the small town of Marietta, has proven time and time again to be a great source of spectacle, talent, and all-around entertainment. They display their musical prowess once again with their current production of HOW TO SUCCEED IN BUSINESS WITHOUT REALLY TRYING, a show that romps through the trials of the business world with humor and hijinks abound. With this as the last show in their season of Pulitzer Prize-winning productions, Susquehanna Stage Company truly ends 2017 on a high note.
HOW TO SUCCEED IN BUSINESS WITHOUT REALLY TRYING first opened on Broadway in October 1961, having been inspired by Shepherd Mead's novel of the same name. It features music and lyrics by Frank Loesser and a book by Abe Burrows, Jack Weinstock, and Willie Gilbert. The original production opened at the Richard Rodgers Theatre, and starred Robert Morse, Rudy Vallee, Bonnie Scott, Charles Nelson Reilly, and Virginia Martin. The show was highly successful in its initial run, and both the music and book received an abundance of praise. HOW TO SUCCEED also found favor at the 1962 Tony Awards, where it took home the award for Best Direction, Best Book, Best Performance by a Leading Actor in a Musical, Best Performance by a Featured Actor, Best Direction, and Best Musical. The show was later adapted into a motion picture and was revived in 1995 (starring Matthew Broderick) and in 2011 (starring Daniel Radcliffe). HOW TO SUCCEED follows J. Pierrepont Finch, a young man aspiring to make it to the top of the business world while working at the World Wide Wicket Company. Met with many challenges, Finch relies on charisma and quicking to get ahead.
J. Pierrepont Finch is played at Susquehanna Stage Company by Nik Olson, who charms not only his fellow employees (and superiors), but the audience as well. From his very first moment onstage, Olson is bursting with confidence and ambition. He has mastered the same way with words that his character possesses, and uses this to his advantage all throughout the show. He carries himself with ample confidence and a natural stage presence that makes him perfect for the role. Olson's Finch speaks in fluent flattery and always makes sure to find himself at the right place at the right time. He is observant and driven, and the audience can't help but notice him scheming at every turn. He has everyone under his thumb, from his coworkers to the company bigwigs, though this manipulation occasionally makes him blind to the rest of the world around him.
Olson employs every aspect of performance; his facial expressions are facilitated by boundless energy and enthusiasm onstage. He is over-the-top when he can be and subdued when he must be, and Olson walks this line with skill. Finch is quick on his feet and always ready to take control of a situation, and Olson portrays this incredibly well. He embodies the fast thinking and smooth talking as though he has done this all his life, proving that Olson is no novice in this craft. His Finch is the master of the humble facade, and this makes moments of his sincere happiness all the more enjoyable. Olson possess a wonderful voice in addition to a great physical presence, making numbers such as "Rosemary," "I Believe in You" and "Brotherhood of Man" a true delight.
Finch's ultimate goal is to become the president of the World Wide Wicket Company, meaning he must schmooze to the top. To do this, he charms his way up the ranks, including winning over the trust and affections of secretaries and executives such as the prim and proper Miss Jones (Stacia Smith, though usually portrayed by Darlene Hein) and the hard-working Mr. Bratt (Jason Genise-Gdula). Both Smith and Genise-Gdula portray prime examples of the loyal company employee, and both receive their own moments to shine in numbers such as "Brotherhood of Man" and "A Secretary is Not a Toy." Mark Stoner joins this group of impressionable employees as Twimble, the lovable head of the mailroom who is endlessly loyal and contented despite his lowly position. His enthusiasm for his work as well as his wonderful voice is evident in the number "Company Way," and his cheerful blend of obliviousness and passion makes the audience sorry to see Finch pull the wool over his eyes. Once Finch has worked his way closer to the top, he is left to deal with the big fish in the pond: J.B. Biggley.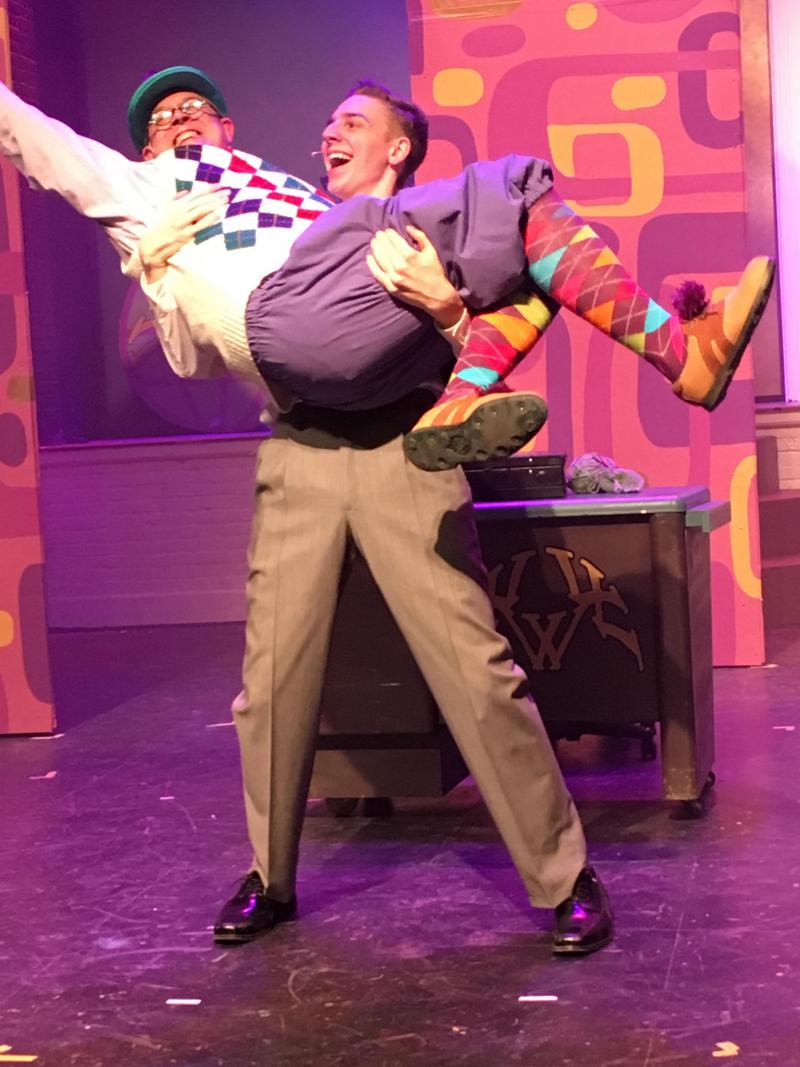 Biggley is portrayed at Susquehanna Stage Company by Kevin Lambert, and he delivers an incredible performance. His Biggley is commanding and powerful in the workplace, and yet is often dragged along by women such as his wife or his mistress. Lambert employs an incredibly versatile acting range, and creates a character that both demands respect and also hides a secretly inappropriate side that makes him dimensional and almost guiltily entertaining. His energy is on the same level as Olson's, making scenes and numbers between the two of them particularly enjoyable. Lambert is incredibly expressive and enthusiastic, and his physicality is some of the best in the show. Lambert completely inhabits his character, creating a Biggley that is passionate and sincere as well as equally agitated and used to be large and in charge. He is a wonderful character, and he is very clearly an audience favorite.
Rosemary is a secretary at the World Wide Wicket Company, and just as everyone else around her, she falls for Finch right from the start. She is played by Jordyn McCrady, and possesses a dreamy, smitten presence that is easily believable. McCrady's Rosemary is sweet and honest, but also possesses a bit of spunk and determination that makes her quite a match for Finch. Though infatuated with Finch, Rosemary is just as intelligent as her love interest, and yet still carries an inspiring brand of hope. McCrady possesses a wonderful voice that is displayed very well in "Happy to Keep His Dinner Warm" and "Paris Original," though she often seems a bit removed from the character.
McCrady is undoubtedly talented in her role, but could benefit from a bit more energy and expression in her portrayal. However, despite this, she has a comfortable stage presence, and brings to life a lovable lady that is just right for J. Pierrepont. Rosemary's fellow secretary and best friend, Smitty, is played by Christine Nickel, and provides Rosemary with a practical and understanding outlook on her situation while also showing the wit and cleverness that many office girls need to succeed in the business. She is enthusiastic, and Nickel facilitates this with a particularly commendable voice in numbers such as "Been a Long Day" and "Cinderella, Darling."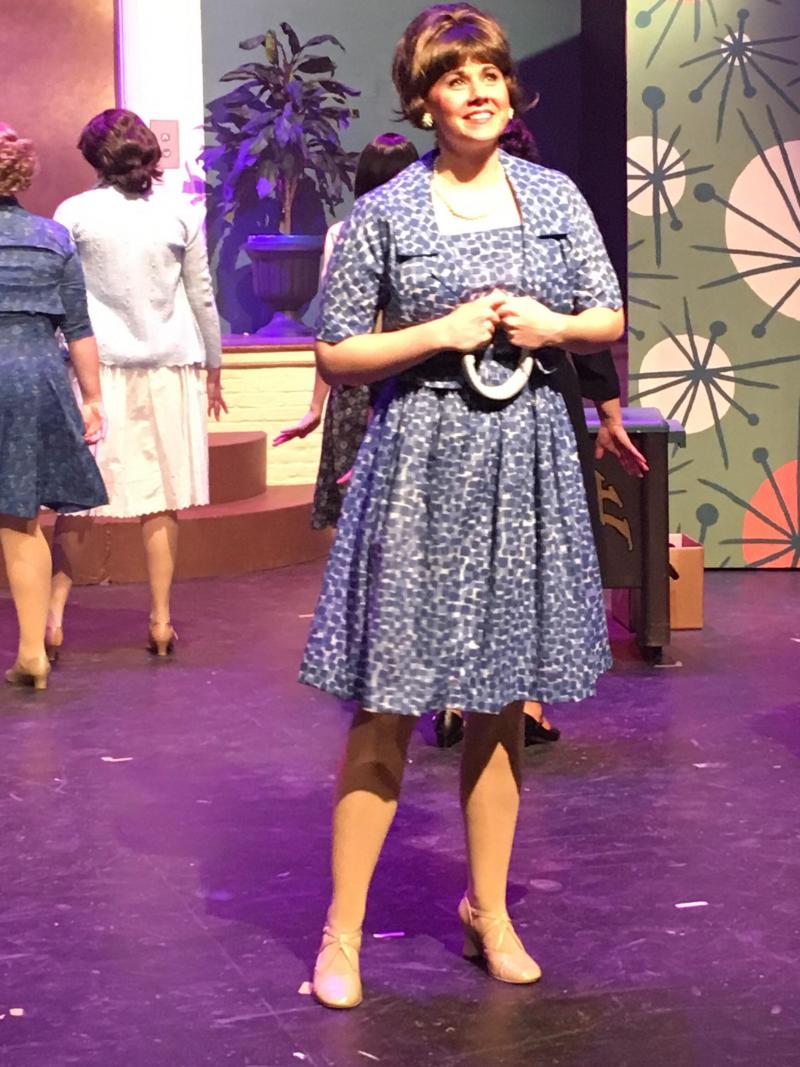 Perhaps one of the best performances in the show comes from Darren Wagner, who portrays Bud Frump. Wagner fills his Frump with a pompous arrogance that makes the audience love to hate him. He is endlessly whiny, which has undoubtedly resulted from having grown up and remaining to be a complete mama's boy. He is bratty, he is entitled, and has a humorous tantrum when he does not get his way. Wagner employs some of the best physicality and facial expressions of the show, never seeming afraid to get a bit purposefully overdramatic. This serves him well, especially in moments when Frump realizes and relishes in the fact that he has been given the upper hand. His character thrives on drama, and loves the thrill of getting exactly what he wants. This makes him similar to Finch, but Frump has no obvious diplomacy or charm, and Wagner makes this very clear. Additionally, Wagner makes the most of his time not spent in the spotlight, and there is never a moment where he does not completely inhabit his character. His energy is palpable and his mannerisms are perfect, making Wagner's performance one that truly stands out.
Another commendable performance comes from Alyssa Dienner as Hedy LaRue, a wannabe businesswoman who uses her decidedly unprofessional relationship with the married Mr. Biggley to secure a job at the World Wide Wicket Company. Dienner's Hedy is provocative, demanding, but primarily ditzy. She isn't the most intelligent creature, but is thrilled by the prospect of an office job and clearly appreciates the simplicity in life. That being said, Dienner does an excellent job of portraying a Hedy that knows exactly how to get what she wants by playing on men's sympathies and desires, and is bubbling over with confidence despite being a bit of an airhead. She is determined and driven, and this makes her lovable in the eyes of the audience. Dienner also possess a lovely voice that is showcased very nicely in "Love from a Heart of Gold."
The ensemble of HOW TO SUCCEED is just as worthy of acclaim as the rest of the principal cast. They work together to create a set of office workers that are unique and entertaining, and add tremendously to the overall enjoyment of the show. The ensemble makes the most of their time onstage, and while occasionally in need of a physical energy boost, they impress the audience consistently with their amazing blend of vocals. Both the female and male ensemble excel in numbers such as "Coffee Break," "I Believe in You," and "Cinderella Darling," where they produce incredibly impressive harmonies that are a joy to hear. They are in sync with each other and yet each inhabit their own distinct character, a sign of the time and dedication that the cast has given in order to create an endlessly entertaining show.
Susquehanna Stage Company's HOW TO SUCCEED IN BUSINESS WITHOUT REALLY TRYING is one that consistently pulls out all the stops to satisfy. It plays on the mundane to create something far from boring, and the audience benefits from the obvious enjoyment of the actors. If the performers are not having fun, no one is having fun, but this problem does not exist at Susquehanna Stage Company. The joy felt in the audience is the result of the same happiness that exudes from the stage, and this is a clearly sign of a show worth seeing. HOW TO SUCCEED IN BUSINESS WITHOUT REALLY TRYING does, in fact, succeed in bringing delight and more than one catchy tune to Central Pennsylvania.
Presented by Susquehanna Stage Company through December 17th. Next is TRUE WEST. Visit www.susquehannastageco.com.

Related Articles View More Central Pennsylvania

Stories

Shows
Allison Rambler is a recent graduate of Central York High School in York, Pennsylvania and is a sophomore at Penn State University, where she majors (read more...)