BWW Review: Good Evening, Ephrata - HAIRSPRAY at EPAC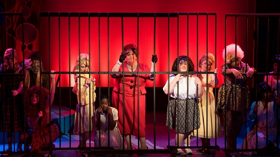 HAIRSPRAY is one of those near-perfect shows. The music is infectious and the lyrics are clever. The comedy is out and in your face, and it just keeps coming. There's enough drama to keep the plot flowing and to generate suspense at various points, while never veering into melodrama or gut-wrenching angst. The characters are likable, except for the villains, who possess a Snidely Whiplash degree of "boo, hiss" for the audience. Unlike some other masterpieces of musical theatre, it's easy to watch repeatedly, because there are just so many things to see, sounds to hear, and feelings to have, and because every production explores them just a little differently - it's almost always fresh.
This reviewer has sat beside the person who can and does sing every word of LES MISERABLES. She's sat beside the person who sings every word of ANNIE. She's sat beside the person who sings every word of HAIRSPRAY. Of the three, bring on the HAIRSPRAY singers every time; they're the ones having the most pure joy while they're doing it. HAIRSPRAY can do that to an audience. Marc Shaiman and Scott Wittman have bottled happiness, and they've put it into John Waters' originally equally delightful non-musical movie.
HAIRSPRAY is at Ephrata Performing Arts Center, a late substitute for THE MUSIC MAN, but you'd never know it was a late change; the production presents itself fully, with clever sets and perfect costuming, and Tricia Corcoran's happy choreography, as if it had been the plan all year. What faults it may have aren't major, and it's a fine excuse for pure summer entertainment. Hey audience, welcome to the Sixties, where dance shows fill the TV screen, and big hair can only get bigger, where the air pollution comes from cans of hairspray, and where the most violent thing that happens in urban schools is cutthroat dodge ball. Director Edward R. Fernandez brings us that Sixties Baltimore in, as NBC said back then, living color, and with all the aplomb that only an experienced Edna Turnblad can give to an audience.
It's normally a horrible idea - there's no way around it - to direct oneself in a stage production, but Fernandez makes it work. It wouldn't work if he hadn't already played Edna, who's as much the lead as her daughter Tracy (played here quite neatly by Ali Fleming) previously. The fact that he doesn't have to concentrate on creating Edna from scratch means that he's free to develop everyone else, and he brings us a fully formed Tracy in Ali Fleming, a wildly delightful Wilbur in Bob Checchia, and a Link Larkin, Teen Heartthrob, with some actual character to the character. Link is played by Alexander Gawn (looking rather amazingly like actor Peter Scanavino) with a nice balance of ego and fear of inadequacy. Equally nicely developed is Tracy's friend Penny "permanently punished" Pingleton, played by Maya Burdick with a true "second runner up" attitude that grows into real independence in front of the audience.
JorDon Ross Weinhold's Corny Collins has the snark, and he's got the attitude you really expect of the old teen show hosts, with a capacity to be as vicious offstage as he is charming on. Like Penny Pingleton's growth, showing both sides to Collins isn't common; it's nicely done here, and if only Weinhold seemed a little less stiff in his movement early on, he'd be all but perfect. It's a mystery as to why the costumer put Corny in such tame outfits earlier in the show, saving the flamboyance only for the Miss Teen Hairspray contest, since Weinhold can pull off the "crazy TV host" routine so well.
Less perfectly developed are Amber and Velma Van Tussle, the blonde axis of mother-daughter evil, who both seem a bit tame. Velma's fangs aren't quite dripping, and Amber feels a bit as if she's too much under Mama Evil's thumb, as opposed to having her own sense of Mean Girl. Lynne DeMers-Hunt looks every inch Miss Baltimore Crab, though, and she's got attitude; a bit more would be even better. Amber, Casey Pry, is nonetheless charming, though her claws could be sharper. She's at her best with Tracy and Penny in "Mama, I'm a Big Girl Now," which is one of the best-staged versions of the song this reviewer has seen.
The latter number is one of the real showstoppers of the production, as is Fernandez and Checchia's "You're Timeless to Me." A classic number of the show, "Timeless to Me" is really enhanced by the chemistry between Fernandez and Checchia, who really do feel on stage as if they've been together through a couple of decades and a couple of hundred pounds. Fernandez' Edna is reminiscent of Harvey Fierstein's Edna, with a few less rough, and really more Bawlmer, edges. HAIRSPRAY is a show that's Edna's to make or to break, and Fernandez does own the show; it can't be helped.
Fernandez has to share the stage and the spotlight, however, in "Big, Blonde, and Beautiful," with Davina Lopez as a truly wonderful Motormouth Maybelle, the disc jockey for Corny Collins' "Negro Days". Lopez is clearly as much Maybelle as mother as she is music professional and civil rights agitator; her good parent is as evident as the rest of her, and her encouragement of Edna in sticking up not only for rights and for herself is far more neatly drawn than in most productions. She feels more whole than in most productions, and it works well. Lopez also has a voice that won't quit; funky and sassy in "Big, Blonde, and Beautiful," she's one of the few Motormouths who still gives this writer chills up her spine listening to "I Know Where I've Been," certainly one of the greatest songs in musical theatre.
This production of HAIRSPRAY is not only big, it's bigger than Tracy's hair. It's louder than the Corny Collins show at full volume. And it's more fun than summer should be allowed to have. Welcome to the Sixties, guys and gals. At EPAC through August 5. Visit ephrataperformingartscenter.com for tickets and information.