BWW Previews: FUNNY, YOU DON'T LOOK LIKE A GRANDMOTHER at Hanover Little Theatre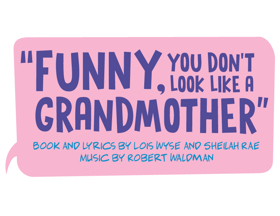 Time to Get Spoiled!
Musical Revue to Benefit Hanover Area Historical Society
The focus on family for Hanover Little Theatre's 69th season continues with the family-friendly musical revue Funny, You Don't Look Like a Grandmother.
Come laugh as our cast shines a new light on modern grandmothers through humorous and heartwarming scenes. Watch as grandmothers debate what name they want to be called, their availability as babysitters and much, much more.
The show will have 8 p.m. performances on Nov. 10 and 11 as well as Nov. 16-18. There will be 2 p.m. matinees on Nov. 12 and 19.
Tickets are on sale now. Online ticket sales are available around the clock at www.hanoverlittletheatre.com. You can also call 717-637-5297 to reserve tickets or take advantage of our box office hours on Saturday, Oct. 28 (10 a.m. to noon), Sunday, Oct. 29 (noon to 2 p.m.), Saturday, Nov. 4 (10 a.m. to noon) and Sunday, Nov. 5(noon to 2 p.m.).
All tickets are $15 with no fees for tickets printed at home or bought at the door. There will be a $2 charge for all phone orders and a $1 charge for any tickets delivered through the mail.
The cast for director Charlie Beard features many familiar faces. HLT regulars Sally Chase, Bonnie Raubenstine and Suzanne Williamson will be joined byBecky Wilcox as the grandmothers. Dave Zinn will play the grandfather. Mathew Barninger will play the son while the daughter will be split between Sarah Zimmermann and HLT newcomer Debbie Williams.
The theatre will once again raise funds for a local nonprofit community partner in conjunction with the show. The partner for this show is the Hanover Area Historical Society (HAHS).
The theatre will donate $2 to HAHS for every ticket sold to the Saturday, Nov. 11, performance. Sommer & O'Donnell - Attorneys at Law as well as an anonymous patron will match that donation, generating $6 for every person attending Nov. 11. Additionally, donations for HAHS will be accepted at all seven performances.
Since inaugurating this effort in November 2014, the theatre has donated nearly $6,500 to a variety of area groups.