BWW Review: LA CAGE AUX FOLLES Dazzles at the Redhouse Arts Center
The Redhouse Arts Center is now entertaining Syracuse audiences with none other than the hilarious and bold musical comedy La Cage Aux Folles. With fabulous direction by Cassie Abate, the Tony Award-winning musical is without a doubt dazzling, powerful, heartwarming, and full of laughs. It is pure comedic fun mixed with a powerful lesson on acceptance.
The musical is based on the 1973 French play by Jean Poiret and features a book by Harvey Fierstein along with music and lyrics by Jerry Herman. It centers around a gay couple in the drag entertainment industry. Georges (Dirk Lumbard) is the manager of the nightclub on the French Riviera that features the drag performers known as the Les Cagelles and his partner Albin (Steve Hayes) is the star of the nightclub. Georges and Albin's son Jean-Michel (C.K. Anderson) has brought his fiancée Anne (Liliana Rose) home to meet his parents. The two were brought up dramatically different. Anne's parents are accompanying her to the gathering - her very famously conservative and extremely right-wing politician father Dindon (John Bixler) who is the Deputy General of the Tradition, Family, and Morality Party and his very submissive wife, Marie Dindon (Laura Austin). Will they make it through a dinner without a problem? In the end, will they all accept each other for who and what they are?
The Redhouse production benefits from some great musicianship and acting.
Bridget Moriarty's onstage four-member orchestra brings the toe-tapping and energetic music to life. The musical numbers are passionate, comedic, and dazzling. Director Cassie Abate has assembled a top-notch cast that performs them (as well as the book scenes) with incredible passion and impeccable comedic timing. The performances are non-stop fun and full of heart.
Dirk Lumbard brilliant every moment he is onstage as Georges. His charm, charisma, and comedic timing are outstanding. He steals the spotlight with his effortless tap dancing skills (Cassie Abate provides the charming choreography). His chemistry with Sean Hayes as Albin is especially powerful in numbers such as "With You on My Arm," "Song on the Sand", and "Masculinity." Lumbard is a truly admirable triple threat.
Steve Hayes is perfect for the role of Albin thanks to his flawless comedic timing, confidence, emotional range and dramatic and over-the-top facial expressions. Hayes is a true character actor. Watching him perform makes you feel as if you are attending a vaudeville performance. His rendition of "I Am What I Am" is full of passion, heartache, and power - he stole the show with this number.
C.K Anderson is charming in the role of Jean-Michel. His dancing (along with Dirk Lumbard) in "Look Over There" Reprise ensures it is a delightful number. He has adorable chemistry with Lilliana Rose as Anne in the number "With Anne on My Arm." Speaking of Liliana Rose, she fully embodies Anne with her sweet and wide-eyed expressions.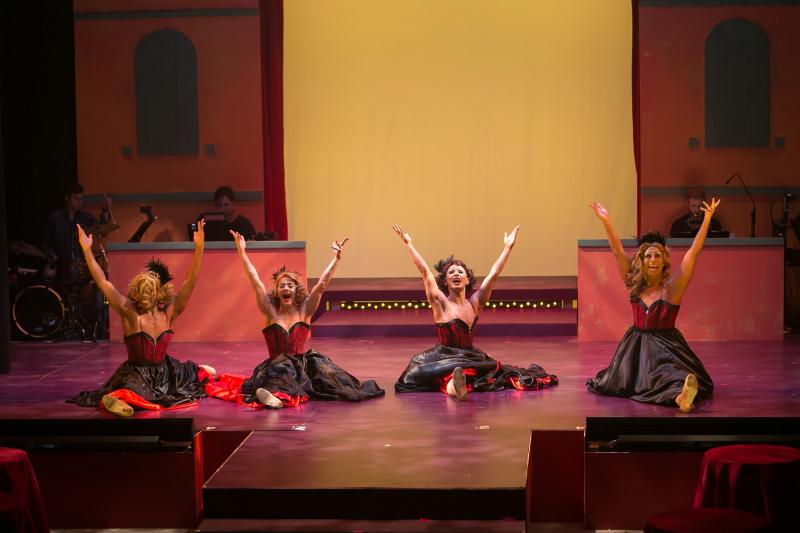 The Les Cagelles (Nick Eibler as Chantel, Jeremiah Porter as Hanna, Dominic Fortunato as Phaedra, T. J. Newton as Mercedes) dazzle in their entertaining and lively numbers. The confidence, attitude, and comedic timing is everything one would expect to see from the actors portraying the dynamic Les Cagelles. "We Are What We Are" does not disappoint.
Other standout performers include Aubry Panek as Jaqueline. She shows off her confidence, style, and powerful vocals in the dramatic role. Her soprano vocals stand out in many numbers including "La Cage aux Folles." Jim Byrne, as Francis the stage manager of La Cage, is likeable and comedic in the role and makes the most of his time in the spotlight. Edwin Bates plays Jacob, Albin and Georges' butler, although Jacob thinks of himself as more of a maid with a dream to perform along with Albin and the Les Cagelles. Bates is highly animated, extremely likeable, and shows off his comedic chops. John Bixler delivers a truly entertaining and believable performance as Dindon, the conservative politician. Laura Austin is perfectly awkward and comedic in the role of Marie Dindon - she is always an outstanding performer.
The actors are lucky enough to perform on a practically brand-new stage in a gorgeous new and relocated Redhouse. Tim Brown's scenic design makes the most of the new space and brings the drag club to life with fabulous and dramatic curtains. A stage that has a run way with seats on each side which adds so much to the already brilliant and dramatic performances. Chuan-Chi Chan's lighting design brings the drama to life - the bold and brilliant colors enhance Brown's set. Raven Ong's costumes are detailed, dramatic, and capture each character brilliantly.
La Cage Aux Folles may be set in a drag club, but there is so much more to the musical. The musical centers on acceptance, embracing the different, and not being ashamed of your family or expect them to change. There are all different kinds of families. A family is full of all different kinds of personalities, opinions, and interests, but the most important feature in any family is that love is love. With the lively musical numbers, powerful message, and brilliant acting, this show is a must-see at the Redhouse Arts Center.
Running time: Approximately two hours and thirty-five minutes with one fifteen-minute intermission.
La Cage Aux Folles runs through June 10, 2018 at the Redhouse Arts Center, located at 400 S. Salina Street, Syracuse, NY 13202 as part of Main Stage series. For tickets and information on this production and all things RedHouse, click here or call 315.362.2785.