BWW Interview: Tony Winner Christian Hoff of THE MIDTOWN MEN Talks Bringing 1960s Music To A Wider Audience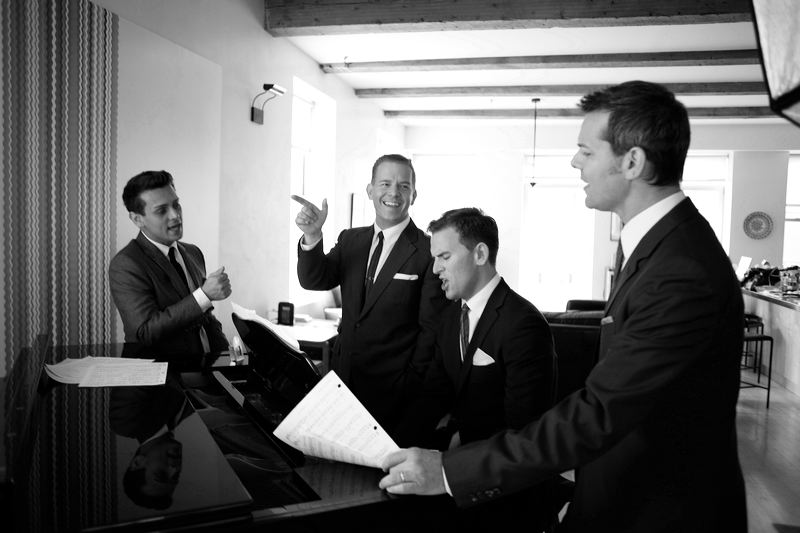 Acclaimed 1960s throwback group The Midtown Men are back on tour this fall, performing at Schenectady's Proctors Theatre tonight. The group, composed of Tony Award winner Christian Hoff, Michael Longoria, Daniel Reichard, and Tony Award nominee J. Robert Spencer, performed on Broadway together in Jersey Boys for three years before forming The Midtown Men. With having performed over 2,000 live shows together, the group couldn't be more thrilled to be back on tour and bringing the music of the 60s to audiences both new and old. Tony Winner Christian Hoff was kind enough to speak with us and tell us a little about why The Midtown Men hold a special place in his heart.
BroadwayWorld: With over 2,000 performances together, how has the sound of the group changed over the years?
Hoff: "We've changed a lot because in order to stay active and present and vital, we needed to allow each other to explore our own voices and explore the depth of the music of the 60s and step out of that Four Seasons sound and into other expressions. We still have the same core because it's inevitable: these four actors together who sang the Four Seasons on Broadway for three years together. That's part of who we are and has everything to do with why we came together in the first place. Starting our own group has allowed us to explore our own individual talents as well as our collective talents and it's a journey. Our audiences, even those who are new and didn't see us on Broadway, are excited to hear a fresh take on this music just as our loyal fans from Broadway, which we continue to see at every show, encourage and support us."
BroadwayWorld: How is this tour different than years past?
Hoff: "Every Midtown Men show is a new adventure. We sing a lot of material that we've sung over the years, but we also bring a lot of new material. We're getting ready to embark on a new season and we have some new material that we're going to be trying out this fall. We've had a nice break this summer so it's going to be a bit of a reunion, not only for us on stage and the band, but for our fans in Schenectady and in other cities we go to."
BroadwayWorld: You each have your own careers aside from The Midtown Men. What makes you keep coming back to perform together?
Hoff: "Not only is the group a catalyst for us to work on projects individually, but we've sort of leveraged this camaraderie that we have as the backbone to our individual lives as artists. We kind of think of it as our own career pursuits being space walks and we come back to the space station being Midtown Men, if you will, as a safe place to challenge ourselves and one another using our music and the music of the 60s as a vehicle for that. It's kind of like coming home every time we step on the stage. As hard as it is to go on the road and do this over and over again, it's become sort of a comfort as well as a challenge to bring a fresh experience when we step on stage. And no matter what is going on in our lives and no matter how grueling tour is, we are always uplifted just as much as the audience is at the end of our shows."
BroadwayWorld: Why should audiences, both new and old, come see the show?
Hoff: "I always like to encourage audiences, new and old, to let go of what is going on in the world and to experience the music that we are so passionate about. Not only to escape, but to inform what is going on in our lives and in our world right now. From all that's happening around the globe, with a lot of change happening and a lot of change that needs to happen, the 60s music, when it was written, was a great expression of that change. It really was an expression of such a diverse time in our history and it's amazing to think that we are back there right now. So we kind of use this music as a chance to draw people together in a much divided time."
For more information about The Midtown Men's current tour, visit www.themidtownmen.com.
Gianluca Russo is the Central NY Senior Editor of BroadwayWorld. He is also a freelance writer, editor and social media manager who has been published (read more...)