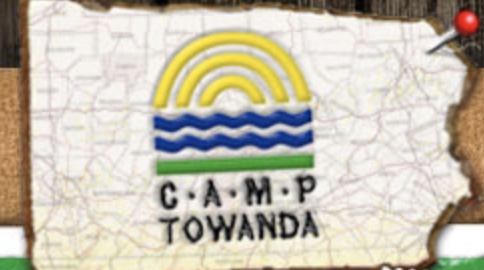 Towanda Theatre Camp Guide
Submit Camp Updates
TOWANDA - CAMP INFORMATION

Camp Type: Overnight
Session Length: 8 Weeks
Camp Focus: Traditional Camp Activities, Athletics, Waterfront, Arts

Extra Activities: Fitness, Performing Arts, Adventure



Camp Towanda is an independent, traditional, co-ed sleep-away camp nestled in the Northeast Pocono Mountains of Pennsylvania. We have a special place, filled with tons of energy and spirit, deep friendships, nonstop fun and diverse activities. At Camp Towanda, we provide a well-rounded experience for our campers and staff in a nurturing, safe environment with endless opportunities for them to try new things and feel great about themselves! All while creating memories with their summer family that will last a lifetime.

Summer camp fun on waterfront

Our program offers an excellent and professional athletic department, waterfront, extensive arts, drama and adventure programs, as well as very creative evening activities and special events. This is where kids get to be kids, just like the old days!

We attract down-to-earth, friendly and spirited campers, families and staff. Our camp is for all levels of abilities and interests. There are an equal number of boys and girls, with campers coming from many states and several countries. Our camper-to-counselor ratio is higher than 4:1!

For over 90 years, Camp Towanda has continued to define what camp should really be. We take pride in everything we do and continuously upgrade our state-of-the-art facilities, while still ensuring everything feels like "camp". We are highly regarded and respected as an industry leader and are involved in giving back to various organizations throughout the year.

Camp Towanda is accredited by the American Camp Association and a member of the Camp-Alert-Network, Wayne County Camp Association, Camp Owners and Directors Association and the Pennsylvania Camp Association.





Singer and Actress Traci Braxton Has Died at Age 50March 12, 2022

Singer and actress Traci Braxton has passed away this morning from cancer. She was fifty years old. Braxton had esophageal cancer and spent the past year in hospice care. Traci Braxton frequently appearance on "Braxton Family Values,' the family's reality television show. She starred alongside her siblings Toni, Towanda, Trina, Tamar and Michael. Braxton also supported charities that aided women and children. 

Tamela Mann And David Mann Spread Love, Light & Inspiration In The New 20 City TourOctober 12, 2018

Power couple David and Tamela Mann are embarking on the second installment of their critically-acclaimed, 'Us Against The World: Mann Family Tour.' The Mann's family national concert tour kicked off on Oct. 11 and will make stops in 20 cities, ending in Cincinnati, OH on Nov. 11. Billed as a theatrical experience, the show sets out to inspire families, couples and those who are believers to stand up against 'the world.' The US Against The World Tour is a non-stop party! Featured each night are DJ David Mann Jr., Tia Mann performing new music, a hilarious comedy set by David, a full concert by the golden voice of Gospel Tamela Mann, and a special moment in the show where David & Tamela share from their book, 'Us Against The World: Our Secrets To Love, Marriage & Family.

Lifetime Announces 'It's a Wonderful Lifetime' Programming SlateSeptember 24, 2018

Christmas is coming early this year! Lifetime sleighs the 2018 holiday season this year with the network's It's a Wonderful Lifetime lineup, featuring 14 all-new original movies and nine acquired films. Kicking off on November 21 with a special week featuring five nights of premieres, each week of the holiday season will feature new movies every Friday, Saturday and Sunday, it was announced today by Tanya Lopez, EVP, Movies, Limited Series and Original Movie Acquisitions, Lifetime and LMN.