#WEHAVEAVOICE2: A Benefit For Covenant House New York Comes to Green Room 42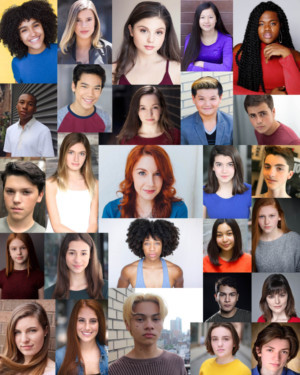 On Friday, November 9, at 9:30 p.m. at The Green Room 42, 570 10th Ave, 4th Floor inside YOTEL,New York, NY 10036, youthful stars of stage and screen are coming together again for the second annual benefit concert for Covenant House New York, #WeHaveAVoice2. #WeHaveAVoice2 will be an energized night of songs, including pop, rock, r & b, oldies, original pieces, and more, but without show tunes or jazz hands. One hundred percent of the proceeds will be donated to Covenant House New York. For tickets visit https://web.ovationtix.com/trs/pe.c/10335092
The show will be co hosted by Esco Jouley and Jari Jones. Jones is a black trans multi-faceted artist who is recognized as an LGBTQ and body positive public figure. Jari has graced some of New York's greatest stages, recently in productions of : Runaways, "The Sex Myth: A Devised Play" and a two year run of Lin Manuel Miranda's In The Heights. Jouley was awarded Outstanding Individual Performance in the 2018 New York Musical Festival. NYC Credits: include: Interstate (Acorn Theater), Runaways ( Delacorte Theater), Soft Butter (Ars Nova), Galatea (WP Theater), The Demise (Peter Jay Sharp Theater), and Beowolf (Signature Theater). Jouley and Jones recently shared the stage at The Delacorte Theater for the 40th Anniversary performance of Runaways, produced for The Public Theater Gala and directed by Sam Pinkleton.
Runaways brought to light many of the issues still facing young people today. This is the impetus for continuing to support the youth at Covenant House by raising money and awareness. In fact, 3.5 million young adults ages 18 to 25 experience a form of homelessness in the course of a year - that's 1 of every 10 young adults and 700,000 adolescent minors ages 13 to 17 experience a form of homelessness in the course of a year - that's 1 of every 30 adolescent minors. This benefit concert will raise crucial operating funds for Covenant House, whose doors are open 24/7/365 in 31 cities across the United States, Canada, Mexico, Guatemala, Honduras, and Nicaragua. 2,000 young people overcoming homelessness sleep under a Covenant House roof every night, and the unmet need is great. In NYC, over 250 residents call Covenant House their home each night. Covenant House's goal is to reach more kids, provide for their immediate needs and put them on a path toward independence and self-sufficiency so they can move forward to adulthood free of violence, poverty, and the threat of future homelessness.
The music director for the concert, Casey Erin Clark, has been teaching vocal production, public speaking, accent modification, and singing to clients of all ages for the last 10 years. Her singing clients perform on Broadway, in national tours, and regional theaters around the country. As a performer, Casey's selected credits include the 2013 Oscars, performing "One Day More" with the Les Miserables film cast, 25th Anniversary National Tour of Les Miserables, Frankenstein, Neuroses the Musical, and Shout! the mod musical, 4 NYMF shows, Lorna's Pink Party (singing backup for Lorna Luft and Liza Minnelli) and Her Song at the world-famous Birdland Jazz Club, and the Broadway Loves the 80's series at Joe's Pub. Regional favorites include: City of Angels, Sound of Music (Maria, STL Post Best Actress Award), and Little Women (Jo, Kevin Kline Award nomination).
Throughout the evening, audience members will be entertained and uplifted with popular songs by groups and artists such as The Beatles, Radiohead, Elvis Presley, Amy Winehouse, Adele, Sia, Michael Jackson, Daniel Caesar, Demi Lovato, and original music by Sam Poon from his album S.P.O.O.N.
Performers from stage and screen include: Sam Poon (The King and I, Macbeth, Billy Elliot, Les Miserables, Runaways), Samantha Blaire Cutler ( Dear Evan Hansen, Billy Elliot, Orange is the New Black), Nicky Torchia ( Black Mirror Arkangel, Kinky Boots, The King and I, Elf, A Christmas Story), Mavis Simpson-Ernst ( Evita, Les Miserables, The Americans), Amaya Braganza ( Annie, The King and I), Kara Oates ( Billy Elliot, Mary Poppins, Napoli, Brooklyn), Katie Micha ( Gypsy, Billy Elliot, The Grinch), Julianna Rigoglioso ( Mary Poppins, The Sound of Music, Far From Heaven, Smurfs), William Poon ( Beauty and the Beast, The King and I, Sesame Street Magical Wand Chase), Raleigh Shuck ( The Grinch, Beaches), Sydney Shuck ( Annie, Pretty to the Bone), Ellie Poon ( A Christmas Story, Sesame Street), James Ignacio ( The King and I, Camp Rolling Hills), Sumaya Bouhbal (Runaways), Maxwell Vice (Primer for a Failed Superpower, Runaways), Carman Napier (Bye Bye Birdie, Quantico), Cele Pahucki ( Runaways, Primer for a Failed Superpower), Nicole Berger ( All at Once, Prescient) ,Victoria Csatay ( Peace Love and Cupcakes, Billy Elliot), Maddox Elliot ( Les Miserables, Evil Lives Here), Hayden Oliver ( Nurse Jackie, Blood and Circumstance), and Autumn Beauchesne (Silent Sky), with Dea Milo on drums, Misha Nicholas on keys and other special guests. The production stage manager will be Victoria Leigh ( Cat on a Hot Tin Roof, Law and Order SVU, Sinister) with assistance from Michelle Baum.
"The Green Room 42 is Broadway's newest urban entertainment cabaret club, that since its opening on Valentine's day has featured Broadway names like Alice Ripley, Telly Leung, Josh Groban, Eva Noblezada, Lillias White, James Snyder, The Skivvies (Lauren Molina & Nick Cearley), Matt Doyle, Constantine Maroulis, and many more. Located on the fourth floor of YOTEL NYC, The Green Room 42 boasts a funky new vibe, and no food or beverage minimum-- opening up the cabaret industry to an affordable, relaxed atmosphere, perfect for theatre people and theatre fans alike."