The Holidays Await at 54 Below with Michael Feinstein, Caissie Levy, Lee Roy Reams, and More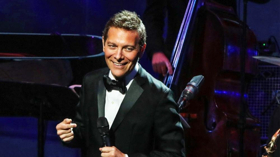 This week, FEINSTEIN'S/54 BELOW, Broadway's Supper Club & Private Event Destination, presents some of the brightest stars from Broadway, cabaret, jazz, and beyond. To purchase tickets or for more information, visit www.54Below.com/Feinsteins or call (646) 476-3551.
Michael Feinstein: CHRISTMAS CROONERS, DECEMBER 18-30 AT 7:00PM, 8:00PM, and 9:30PM:
In this all-new show celebrating the magic of the holidays, Michael Feinstein will perform seasonal favorites and contemporary surprises, as well as a tribute to singing legends of the past and present. Enjoy the spirit of the season with Michael's marvelous music and the warmth and cheer of the club that bears his name.
Expect to be transported to many different decades of music while experiencing songs from "White Christmas" to "Home" from The Wiz ... and some of your favorite swinging American standards by Frank, Sammy, and Dean - Christmas tunes from classic movies. This holiday show will even be brought into the 20th century, expanding the songbook to include numbers like "A Song For You" by Leon Russell and "Kiss" by Prince. There will be many fun twists and turns in this brand new show.
Michael Feinstein, Ambassador of the Great American Songbook, has built a dazzling career over the last three decades bringing the music of the Great American songbook to the world. From recordings that have earned him five Grammy Award nominations to his Emmy nominated PBS-TV specials, his acclaimed NPR series and concerts spanning the globe. His work as an educator and archivist define Feinstein as one of the most important musical forces of our time.
The New York Times hailed Michael's show "as much a Christmas season ritual as catching The Rockettes at Radio City Music Hall or visiting the Rockefeller Center Christmas Tree."
December 25th, Christmas Day Performance Information
For Mr. Feinstein's Christmas Day performance on Monday, December 25, pre-selected reservations are mandatory & begin at 5:00pm. The kitchen will continue to serve throughout the entirety of the performance. Please arrive within 15 minutes of your scheduled reservation time to ensure that everyone has a wonderful holiday experience. Should you arrive earlier or later than your reservation time, you may be asked to wait at the bar or in the lobby until such a time as you can be seated. For this evening only, our regular menu will be replaced by a Christmas prix fixe, which features classic holiday dishes and other festive seasonal favorites. All guests will be charged $85 each for their meals (this pricing does not include tax & gratuity).
$65-$115 cover charge. $120-$140 VIP seating. $150-$175 premium seating. $25 food & beverage minimum.
A VERY MERRY UNAUTHORIZED CHILDREN'S SCIENTOLOGY PAGEANT IN CONCERT, DECEMBER 26 AT 7:00PM:
Join us at Feinstein's/54 Below for a darkly funny and entertaining evening featuring the songs of the Obie Award-winning A Very Merry Unauthorized Children's Scientology Pageant: In Concert, an unforgettable celebration of Kyle Jarrow and Alex Timbers' musical. Experience "Hey! It's A Happy Day," "Science Of The Mind," and "Rain" like never before! Featuring an all-star cast of Broadway and New York's finest young talent.
Featuring: Alessandra Baldacchino (Fun Home), Sami Bray (1984), Ashleigh Conner (Annie Warbucks), Gregory Diaz (Matilda), Anthony Rosenthal (Falsettos), Presley Ryan (Fun Home), Ava Swinton (Annie Warbucks), Jeremy T. Villas (Kinky Boots), Nicole Wildy (Really Rosie), Timothy Yang (The King and I), and Graydon Yosowitz (The Light Years, Trevor)
Directed and Designed by Sean Pollock. Musical Direction by Luke McGinnis. Produced by Jamison Daniels and Van Dean. Stage Managed by Dabney Rauh.
$35-$45 cover charge. $75 premium seating. $25 food & beverage minimum.
54 SINGS BROADWAY'S GREATEST HITS!, DECEMBER 26 AT 9:30PM:
This Scott Siegel Concert Event hit Feinstein's/54 Below like rolling thunder. Though the first show in this wildly popular series took place on a night a hurricane was supposed to close down New York City, it sold out anyway because this was the show that every musical theater-lover had been waiting for. After many more packed shows, we're going to do it again, with a brand new line-up of Broadway's Greatest Hits!
If you skip through cast albums just to hear the very best songs in each show, this is the nightclub concert event for you. If you love the classics of the Great White Way, come and hear the songs that made Broadway great, that made your heart soar, that you used to sing (maybe still do) in the shower! But at Feinstein's/54 Below, you will hear the greatest Broadway songs of all time performed by today's greatest stars, singing them straight up, the way you want to hear them!
And who better to produce/direct/host this show than the creator of Town Hall's critically acclaimed Broadway by the Year series, Scott Siegel, creator of more than 200 major concert events centered on Broadway music! The latest volumes of Broadway's Greatest Hits will be thrilling nights that you won't forget...
Featuring: Farah Alvin (Nine, Saturday Night Fever), Jeanine Bruen (Vox Lumiere's The Phantom of the Opera as Christine), Pedro Coppeti (Beauty & the Beast National Tour), Joshua Dixon (Award-winning vocalist), Michael Romeo Ruocco (The Underclassman), Jenny Lee Stern (Forbidden Broadway, Rocky, Spamilton), and Willy Falk (Tony Nomination Miss Saigon).
$35-$45 cover charge. $65 premium seating. $25 food & beverage minimum.
AJ LAMBERT, DECEMBER 28 AT 9:30PM:
AJ Lambert, granddaughter of Frank Sinatra, returns to the Feinstein's/54 Below stage this December! A singer who continues the family tradition of song interpretation, AJ's unique perspective on her legendary grandfather's life and music is shared in this new show. She will share the stories no one else can tell while performing, in its entirety, the seminal album that turned Frank Sinatra's life around and has made fans of countless audiences, young and old, for over 60 years.
$30-$40 cover charge. $65 premium seating. $25 food & beverage minimum
THE LATE COMET: Lulu Fall WITH KRIS JOHNSON, DECEMBER 29 AT 11:30PM
Join award-winning singer-songwriter Lulu Fall and award-winning trumpeter Kris Johnson as they perform selections from their new project, The Unpaved Road, as well as other popular covers. Spearheading social stigma and stereotypes combined with unique textures of sound fused with jazz, soul, world-groove, and classical elements, Kris and Lulu join forces for an evening of global perspective and musical diversity. A creatively well-rounded and dynamic duo, their music will engulf you and journey you through their young Black American experience.
Lulu Fall is a singer, award-winning songwriter, and actor based in New York. A formally trained jazz vocalist with a musical theatre background, Lulu is one complete and unexpected package. Recently, Lulu appeared in the Broadway musical Natasha, Pierre & the Great Comet of 1812. She has also been seen in Crowns, Hair, Smokey Joe's, Hadestown, and more. As a musician, Lulu has released three independent albums and has performed at many prestigious venues and events, including Jazz Re:freshed (London) and the World Music Conference (WMC) in Miami.
Kris Johnson is an award-winning jazz trumpeter, composer, and educator. He has appeared on an impressive list of albums including two Grammy-nominated releases: Tony Bennett's A Swingin' Christmas and Karen Clark Sheard's All In One. Kris is a trumpeter and arranger with the Count Basie Orchestra.
-
This show is part of The Late Comet, a late-night series of shows featuring cast members of Natasha, Pierre & The Great Comet of 1812. Produced by Philip Romano.
$20 cover charge. $45 premium seating. 2 drinks or $20 food & beverage minimum
Lee Roy Reams: NEW YEAR'S EVE!, DECEMBER 31 AT 7:00PM:
Let's party! Join us for a once-in-a-lifetime New Year's Eve celebration with Broadway royalty, Lee Roy Reams! Broadway's "song & dance man nonpareil" (New York Times) returns to the Feinstein's/54 Below stage with a special holiday show. Expect stories and songs from the good times of Lee Roy's Broadway past and an optimistic look forward to a happy 2018!
Lee Roy's ten Broadway credits run the gamut from Sweet Charity, Applause, Lorelei, Hello, Dolly!, and 42nd Street to La Cage aux Folles, Beauty and the Beast, and The Producers. Come get the theatrical dish from a fellow who was there to see it all, from Dolly's lashes to Billy Lawlor's well-worn tap shoes.
Musical direction by Alex Rybeck.
$65-$75 cover charge. $85 VIP seating. $125 premium seating. $45 food & beverage minimum.
Caissie Levy ON NEW YEAR'S EVE!, DECEMBER 31 AT 11:00PM:
Direct from starring as Elsa in the Broadway-bound production of Disney's Frozen in Denver, Caissie Levy returns to Feinstein's/54 Below for a magical New Year's Eve celebration! Backed by a killer band, Caissie will sing highlights from her career starring on Broadway in such shows as Hair, Ghost, Rent, Wicked, and Les Mis. Expect the unexpected from this exceptionally versatile singer who's been known to cover everyone from Eva Cassidy to Radiohead to TLC in her live shows. She will also sing tunes from her debut solo album, With You. Come ring in the New Year and smooch your sweetie while being serenaded by one of the most beloved Broadway pop singers in NYC!
Caissie recreated the iconic role of Fantine in the 2014 revival of Les Misérables on Broadway, and is perhaps best known to New York and London audiences for originating the roles of Molly in Ghost, and Sheila in the Tony Award-winning revival of Hair. Caissie's other Broadway credits include Elphaba in the Broadway and Los Angeles productions of Wicked, Penny in the Broadway, 1st National Tour, and Toronto companies of Hairspray and Maureen in the national tour of Rent. Off-Broadway, she starred as Patti Davis and Julie Nixon in the world premiere of Michael John LaChiusa's First Daughter Suite at The Public Theater, and as Sara in the Off-Broadway production of Murder Ballad.
Caissie will be joined on stage by her former Hair co-stars, Andrew Kober and Kacie Sheik for a special reunion to help ring in the new year.
All tickets include two spectacularly delicious courses by Executive Chef Lynn Bound, a dessert buffet after the show/during the dance party, and an open bar for the entire evening, inclusive of tax and gratuity. For those who want to ring in their New Year with something even more special, our Premium Seats will include a half bottle of champagne for each party of two and an individual dessert platter during the dance party
.
For those who want to dance the night away, we invite you to our Disco Seats. This location will give you an excellent view during the show, and keep you right in the middle of the action. As midnight strikes, the tables and seats will be whisked away, allowing everyone to ring in the new year with the best party in town! Tables will be set up around the dance floor for those who want a "disco nap" in between songs. After midnight, showcase your best moves when the party continues with more music and dancing.
$325-$350 cover charge. $420 VIP seating. $495 premium seating. Cover charge includes a two-course prix fixe dinner, dessert buffet, open bar, tax, and gratuity. Premium and Ringside seats include an individual dessert platter.
MORE ABOUT FEINSTEIN'S/54 BELOW
Feinstein's/54 Below, Broadway's Supper Club & Private Event Destination, is a performance venue in the grand tradition of New York City nightlife. A few blocks from the heart of Times Square and just below the legendary Studio 54, Feinstein's/54 Below is a classically designed state-of-the art nightclub in the theatre district that hosts audiences with warmth and style. Feinstein's/54 Below presents iconic and rising stars from the worlds of Broadway and popular music and has set a new standard for culinary excellence worthy of the world-class entertainment on the stage.
In their description of the venue, The New York Times writes, "Feinstein's/54 Below has the intimacy of a large living room with unimpeded views and impeccable sound; there is not a bad seat in the house. Its sultry after-hours ambience is enhanced by brocade-patterned wall panels planted with orange-shaded lanterns. And the atmosphere is warmer and sexier than in Manhattan's other major supper clubs."
Located at 254 West 54th Street, Feinstein's/54 Below features up to three shows nightly with cover charges ranging from $5-$105. 54Below.com/Feinsteins

Related Articles View More Cabaret

Stories

Shows
More Hot Stories For You