TRANS VOICES CABARET Returns to The Duplex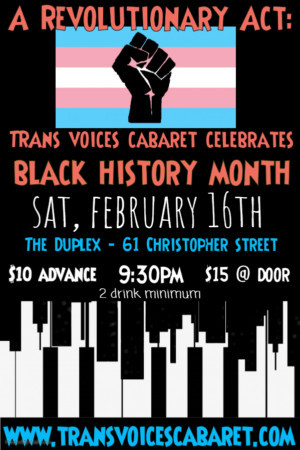 Trans Voices Cabaret returns to The Duplex with their first show of 2019, A Revolutionary Act: Trans Voices Cabaret Celebrates Black History Month!
Co-produced and directed by Ianne Fields Stewart, A Revolutionary Act is a cabaret featuring talented Black Trans/GNC performers singing a diverse selection from the Black musical theater canon. Black Trans folx have contributed immensely to the theater world, pop culture, and the world at large, but their efforts have often gone unrecognized. The purpose of this Cabaret is to highlight up-and-coming Black Trans talent and give them the chance to shine that too often eludes them!
Trans Voices Cabaret creator Donnie Cianciotto is grateful to be kicking off 2019 with this important show.
"I believe that telling our stories, first to ourselves and then to one another and the world, is a revolutionary act. It is an act that can be met with hostility, exclusion, and violence. It can also lead to love, understanding, transcendence, and community." - Janet Mock
Tickets are $10 online, $15 at the door
Two Drink Minimum
Tickets available here: www.purplepass.com/revolutionary0216