TEA WITH BEA: A Tribute To The Funniest Woman In The World Comes to the Duplex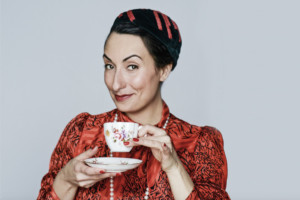 Beatrice Lillie aka Lady Peel, star of stage and screen from the 1910s to the 1960s, returns to the stage to reclaim her title as "The Funniest Woman in the World."
Christine Aziz, Canadian actor and singer and Canadian Comedy Award nominee (Best One Person Show), brings Beatrice Lillie back to life in this quirky cabaret. Featuring Bea's favourite songs by Noël Coward, Liza Lehmann, Ivor Novello and Leslie Bricusse, and original ditties by Aziz and award-winning composer Leeran Z. Raphaely (two Jerry Goldsmith Awards, International Film Music Award - Zurich Film Festival). Also featuring appearances by Ethel Merman and Tallulah Bankhead, this intimate evening of music and laughter will leave you wondering "Why haven't more people heard of this wonderful woman Beatrice Lillie?"
Cabaret Scenes says: "Aziz's ability to get into the character of this fervent femme of the '20s set up a fabulous performance of "I Went to a Marvelous Party" by Noël Coward...It also made her impressions of "guest stars" Tallulah Bankhead and Ethel Merman all the more, well, impressive... Bravo!"
$10 Ticket in Advance & a 2 Drink Minimum in the Cabaret Theatre
$15 Ticket at the Door (plus service fee) & a 2 Drink Minimum in the Cabaret Theatre
Sunday September 30th at 4pm