Richard Jay-Alexander Turns His Eye Onto Burlesque & Honey Beavers
On Monday, February 18th (Presidents' Day) you'll find Richard Jay-Alexander at Midtown's Urban Entertainment Hall, The Greenroom 42, as Co-Producer and Director of HONEY BEAVERS: IT'S 9:30 PM. DO YOU KNOW WHERE YOUR CHILDREN ARE? It's a headlining debut for the downtown artist, but what many of you don't know is that the same girl, by day, is Jay-Alexander's Assistant, Nellie Beavers.
Richard happily sings out (to the tune of "Everybody Loves Louis" from Sondheim's SUNDAY IN THE PARK WITH GEORGE)... "Everybody Loves Nellie..." Nellie Beavers and her sometimes Boss/Director go as far back as when they first met when Richard was directing Brian Stokes Mitchell's Carnegie Hall Debut, for The Actors Fund. She was a volunteer, and they stayed in touch, through the years. Beavers has assisted him on shows with such stars as Kristin Chenoweth, Barbra Streisand, Norm Lewis, Desmond Child, Deborah Cox, and his recent production of PORGY AND BESS with the South Florida Symphony Orchestra, among others. In between, this gal has been found designing databases, editing films, coordinating live events, photographing fellow Burlesque artists, and even working for Apple, among a host of other skills.
Two summers ago, Nellie went with Richard to work for Kristin Chenoweth's Broadway Bootcamp, in Broken Arrow, OK. It was during that week that Jay-Alexander learned that his assistant sang and did Burlesque. He was in shock, as was Chenoweth, Baayork Lee, Faith Prince, and everybody else, including Michael Orland, who played piano for her. She proceeded to show Richard videos of her work as HONEY BEAVERS and gradually introduced him to the phenomenon of Burlesque in Manhattan, which she happily dragged him to, downtown.
It was recently that he suggested a night in Midtown based on their work schedule, and Monday night is now the night!
Jay-Alexander says, "The show is going to be chock-a-block with entertainment, all skewed toward Broadway and Burlesque fans. Nellie has introduced me to some amazing performers. Three of whom will be guest starring in the program. They are SEEDY EDIE, BROODY VALENTINO, and Nasty Canasta. They will be performing My Fair(ly Angry) Lady, As if We Never Said Goodbye from SUNSET BOUlEVARD, Santa Maria Evita, and The glASS Menagerie. I am particularly enamored with "The glASS Menagerie" situation. I think the audience is going to have a blast. The crazily talented Joseph Joubert serves as our Musical Director and the boys in the band are George Farmer on Bass and Warren Odze on Percussion. Nellie (HONEY) is, of course, the STAR of the show, and as I'm known to say, "I'm in the Star Business". So, I make sure she's front and center, not to let her down... as she knows my history and track record.
I don't think there's a better way to spend your Presidents' Day Night this year. And I hope we attract friends, fans, and even a good number of the curious to our audience.
There'll be showtunes-a-plenty and lots of skin. Also, lots of laughs, and you may even find yourself shedding a tear or two. No spoilers here!"
There are still some tickets left for Monday night, but Richard Jay-Alexander and The Greenroom 42's Producer in Residence, Daniel Dunlow are predicting a sell-out. The two have been friends, now, for some time, and welcomed this opportunity to work with BEAVERS. There's even word that Beavers's mother is coming up for this special night, all the way from Miami Beach, as she has NEVER seen her daughter perform burlesque.
If you've never been to The Greenroom42, the food is spectacular, and you can even order from your table, via text!
https://ci.ovationtix.com/34878/production/1003762?performanceId=10362526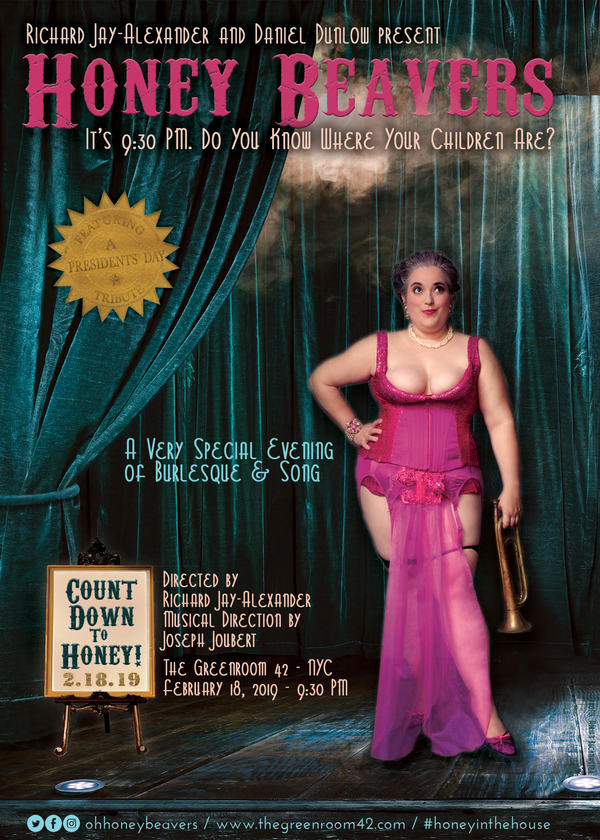 Poster Photo by Adrian Buckmaster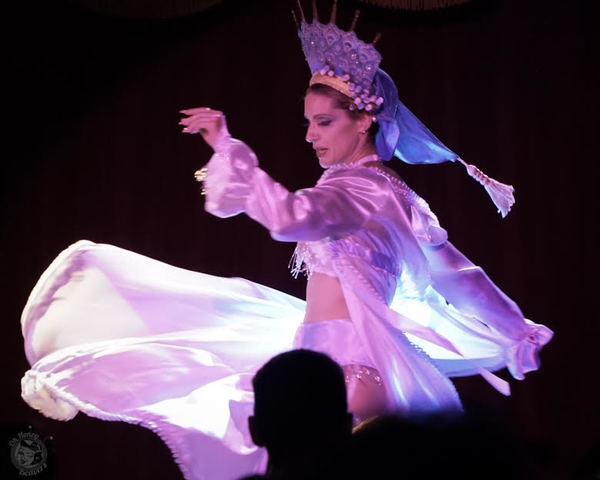 Nasty Canasta as Santa Evita (photo: Honey Beavers)

Broody Valentino as Norma Desmond (photo: Honey Beavers)

Seedy Edie as Eliza Dolittle (photo: Honey Beavers)

Nellie & Richard Jay-Alexander (photo: Bruce Glikas)

Related Articles View More Cabaret

Stories

Shows