Photo Flash: Ann Hampton Callaway Plays 54 Below!
For the first time in New York City, Platinum Award-winning singer-songwriter Ann Hampton Callaway celebrates the music of one of America's most powerful and enduring musical artists, Ann Hampton Callaway, Sept. 25-29 at 54 Below. Singing timeless classics from five decades of Barbra Streisand's multi-faceted career, Callaway crafts a loving musical portrait of the icon who once described herself as being "simple, complex, generous, selfish, unattractive, beautiful, lazy and driven."
Check out photos from her first concert below
The Tony-nominated actress puts unique pop/jazz spin on unforgettable songs from Barbra's Broadway years (Funny Girl) to her film works (A Star Is Born), from her early pop albums ("People") to her later concept albums ("Higher Ground") which debuted at number 1 on Billboard and featured Ann's original peace anthem "At The Same Time." Callaway weaves humorous and inspiring anecdotes of how Streisand began as such a role model for her and evolved as a mentor, recording Ann's songs on six of her recent CD's, including "I've Dreamed Of You," the song that Streisand sang on her wedding day. In a night of soaring songs and stories, Callaway promises us a performance that not only celebrates the extraordinary career of Barbra Streisand, but also reminds us of "the way we were." Cover charge: $30-40. $25 food and beverage minimum.
54 Below is owned and operated by Tony Award winning producers Tom Viertel, Marc Routh, Richard Frankel, and Steven Baruch. 54 Below features up to three shows nightly and has audio and video recording capabilities. The cover charge ranges from $5-$85. 54 Below is located at 254 West 54th Street. To purchase tickets or for more information, visit www.54Below.com or call (866) 468-7619.
Photo Credit: Matt Madison Clark


Ann Hampton Callaway and John Bucchino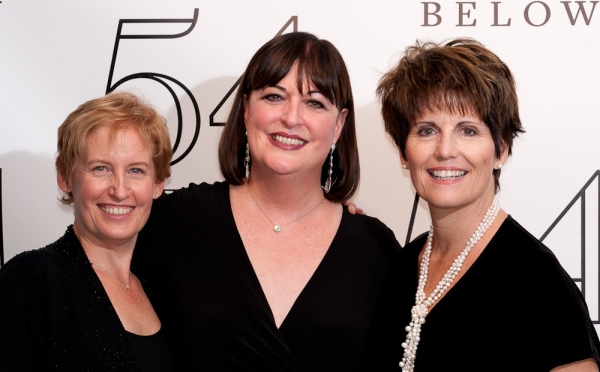 Liz Callaway, Ann Hampton Callaway, and Lucie Arnaz

Ted Rosenthal, Ann Hampton Callaway, Martin Wind, and Tim Horner

Ann Hampton Callaway