Linda Eder, Lindsay Mendez and More Take the Stage at 54 Below This Week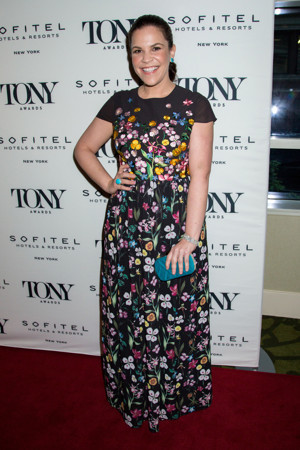 This week, FEINSTEIN'S/54 BELOW, Broadway's Supper Club & Private Event Destination, presents some of the brightest stars from Broadway, cabaret, jazz, and beyond. To purchase tickets or for more information, visit www.54Below.com/Feinsteins or call (646) 476-3551.
LuAnn de Lesseps: #COUNTESSANDFRIENDS, SEPTEMBER 10 AT 7:00PM
Television personality, pop singer, and author LuAnn de Lesseps-known as the Countess on "The Real Housewives of New York City"-premieres her debut nightclub act, #CountessAndFriends.
Hip as a New York minute and classically chic, de Lesseps's glamorous life in the fast lane on several continents (together with a solid decade at the center of reality TV) provides fodder for hilarious stories, one-of-a-kind anecdotes, and, of course, some standards and pop songs in her inimitable style. She will be joined by an eclectic group of New York's most sought after nightlife stars, both legendary and ascendant. #CountessAndFriends promises a glorious return to the heyday of cosmopolitan evening entertainment.
LuAnn de Lesseps has sung at Birdland, with Natalie Cole and Billy Stritch, and on an all-star bill at Town Hall with Liza Minnelli, Chita Rivera, Lucie Arnaz, and Marilyn Maye. Her three dance singles, "Chic C'est La Vie," "Girl Code," and "Money Can't Buy You Class," have charted on iTunes and remain consistent favorite club anthems.
Musical Direction & Arrangements by Billy Stritch
Written & Directed by Ben Rimalower
$80-$110 cover charge. $110-$130 VIP seating. $150-$170 premium seating. $25 food & beverage minimum.
NEW MUSICAL! STONE AND SPARROW BY Alex Ratner, SEPTEMBER 10 AT 9:30PM
A new musical with an entirely acoustic pop/folk score by up-and-coming composer Alex Ratner, and book by librettist Laurel Durning-Hammond, Stone and Sparrow is a period drama about one family's move from the Appalachian Mountains of Kentucky to a coal mining town on the eve of the Great Depression. The show was developed at Yale as the Theatre Department's premiere faculty-directed original musical, and was selected as a winner of the 2016 New Voices Project, sponsored by New Musicals, Inc. and Walt Disney Imagineering.
When James and Mae Sloane trade their land for a new life in Marrowbone, their daughters Sary and Orlena and adopted son Ward must reconcile newfound independence with greater responsibility. As Sary falls in love, Orlena ascends to the position of assistant schoolteacher in town and Ward descends deeper into the mines, Marrowbone hurtles toward the brink of collapse.
The concert features direction by Stefanie Sertich and music direction by Paul Staroba. The concert is produced by Tyler Emeney.

Featuring: Hannah Elless (Bright Star, Godspell), Ryan Vona (Paramour, Once), Danette Holden (Cagney, Annie), Michael McCoy (The Phantom of the Opera), Christian Probst (The Book of Mormon), Jimmy Brewer (The Black Suits), and Deidre Thompson.
$30-$40 cover charge. $65 premium seating. $25 food & beverage minimum.
Yurel Echezarreta: BREAK FREE, SEPTEMBER 10 AT 11:30PM
Yurel Echezarreta, actor in the new Broadway musical, Head Over Heels, makes his Feinstein's/54 Below and solo concert debut in "BREAK FREE: An Evening with Yurel. A Concert expressing the Journey of Finding your Truest Self through Music and Expression. Where Shining your Truest Colors; Light and Dark, Masculine and Feminine and BREAKING FREE of fears and Inhibitions are the only rules of the Night!"

You will be taken from his early days of performing through the past ten years of his living, working, and learning what's what in New York City. Featuring a diverse selection of music from hit musicals like from hit musicals like Children of Eden and La Cage Aux Folles to Top Chart Songs from icons Beyoncé, Sara Bareilles, and Cardi B, Yurel will highlight his own personal and professional stories. Yurel creates a musically transcendent experience launching the audience through time, sweat, tears, and dreams!

Yurel will be joined by musical director Jane Cardona (Associate Music Director- Head Over Heels), and singing guests: Kathryn Allison (Aladdin), Nathan Lucrezio (Aladdin), Ari Groover (Head Over Heels), Arica Jackson (Head Over Heels), and Sean Zuni Green (Hamilton).
$20 cover charge. $40 premium seating. 2 drink or $20 food & beverage minimum.
54 SINGS GOLDEN RAINBOW, SEPTEMBER 11 AT 7:00PM & 9:30PM
For one night only, Feinstein's/54 Below will take audiences back to the groovy 60s when Golden Rainbow by Walter Marks and Ernest Kinoy celebrates its 50th Anniversary with an all-star Broadway cast.
Set amongst the slot machines and cocktail lounges of yesteryear's Sin City, Golden Rainbow tells the story of a swinging single father whose world is turned upside down when his late wife's sister comes to live with him and his son.
Originally starring international singing sensations Steve Lawrence and Eydie Gorme, this production will star Steve and Eydie's son, David Lawrence (High School Musical), and Tony Award winner Debbie Gravitte (Jerome Robbins' Broadway).
Put on your miniskirts, grab your bellbottoms, and prepare to be tapping your platform shoes with a musical spectacle that includes the smash hits "For Once In Your Life, "He Needs Me Now," "24 Hours A Day," "All In Fun" and the sensational "I've Gotta Be Me."
Featuring: Debbie Gravitte (Jerome Robbins' Broadway), Jonah Halperin (Kinky Boots, Matilda), Richard Kind (TV's "Spin City," "Curb Your Enthusiasm"),and David Lawrence (High School Musical).
Also Featuring: Caitlin Belcik (Dr. Seuss'...Grinch, Freaky Friday), Cait Crowley (A Chorus Line, West Side Story), Jessie Davidson (Love in Hate Nation, Hair), Roger Dawley (Nickelodeon's "PAW Patrol"), Marc De La Concha (The Drowsy Chaperone, She Loves Me), Courtney Echols (Brigadoon, Beauty and the Beast), Christopher J. Essex (Million Dollar Quartet, South Pacific), David B. Friedman (Hello Dolly!, Peter and the Starcatcher), Nina Landazabal (Nine, Merrily We Roll Along), Andrew Leggieri (Bandstand, Spamalot), Morgan Mastrangelo (Pippin, Heathers), Trey McCoy (Motown), Lethabo Mofomme (Echo, Nine), Paris Alexander Nesbitt (The Book of Mormon), Jonathan Savage (Kiss Me, Kate, Kiss of the Spider Woman), Daniel Schwartzberg (How to Succeed..., Legally Blonde), and
Photo Credit: Jennifer Broski