Lianah Sta. Ana And Jesse Swenson Headline Next MADAME'S SOIREE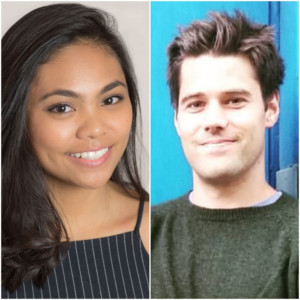 Cabaret patroness Madame Mathieu has selected Lianah Sta. Ana (Miss Saigon, Women on Fire) and Jesse Swenson (Spring Awakening, The Addams Family) as guests of honor at the November edition of Bistro Awards Critics' Pick Madame's Soiree. The Broadway duo will be joined on the program by a distinguished group of emerging artists from a variety of disciplines.
The Soiree will be held at The Duplex Cabaret Theater on November 15 at 9:30pm. Described by critic Gerry Geddes as "an Ed Sullivan Show for a new generation", this "variety show with an avant garde twist" is as unpredictable as the patroness herself. Each eclectic evening features a group of rising stars in stand-up, poetry, dance, songwriting, and performance art while the Broadway guests accept creative dares that arise from Mme. M's insane imagination.
Hosted by seven-time MAC Award-nominated songwriter Drew Fornarola (STRAIGHT, VeggieTales: Noah's Ark) and directed by Tyler Spicer (Pharmabro), this Soiree will feature composer Trevor Bachman (winner of the Soiree's Denovan Residency for Cabaret), dancer Jeff Gorti, comedian Alixe Ward, painter Diane Leon, storyteller Mary Theresa Archbold, film composer Alex Wakim, and songwriters Lauren Gundrum and Brandon Lambert. Assistant director Eli Schleicher. This is the 18th edition of the show, which has already featured over 180 individual artists and 37 Broadway guests.
The Duplex Cabaret Theatre is located at 61 Christopher Street. Tickets are $10 online and $15 at the door. There is a two-drink minimum. For tickets please call 212-989-3015, or visit https://www.purplepass.com/#165338 or www.theduplex.co
Previous Broadway guests have included Julia Abueva (Miss Saigon), Jackie Burns(If/Then), Lindsey Brett Carothers (Bring it On), Lindsay Nicole Chambers (Lysistrata Jones), Peter Cormican (Follies), Lauren Elder (Sideshow), CJ Eldred (Book of Mormon), Natalie Charle Ellis (School of Rock), Brandon Espinoza (Tuck Everlasting), Kelechi Ezie (Book of Mormon), Meghann Fahy (Next to Normal), Charlie Franklin (Book of Mormon), Robi Hager (Spring Awakening), F. Michael Haynie (Wicked), Devin Ilaw (Miss Saigon), L'ogan J'ones (The Spongebob Musical), Emily Klein (Parade), Katie LaMark (Rent), Eric William Morris (Mamma Mia), Josh Page (America's Got Talent), drag personality Chelsea Piers, Zachary Noah Piser (Wicked), Ryann Redmond (If/Then), Maxx Reed (Spiderman: Turn Off The Dark), Emily Rogers (If/Then), MiMi Scardulla (Gigantic), AJ Shively (Bright Star), Ethan Slater(Spongebob Squarepants), Marrick Smith (Fun Home), Jason Michael Snow (The Book of Mormon), Bob Stillman (Grey Gardens), Josh Walden (Ragtime), and Elena Wang (Allegiance).
Related Articles View More Cabaret

Stories

Shows
More Hot Stories For You