Feature: 30 Days Of Cabaret Gratitude - Day Twenty - The Original
Broadway World Cabaret continues its series about the artists for whom our team is grateful.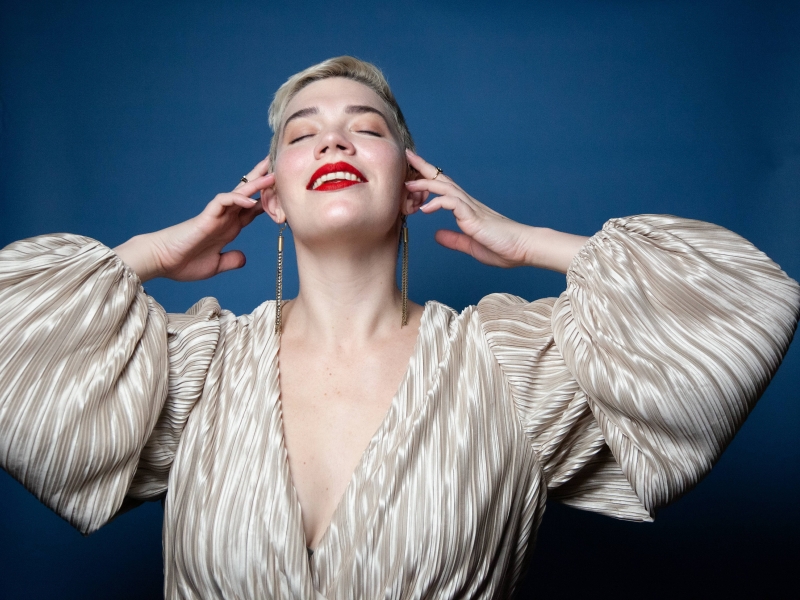 Amy Jo Jackson - The Original
The world's most legendary artists and entertainers have extolled the virtue of being An Original. Often, throughout the years, there have been sayings, quotes, and platitudes about not being a copy, about being your own unique self, about finding your own voice. That is particularly true of the performing arts, where artists like Lily Tomlin, Sammy Davis Jr., Judy Garland, and Freddie Mercury have left legendary legacies behind them, continuing to inspire generations of new performers with a wish to cast the light of individuality so far into the future that their contribution to the arts never fades.
Amy Jo Jackson will cast such a light in show business.
An actor trained in the classics and in musical theater, Amy Jo Jackson has made their mark in regional theaters playing the types of characters that tend to stand out for being, shall we say, a bit bolder, a bit larger-than-life, a bit bigger than the other actors on the stage (think Ursula The Sea Witch, Titania, and The Lady of The Lake) but Amy Jo is equally at home in FUN HOME, so don't think Amy Jo has just one lane. Indeed, Amy Jo has many lanes, for they are a writer, a podcaster, a coach, and one of the most fascinatingly fashion-forward members of the industry. Amy Jo has a reputation for creating cabaret that is colorful, cutting-edge, innovative, and interesting, even if they are only doing one number in a group show (a last-minute substitution for an ailing Sally Mayes, Amy Jo's velvet-sheathed performance of "The Man That Got Away" was a highlight in the 2022 NIGHT OF A THOUSAND JUDYS). In recent years, Amy Jo Jackson has been the powerhouse behind a freight train titled THE BRASS MENAGERIE - a one-person show examining the works, the words, and the women of Williams. That's Tennessee, to you.
With THE BRASS MENAGERIE, Amy Jo Jackson has taken their artistry to a new level. It is one of the most creative, most original, most exciting pieces of cabaret theater to come along in, possibly, ever, garnering Amy Jo rave review after rave review after rave review, and a 2022 Bistro Award for excellence in the category of "Creative Characterization" - and Amy Jo and The Brass Menagerie deserved that award, and every other award.
Amy Jo Jackson stands tall as a person, stands bold as an artist, and stands apart as an original.
In fact, Amy Jo Jackson is THE Original.
Read the Broadway World Cabaret review of Amy Jo Jackson's The Brass Menagerie HERE.
Amy Jo's online presence is as follows:
Website: Click HERE.
Instagram: Click HERE and HERE and HERE.
YouTube: Click HERE.
Patreon: Click HERE.
And Almost Starring Podcast: Click HERE.
Amy Jo's pronouns are They/She
Amy Jo's future projects include:
Currently performing every weekend with Company XIV in "Cocktail Magique;" Keep your eyes and ears peeled for news about my original musical "Hatchetation" in concert
Photos by Stephen Mosher; visit the Stephen Mosher website HERE.