Click Here for More Articles on NEW YORK CITY
BWW Review: Michael Feinstein Salutes Judy Garland at His Annual Holiday Show
"For 47 years, the world of entertainment was blessed with a force of nature called Judy Garland," Michael Feinstein begins, "and for Judy, it all began at MGM." As the artist takes his time with Arthur Schwartz/Howard Dietz's "That's Entertainment," screens on either side of the stage show clips from the film of the same name deftly edited to reflect every lyric. A coda of special material makes "star" recognition even more specific.
In Feinstein's A HOLIDAY TO REMEMBER at Feinstein's/54 Below, we hear songs from Garland's films and appearances, some iconic, others less known. Despite a life of trials, we're told, the performer left a legacy of optimism and joy. She had a quick-witted sense of humor, especially about herself. On one occasion, when Lucille Ball was praised for her humor, she responded that it was scripted, while Judy Garland's was spontaneous. The show is peppered with illuminating anecdotes.
"Just in Time" (Jule Styne/Betty Comden & Adolph Green) is savory, subdued. Feinstein's head tilts in rumination as he slowly turns taking in the room. The second verse becomes a tap dance marked with Mark McLean's light, rhythmic drum stick. Now you're here and now I know just where I'm going... arrives with upswell. No more doubt or fear I've found my way... gently bounces us out.
In honor of The Wizard of Oz, Feinstein sits at the piano to deliver a lilting, balladic solo of "If I Only Had a Brain" (Harold Arlen/E.Y. Harburg). The wistful wishes of the Scarecrow, Tin Man, and Cowardly Lion are part of our collective history. Many of us acted in the piece at summer camp or school.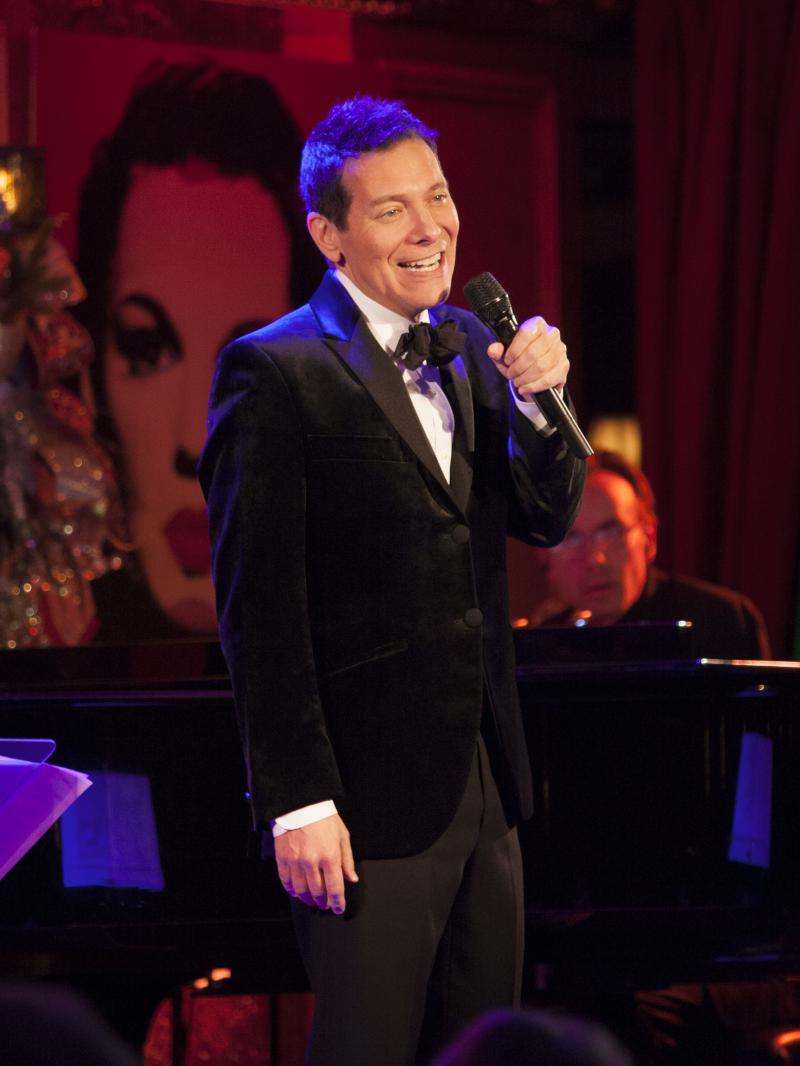 When musical director/pianist Tedd Firth returns, Feinstein hops up onto the piano. John Meyer's "After the Holidays," presented late in Garland's career, is almost a stage whisper. The vocalist's palm opens beside him, then lies on his knee in entreaty: Just stay with me 'til after the holidays, I know it's hard, but try/Try to pretend 'til New Years, then we can say goodbye... Firth strokes the keys, and McClean's rustling cymbal with Phil Palombi's caressed bass add shadows. The beautiful arrangement shimmers like candlelight.
Two medleys packed with familiar numbers respectively reflect Garland's happy songs and ballads. The first features such as "Our Love Affair," Zing Went the Strings of My Heart," "Get Happy," and "The Trolley Song." Feinstein whooshes through exuberantly as if on skis. Later, with the musician once again at the piano, we hear "But Not for Me," "Better Luck Next Time," and "If Love Were All" sailing to a high tenor on the word "amuse." Garland once asked accompanist Hugh Martin if he knew how she made people cry when she sang ballads. "I smile," was the answer.
Two unexpected contributors to this evening's festivities were 17-year-old Brighton Thomas, the designated American Songbook Ambassador out of Feinstein's prestigious, yearly competition, and Ms. Garland herself. The very poisEd Thomas offers a measured "Happy Days are Here Again" (Milton Ager/Jack Yellen) with backend vibrato and lyric awareness. Garland is represented by a priceless recording of "I'll Be Seeing You" (Sammy Fain/Irving Kahal) Feinstein "found behind a transom" in the house she once shared with husband David Rose. Even scratchy, the rendition exudes feeling.
The show ends with Hugh Martin/Ralph Blane's classic "Have Yourself a Merry Little Christmas" emerging like snowfall at night. If Feinstein was less personal during this show than the last, his skills were no less apparent.
---
Michael Feinstein's A HOLIDAY TO REMEMBER continues at Feinstein's/54 Below, 254 West 54th Street, through December 30. For tickets and reservations, visit 54below.com.