BWW Review: Mason Alexander Park's THE PANSY CRAZE Is A Whole Lot Of Pansy & A Little Bit Of Crazy at Chelsea Table + Stage
A Pansy Craze For The New Roaring '20s
Gender Nonconformity Never Felt So Good...
Heigh-Ho, My Merry Rainbow Tribe! Bobby Patrick, your RAINBOW Reviewer here. Putting the silent T in cabareT to bring you all the T!
Well, my lambkins, Sunday night found your little rainbow unicorn boy and the ever adorable BWW reviewer, Ricky Pope double-teaming Mason Alexander Park. Ahem - By that we mean two reviewers, two cocktails, one table, and one STAR on the stage at Chelsea Table + Stage for The Green Room 42 downtown performing their show THE PANSY CRAZE. That run-on sentence amounts to the who, the what, the when, and the where of journalism reporting 101, so strap on... we mean in, and get ready for a double review of one of NYC's most fabulous Non-Binary performers in one of our newest and most exciting cabaret spaces. Take it Away Ricky The Pope...
Broadway World's own Bobby Patrick and I found ourselves at New York's newest cabaret nightspot, Chelsea Table + Stage. It's a very exciting thing when a new cabaret venue is born, though the main thrust of the new venue looks to be more rock, pop, jazz, blues, r&b but with artists like Reeve Carney, Erika Henningsen, and Mason Alexander Park making appearances there, the Broadway crowds will find their way down to Chelsea... and maybe discover some new artists to love... Chelsea Table + Stage is a beautiful and unique, state-of-the-art restaurant and performance space with a staff that was fantastic and efficient. We were treated like old friends from the moment we came in the door.
Thank you, Ricky, and we'll hear more from you shortly, but for now, back to Mason Alexander Park's THE PANSY CRAZE, a fierce musical history lesson with callouts to that halcyon (What? Bobby knows words!) moment of the late 1920s/early 1930s when all things gay were all things stylish. The original Pansy Craze was a big part of why those 20s roared, having begun as an underground entertainment movement during prohibition that then blossomed into a fashion that was cutting across boundaries and tearing down walls until someone suddenly realized that, THAT queer was just a little too queer for the heartlands - cue the slamming of millions of closet doors. Fast forward to what Bobby sincerely hopes will be the NEW roaring 20s and you have the beautifully gender queer Park giving out their lion's roar to kick it off. Going in one era and out the other, MAP took music from a century ago, from midcentury stonewall, the 80s glam rock age, and back to today mixing songs like Leslie & Monaco's 1926 novelty number Masculine Women! Feminine Men! with the Kinks 1970 Hit Lola (about a black trans woman - if you didn't already know) and Bo Burnham's FUNNY FEELING (Hey, What Can You Say...) all with some generous helpings of Hedwig and Frank-N-Furter. And now back to you, Ricky me dear...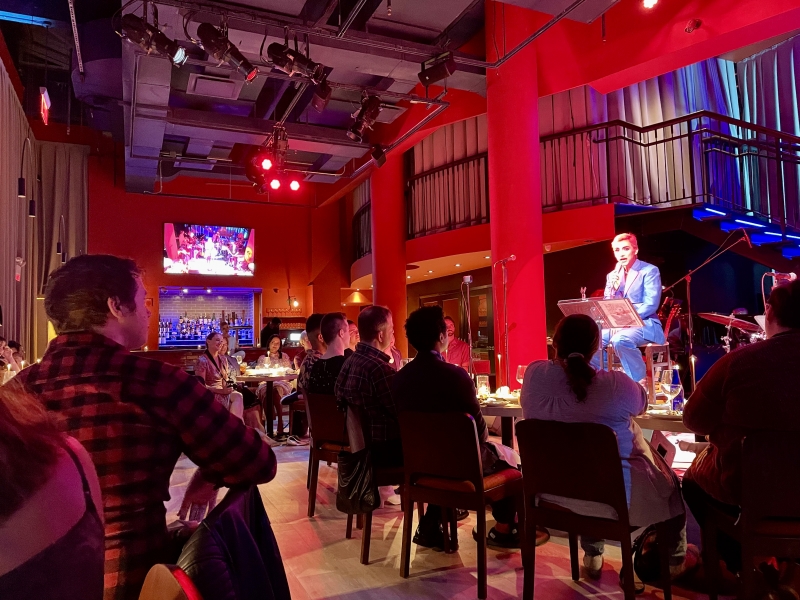 Thank you Bobby - Chelsea Table + Stage is located inside the Hilton Fashion District Hotel at 152 W 26th Street between 6th and 7th Avenues. There is a restaurant on the main floor for those who wish to dine and not catch a show but the main event is down a very grand free-standing, semi-circular staircase in the main showroom; the stage is a circular thrust that is nestled into the crook of this staircase. Tables are arranged ringside in a similar circular pattern and there is a series of tables and banquettes along the back wall. The arrangement creates a feeling of intimacy even in the rather large room and gives every table an unobstructed view (!) of the action onstage. The decor is upscale industrial, but it is warm and inviting, a marvelous, colorful melding of wood, concrete, glass, and metal. The room is a feast for the eyes and a treat for the ears - the acoustics are excellent and the sound design feels present and natural. Bobby?
This particular show was reviewed by our lovely boss, Stephen Mosher, (To Read Click Here) back in June, but, given the response in the venue and from our table, it's certainly worthy of another look and more praise. Directed by Hunter Bird, MAP's performance powers come from their compelling stage presence plus the relaxed demeanor of a young person who's found that hardest to find path into being comfortable in one's own skin. Talking between their fine renditions from their setlist, MAP maps out all the reasons why strong representation, learning history so you DON'T REPEAT IT, and nurturing developing identities is essential if we are to have a gender-orientation-color-blind society - one where stories are told of triumph over oppression as history and not as headlines. All of this was present and prescient in MAP's show and voice Sunday night with the real standout song being MIDNIGHT RADIO from HEDWIG - a role that continues to keep them employed... Thank the Rainbow! Ricky?
The food is out of this world. It is a constantly changing menu of American fare, so every Chelsea Table + Stage experience is a different one. I only had a cocktail but the table next to us had a gorgeous rack of lamb that smelled like heaven and a beautifully presented bowl of Mussels Provençal. They finished off with a vanilla cheesecake that I was tempted to ask if they were going to finish. There is a curated wine and cocktail list that changes daily as well. In addition to the main seating, there is a 10 seat bar area and a special mezzanine for VIPs. It is the perfect place to take a date or find one. Add to that the wonderful High Def monitor over the bar that displays the show going on onstage and you have a wraparound supper club dinner and a show experience for the 21st century.
I am happy to welcome Chelsea Table + Stage into the growing family of cabaret and live music venues. I can't recommend it highly enough, and so I must thank them & MAP for the great show and the delightful evening! Take us home Bobby.
Thanks, Ricky - You May Go... If one must ding Mason Alexander Park for anything regarding their performance, it has to be the dependence on a script placed on the music stand between them and their audience. This isn't junior high choir, it's cabaret. To their credit, they kept up with their script and score pretty well and the turning of pages was not as obtrusive as it could've been, but still... grrrrrr. This, however, is not to detract from the incredible musicality, vocals, wit, and acting of this experience because, on all of those points, Mason AP was, and is, superior. Finally, the combination of this new and exciting space in Chelsea and the vocal talents of this trans-non-binary warrior equals an evening that Bobby can only give a full...
5 Out Of 5 Rainbows
If you're not yet a Mason Alexander Park fan - you oughta be... Follow them
On Their Webby: HERE
See Their Insta-Pictograms: HERE
Look Right Up Their YouTubes: HERE
Tweet Them On The Twitters: HERE
Ande Followe On Ye Olde FaceBooke: HERE

Pictures By Yours Truly And The Lovely Ricky Pope