BWW Feature: Klea Blackhurst's Ethel Merman Playbill Project Provides Theater History Buffs With Delightful Diversion
Using the hashtag #TheEthelMermanPlaybillProject Klea Blackhurst is using her time in quarantine and her Facebook page to share her wealth of knowledge about the legendary musical theater actress, Ethel Merman, with her social media followers. Ms. Blackhurst, a performer with a more than passing association with Ethel Merman, has amassed an enviable collection of Mer-morabilia, particularly a set of Playbill programs that span Merman's entire career. While cleaning house, Blackhurst had the idea, developed the concept, found an appropriate background in her home, and began filming installments of her new web series, with Andrea Prestinario acting as producer and Blackhurst, herself, assuming the role of editor.
"I have an idea! While cleaning up a little flood in the basement, I realized you have to open the boxes and give the contents some love or let them go. And so I am presenting The Ethel Merman #Playbill Project. Look out for a daily video where I'll present a Merman show a day. Over the next two weeks, we'll span all 40 years of Merman's Broadway career through the lens of her Playbill bios."
The series is one of the most inventive and entertaining ones to come out of the lockdown and Blackhurst is a great host - indeed, one wishes she had a regular role like this, so affable is her onscreen personality. Even though Klea's particular passion for Ethel Merman lends itself to the success of the series, it is clear that she could host a history/trivia program on any subject, given the time for preparation. Fortunately for Klea and fans of herself, Ms. Merman or the theater, there is no need for preparation, as Klea Blackhurst is probably the foremost Ethel Merman impersonator in the world. Impersonator is a word that actually gives the wrong impression because Blackhurst's' work performing as Merman is not that of a mimic, but that of an actor portraying a real-life person in a play honoring the celebrity. Her devotion to the legend, it is clear, is what led her to create her bio-plays about her, and it is that devotion that placed these valuable artifacts in her hands, and facts in her mind.
Most importantly, though, is that Klea Blackhurst is fun, funny, and a pleasure to watch. In a world and a time when people count on and look forward to brevity, these under ten-minute videos come to an end and you find yourself wishing they were even two minutes longer. The videos, the hostess, the information imparted is all delightful. And delicious. And de-lovely.
Just like Klea Blackhurst.
To see #TheEthelMermanPlaybillProject in real-time, follow the Klea Blackhurst Facebook page HERE or find it in the links to the individual videos below.
Klea Blackhurst has a WEBSITE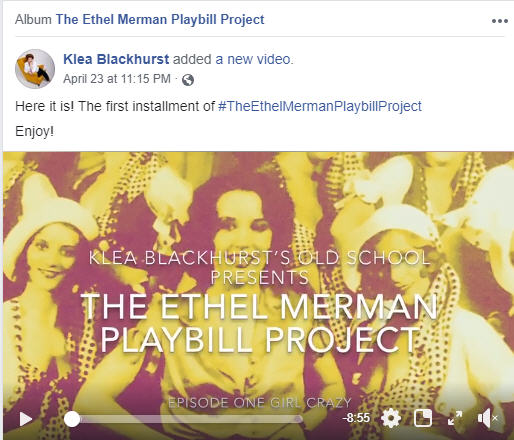 Episode Number One - Girl Crazy: Click HERE
Episode Number Two - George White's Scandals: Click HERE
Episode Number Three - Take a Chance: Click HERE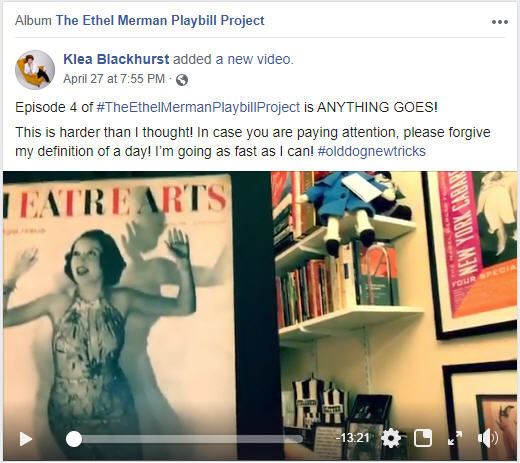 Episode Number Four - Anything Goes: Click HERE