BWW Exclusive: Celebrate ONWARD VICTORIA at Feinstein's/54 Below with #34DaysOfVictoriaWoodhull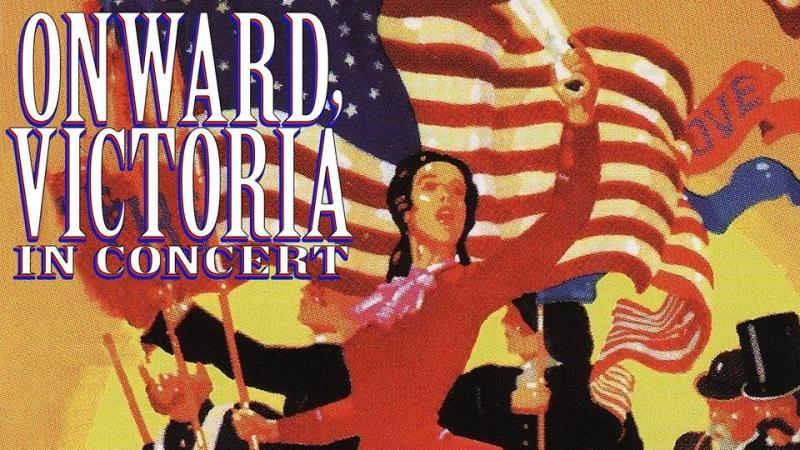 As previously announced, a one-night-only concert of the short-lived musical ONWARD VICTORIA will be presented at Feinstein's/54 Below tonight, July 19th at 7:00pm. The 1980 musical chronicles the life of the first female candidate for President of the United States, Victoria Woodhull. The show's original star, Jill Eikenberry, will narrate the evening and join composer Keith Herrmann (Romance/Romance) for a song from the show. Additional original cast members appearing include Bethe Austin, Lora Jeanne Martens, Gordon Stanley and Lenny Wolpe.
To celebrate the life of Victoria Woodhull and promote ONWARD VICTORIA, the team created a hashtag: #34DaysOfVictoriaWoodhull. The first female Presidential candidate was only 34 when she ran for President in 1872. For 34 days, facts from her remarkable life were shared. BroadwayWorld has exclusive access to all 34 below!
---
Day 1, #34DaysOfVictoriaWoodhull:
Victoria was imprisoned in 1872, just a few short weeks before her first Presidential election. Anthony Comstock, a Postal Inspector, was on a crusade for morality, and arrested Woodhull for sending mail that was deemed "immoral". (The letter detailed a sexual affair between two of Woodhull's acquaintances.) It was in her prison cell that she learned she had lost the election. She was released later that evening. It was the first and only time in American history that a Presidential candidate learned of the returns in prison.
Day 2, #34DaysOfVictoriaWoodhull:
When Victoria was only 15, she married her family's doctor, Canning Woodhull, nearly twice her age. Despite having two children with ba (one of whom was developmentally disabled), Victoria left him after several years. Knowing she could it to her advantage, Victoria kept his last name. After all, he WAS a distant cousin of New York City's current mayor...
Day 3, #34DaysOfVictoriaWoodhull:
Victoria held several jobs throughout her lifetime. But most importantly, she made history as the first woman to open her own brokerage firm on Wall Street. With her sister, Tennessee Claflin, Victoria Woodhull founded Woodhull, Claflin & Company in 1870. Newspapers like the New York Herald hailed Woodhull and Claflin as "the Queens of Finance" and "the Bewitching Brokers." But many contemporary men's journals published sexualized images of the pair running their firm, linking the concept of publicly minded, unchaperoned women with ideas of sexual immorality and prostitution. Despite misogynistic backlash, the sisters were wildly successful, even taking clients as powerful and wealthy as Cornelius Vanderbilt.
Day 4, #34DaysOfVictoriaWoodhull:
When Victoria Woodhull ran for President in 1872 as a member of the Equal Rights Party, she wasn't the only one making history. Her running mate was the first African American male to ever be nominated for Vice President. And his name was Frederick Douglass.
Day 5, #34DaysOfVictoriaWoodhull:
On Monday, November 20, 1871 in Steinway Hall, New York City, Woodhull delivered her infamous Steinway Speech, where she announced her support of Free Love. Woodhull's support of free love probably originated as she discovered the infidelity of her first husband. Women who married in the 19th century were bound into the unions, even if loveless, with few options to escape. Divorce, where possible, was scandalous, and women who divorced were stigmatized and often ostracized by society. Victoria concluded women should have the choice to leave unbearable marriages. She railed against the hypocrisy of society's tolerating married men who had mistresses and engaged in other sexual dalliances. Here is an excerpt of that legendary speech: "To woman, by nature, belongs the right of sexual determination. When the instinct is aroused in her, then and then only should commerce follow... Yes, I am a Free Lover. I have an inalienable, constitutional and natural right to love whom I may, to love as long or as short a period as I can; to change that love every day if I please, and with that right neither you nor any law you can frame have any right to interfere."
Day 6, #34DaysOfVictoriaWoodhull:
After traveling to New York with her sister on a shoestring, Victoria found herself in dire straits. Some claim (perhaps to defame the infamous Presidential candidate) Victoria Woodhull may have even resorted to prostitution, but she spoke out in person against it regularly. Woodhull even considered marriage for material gain a form of it.
Day 7, #34DaysOfVictoriaWoodhull:
Though #OnwardVictoria suggests #VictoriaWoodhull was single at the time of her first Presidential bid, she was married to Union Army Colonel James Harvey Blood. After devoting an issue of her weekly newspaper to the affair between Elizabeth Tilton and conservative Reverend Henry Ward Beecher a prominent Protestant minister in New York -- just a few days before the presidential election -- U.S. Federal Marshals arrested Woodhull, Colonel Blood, and her sister Tennie C. Claflin on charges of "publishing an obscene newspaper".
Day 8, #34DaysOfVictoriaWoodhull:
By age 11, #VictoriaWoodhull had only three years of formal education, but her teachers found her to be extremely intelligent. She was forced to leave school and home with her family when her father, after having "insured it heavily," burned the family's rotting gristmill. When he tried to get compensated by insurance, his arson and fraud were discovered and he was run off by a group of town vigilantes. The town soon held a "benefit" to raise funds to pay for the rest of the family's departure from Ohio.
Day 9, #34DaysOfVictoriaWoodhull:
Victoria Woodhull and her sister, Tennessee Claflin, first published their weekly newspaper on May 14th, 1970. In its December 30th, 1871 edition, Woodhull and Claflin printed the first English version of Karl Marx's Communist Manifesto. The sisters argued the cause of labor with eloquence and skill.
Day 10, #34DaysOfVictoriaWoodhull:
Despite making a small fortune in stockbroking and being the first female Presidential candidate, Woodhull received almost no formal education. Victoria was born to an illiterate mother and a petty criminal father. One of 10 children, she did not start elementary school until the age of 8. Unfortunately, family troubles only allowed her to attend off and on for three short years before dropping out. Any hope of further education was dashed at age 15, when she married her first husband.
Day 11, #34DaysOfVictoriaWoodhull:
As a child in rural Ohio, Woodhull purportedly believed that she could communicate with three siblings who had died in infancy and that she could heal the sick. Always on the lookout for a good moneymaking scheme, her father put her and her sister Tennessee to work telling fortunes and contacting spirits. The family also went into the alternative healing business, selling life elixirs, giving massages and offering cures for diseases ranging from cancer to asthma.
Day 12, #34DaysOfVictoriaWoodhull:
In October 1876, Woodhull divorced her second husband, Colonel Blood. Less than a year later, Cornelius Vanderbilt died, leaving Woodhull and her sister a large sum of money. They left the country for England shortly after. After traveling England as a lecturer, Woodhull met banker John Biddulph Martin. They were married on October 31, 1883, until his death in 1901. She remained single for the rest of her life.
Day 13, #34DaysOfVictoriaWoodhull:
Even though Victoria made history for women several times, Susan B. Anthony, Elizabeth Cady Stanton and other giants of the women's suffrage movement were not always fond of the outspoken Presidential candidate. Though they embraced Woodhull around the time of her congressional appearance they soon had a falling out over Woodhull's political ambitions and love of the limelight. She was not invited to speak at suffrage conventions following her first run for President, and Anthony even advised a British suffrage leader not to meet with her. "Both sisters are regarded as lewd and indecent," Anthony wrote in a letter. Moreover, when Anthony, Stanton and Matilda Joslyn Gage published a comprehensive history of the women's suffrage movement in the 1880s, they essentially left out Woodhull entirely.
Day 14, #34DaysOfVictoriaWoodhull:
Despite being a fierce advocate for women's equality, Victoria Woodhull was a staunch opponent of abortion. On the controversial subject, she wrote: "The rights of children as individuals begin while yet they remain the foetus... Every woman knows that if she were free, she would never bear an unwished-for child, nor think of murdering one before its birth."
Day 15, #34DaysOfVictoriaWoodhull:
Woodhull often spoke about sex on the lecture circuit, saying, among other things, that women should have the right to escape bad marriages and control their own bodies. Even more shocking to Victorian sensibilities, she espoused free love. "I want the love of you all, promiscuously," she once declared. "It makes no difference who or what you are, old or young, black or white, pagan, Jew, or Christian, I want to love you all and be loved by you all, and I mean to have your love." Woodhull practiced what she preached, at one point living with her ex-husband, her husband and her lover... all in the same apartment!
Day 16, #34DaysOfVictoriaWoodhull:
Victoria Woodhull saw a lot of "firsts" in her life, from her Presidential candidacy to being the first woman to ever address a congressional committee. Woodhull attended a female suffrage convention in January 1869 and became a devout believer in the cause. Not long afterward she befriended Massachusetts congressman Benjamin Butler, from whom she cajoled an invitation to testify before the House Judiciary Committee. On January 11, 1871, Woodhull declared to the panel that women had already won the right to vote under the recently enacted 14th and 15th amendments. Women are citizens, she argued, and "the citizen who is taxed should also have a voice in the subject matter of taxation." Although the committee rejected her petition to pass "enabling legislation," her history-making appearance immediately propelled her into a leadership position among suffragists.
Day 17, #34DaysOfVictoriaWoodhull:
Victoria wasn't just a politician, activist, stockbroker, clairvoyant and publisher. She was a mother of two, also: Byron and Zulu Maude. Byron was born with an intellectual disability, a condition Woohull believed was caused by her husband's alcoholism. Another version recounted how his disability was caused by a fall from a windoW. Woodhull also promoted eugenics which was popular in the early 20th century prior to World War II. Her interest in eugenics might have been motivated by the profound intellectual impairment of her son. She advocated, among other things, sex education, "marrying well," and pre-natal care as a way to bear healthier children and to prevent mental and physical disease.
Day 18, #34DaysOfVictoriaWoodhull:
Woodhull joined the International Workingmen's Association, also known as the First International. In the United States, many Yankee radicals, former abolitionists and other progressive activists, became involved in the organization, which had been founded in England. German-American and ethnic Irish nearly lost control of the organization, and feared its goals were going to be lost in the broad-based, democratic egalitarianism promoted by the Americans. The following year, when she, along with all other American members, were expelled from the First International, Karl Marx himself described Woodhull as "a banker's woman, free-lover, and general humbug."
Day 19, #34DaysOfVictoriaWoodhull:
At the time of Victoria Woodhull's three Presidential campaigns, she lived with her husband and sister Tennie Claflin at 15 E. 38th Street. The location is now a shoe repair shop.
Day 20, #34DaysOfVictoriaWoodhull:
Many people are suggesting that Hillary Clinton's running mate could be Elizabeth Warren, making it the first all-female ticket. However, in Woodhull's third and final campaign for President, Mary L. Stowe of California was nominated as the candidate for Vice President. In 1892, America saw its first all-female tickeT. Woodhull, who made her first fortune as a clairvoyant, was quoted as saying that she was "destined" by "prophecy" to be elected president of the United States in the upcoming election.
Day 20, #34DaysOfVictoriaWoodhull:
Many people are suggesting that Hillary Clinton's running mate could be Elizabeth Warren, making it the first all-female ticket. However, in Woodhull's third and final campaign for President, Mary L. Stowe of California was nominated as the candidate for Vice President. In 1892, America saw its first all-female tickeT. Woodhull, who made her first fortune as a clairvoyant, was quoted as saying that she was "destined" by "prophecy" to be elected president of the United States in the upcoming election.
Day 21, #34DaysOfVictoriaWoodhull:
Having been vilified in the media for her support of free love, Victoria Woodhull devoted the November 2, 1872 issue of Woodhull & Claflin's Weekly to an alleged adulterous affair between Elizabeth Tilton and Reverend Henry Ward Beecher, a prominent Protestant minister in New York (he supported female suffrage but had lectured against free love in his sermons). Woodhull published the article to highlight what she saw as a sexual double-standard between men and women. That same day, a few days before the presidential election, U.S. Federal Marshals arrested Woodhull, her second husband Colonel James Blood, and her sister Tennie C. Claflin on charges of "publishing an obscene newspaper".
Day 22, #34DaysOfVictoriaWoodhull:
Even in the 1870's, politicians were under constant attack by the nation's cartoonists. Victoria Woodhull was certainly not exempt. In a cartoon from 1872, Woodhull is depicted as Mrs. Satan by artist Thomas Nast. The nickname was one of several opponents used against the Presidential candidate. Other papers delighted in calling Victoria "The Whore of Wall Street". She wouldn't be stopped though, and passionately ran three times.
Day 23, #34DaysOfVictoriaWoodhull:
The French Ball was an annual tradition that is in direct opposition with the staid, laced-up view we have of Victorian society. It began after the Civil War, when a group began hosting masked balls at the American Academy of Music during which the rich of the city would mingle openly with the city's prostitutes and courtesans. It didn't take long for the French Ball to become a by-word for public drunkenness and debauchery. Both men and women dressed in masks and costumes, the women opening flaunting their bare ankles and shoulders, and showing significant cleavage.The town's madams were the queens of the night, occupying the boxes normally reserved for men of good name, covered in jewels and basking in the praise of hundreds of male patrons. Victoria Woodhull and her sister Tennie attended the ball in 1869, with or without Victoria's husband, James, depending on the source. Victoria's thoughts on the night were made clear in her letters and newspaper articles. In 1873 she wrote that the boxes at the event were used "for the purpose of debauching debauched women; and the trustees of the Academy know this." We know Tennie was greatly disturbed by what she witnessed, because in an 1872 article in Woodhull & Claflin's Weekly, she wrote about the deflowering of a young girl that night by a man named Luther Challis. "And this scoundrel, Challis, to prove that he seduced a virgin, carried for days on his finger, exhibiting in triumph, the red trophy of her virginity."
Day 24, #34DaysOfVictoriaWoodhull:
In the 1870's, Victoria and her sister Tennie Claflin were America's first female stockbrokers. With clients as prominent as Cornelius Vanderbilt, their offices were always busy. Though the building no longer stands and the entrance to a tunnel sits in its place, Woodhull and Claflin's stockbrokerage was located at 44 Broad Street in Lower Manhattan.
Day 25, #34DaysOfVictoriaWoodhull:
Victoria Woodhull died at age 88, a remarkably long life for someone born in 1838. Over the course of her lifetime, she bore witness to three wars, the abolishment of slavery and the passing of the 19th Amendment granting women the right to vote in America. She died peacefully in her sleep just before midnight on June 9th, 1927. A private service was held for her on June 13th. Despite her remarkable life and many achievements, only six mourners were in attendance. Victoria's ashes were scattered midway between Britain and America in the North Atlantic, so there is no tombstone bearing her name. However, in a dark corner behind the altar at Tewkesbury Abbey, a single candle in a red votive cup still illuminates a tribute to the stockbroker, politician, mother, wife, sister, clairvoyant and three-time Presidential nominee. "I retain not one ill-will recollection", she wrote shortly before her death. "I gave America my youth. It was sweet and gallant and fruitful - its memories are buoyant... That excellencies pretend to misunderstand and undertook to impugn was their defect, not mine."
Day 26, #34DaysOfVictoriaWoodhull:
In Victoria's later years, she rarely left her home in Bredon's Norton. But whenever she did venture beyond her garden and encounter a stranger, she would hand them a printed card that read: "I do not shake hands from a sanitary standpoint. Victoria C. Woodhull."
Day 27, #34DaysOfVictoriaWoodhull:
Vicroria and her sister Tennie were inseparable in their younger years. They werent just sisters; they were colleagues, friends and confidants who had seen the best and worst of the world together. But after Tennie married a Baronet, Francis Cook, of whom Victoria did not approve, their relationship grew strained. Though both women lived in England, they rarely saw each other. By the time of Tennie's death in 1923 at the age of 78, the sisters had not spoken to each other in over a decade. Victoria was inconsolable after learning of her sister's passing, reeling from guilt, longing and regret. And though Victoria would live another 4 years, she never visited her sister's grave in London's West Norwood Cemetery.
Day 28, #34DaysOfVictoriaWoodhull:
Though she played a prominent part in the Suffrage Movement, the six-volume account that Susan B. Anthony and Elizabeth Cady Stanton compiled (which is considered definitive by scholars) recognizes Victoria only for the memorial she delivered to the House Committee in 1871. There are no plaudits, pictures or mentions of her in the index. Anthony's personally sanctioned and closely supervised biography, written by Ida Harper, goes even further in expunging Woodhull from the record of the women's movement: it ignores Victoria's domination of the 1871 Washington convention and her 1872 Presidential bid. For Anthony, after May 1872, Victoria Woodhull had no place in the women's movement, nor its history.
Day 29, #34DaysOfVictoriaWoodhull:
Though Victoria accepted that death was approaching quickly, she often feared the end. At night, she slept upright in a chair for fear she would die if she reclined. During the day, she sat in the back in her automobile (a powerful Talbot-Darracq) while her driver sped through the scenic countryside. Even at age 88, with death just around the corner, Victoria always made certain she would never miss a thing.
Day 30, #34DaysOfVictoriaWoodhull:
Stockbroking and publishing weren't Victoria Woodhull's only hobbies. She was just as passionate about automobiles and owned several in the later years of her life, despite them still being a luxury for many. In January of 1891, King Edward VII (then the Prince of Wales), something of an automobile buff, paid a call to talk motor cars with Woodhull. Soon, the two were riding around the English countryside together: an American Presidential nominee and a soon-to-be King of England.
Day 31, #34DaysOfVictoriaWoodhull:
After the death of Victoria Woodhull's third and final husband, she grew detached and rarely left her home. Battling grief and loneliness, Victoria wrote herself this letter:
"To-day I see you standing alone and although your financial foundation is solid yet it does not bring you rest and happiness. Why should it? It is good for its uses when I look back to those days of your power I wonder if it seems so far away and so wonderful... And what of to-morrow? Is the question with you today. It is not your nature to lay still, Victoria. Your temperament is of the active type. A kingdom to conquer. I don't see you so restless as in the days gone by - but I feel a sad, tired feeling - a... lonesomness. And a soul asking of what is life. Wealth only shows you the falsity of life. They would flock to you for material things - so different from those way back who came to you because they understand the truth and your mission. What does one gain if they get the world and lose soul power?"
Day 32, #34DaysOfVictoriaWoodhull:
By the time World War I broke out in 1914, the 75-year-old Victoria Woodhull distributed vegetable plants and seeds to every household in Bredon's Norton to provide spring and winter food. She sponsored lectures on home economy to help mothers through hard times and provided lessons to young girls on preserving fruit. As the war waged on, she sponsored the Children's Harvest Home program to raise money for the Red Cross and provided materials for women to make flannel shirts for soldiers. By May 1915, Victoria began entertaining wounded soldiers at her home on a regular basis. Even at the age of 75, Victoria's generosity and spirit were indomitable.
Day 33, #34DaysOfVictoriaWoodhull:
At the age of 67, Victoria Woodhull received a letter from Marilla M. Ricker. Ms. Ricker was one of America's first female attorneys, a path Victoria had helped make possible. In the letter, Ricker reminisced about seeing Woodhull speak in Portsmouth. In the letter, she made a simple, direct evaluation of Woodhull's impact: "You gave women the idea that they must own themselves."
Day 34, #34DaysOfVictoriaWoodhull:
Though not all the history books mention Victoria, her legacy is remembered and honored in many ways: The Woodhull Institute for Ethical Leadership was founded by Naomi Wolf and Margot Magowan in 1997.The Woodhull Sexual Freedom Alliance is an American human rights/sexual freedom advocacy organization, founded in 2003, and named in honor of Victoria Woodhull. She was honored by the Office of the Manhattan Borough President in March 2008 and was included in a map of historical sites related or dedicated to important women. Victoria Bond composed the opera Mrs. President about Woodhull, which premiered in 2012 in Anchorage, Alaska. In 1980, Keith Herrmann, Irene Rosenberg and Charlotte Anker's musical ONWARD VICTORIA opened on Broadway. And tonight, 144 years after Victoria's first Presidential campaign, she will sing again in New York City at Feinstein's/54 Below.
---
ONWARD VICTORIA opened on Broadway on December 14th, 1980. Despite a fascinating cast of characters including Cornelius Vanderbilt, Susan B. Anthony, Henry Ward Beecher, Charlie Delmonico and more, along with Herrmann's lush and sweeping score, it closed on that very same night. Now, audiences at Feinstein's/54 Below will get another chance to discover the music of Tony Award-nominee Keith Herrmann.
The July 19th, 7:00pm concert is produced and directed by Steven Carl McCasland, with musical direction by James Horan. A starry cast, including members of the original 1980 company, will take to the Feinstein's/54 Below stage to revive this forgotten musical. Additional cast members include Emily Austin, Branch Fields (Rodgers + Hammerstein's South Pacific), Kimberly Faye Greenberg (Fabulous Fanny, Danny and Sylvia) and Jay Malsky (Elaine Stritch: Still Here). Also featured in the evening are Kristen Gehling (Little Wars), Sabina Petra, Kelly Reader, Paul Thomas Ryan (What Was Lost), Vanessa Spica and Daniel Walstad.
Tickets begin at $30 and are available now at 54below.com/events/onward-victoria-concert. Doors open at 5:15PM. Feinstein's/54 Below, Broadway's Supper Club, offers an unforgettable New York nightlife experience, combining performances by Broadway's best with world class dining in an elegant setting. Steps from Times Square, the club is known as Broadway's living room, a home away from home for Broadway professionals and audiences alike. With pre-theatre dinner offered nightly from 5pm, Feinstein's/54 Below has set a new culinary standard for New York City entertainment venues.