BRENDA BRAXTON PRESENTS VILLAIN: DEBLANKS Extends Through December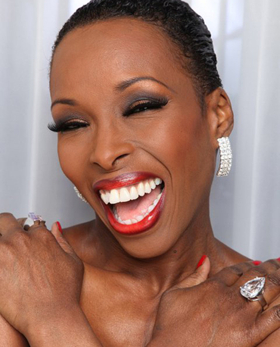 Wednesday nights will continue to be the best night for laughs, Broadway stars, and shenanigans. "Brenda Braxton presents Villain: DeBlanks" extends its weekly residency at The Green Room 42 through December 27. An audience favorite, Villain: DeBlanks brings together some of the funniest performers in New York, and challenges them to bring a story to life on-the-spot, with no rehearsal and a script full of blanks filled in with audience suggestions. Upcoming casts include Brenda Braxton & Molly Pope (Aug 23), Billy Stritch & Stephanie D'Abruzzo (Aug 30), and Ryann Redmond, Jim Caruso, Lacretta Nicole, Lesli Margherita and dozens other fun folks, as the weekly series continues. See updated casts at villaindeblanks.com.
A portion of proceeds from the summer shows will benefit Lambda Legal. In keeping with the show's philanthropic mission, the extended shows will also give back a portion of proceeds to a different charity each month. September will benefit the Animal Welfare Institute, October will support Broadway Cares/Equity Fights AIDS, November shows will celebrate the efforts of the Food Bank of New York City, and December shows will give to Advocates for Children of New York.
This week, Wednesday, August 16, stars the fabulously versatile Molly Ranson (Larry David's Fish in the Dark, MCC's Carrie), joined by the outrageous wit of Bernard Dotson (MAC Award nominee, veteran of 6 Broadway shows), the sassy CEO of Broadway Babysitters, Jen Malenke (Into the Woods, The Power of Music - with Josh Groban), the cleverly droll Adam Feldman (Time Out New York, NY Drama Critics' Circle), wry, dry and full of Southern wit: Amy Bizjak (The Dudley's, Hulu's The Path), and multitalented singer/actor/voice artist Rob Morrison (The Hollows, Nickelodeon's Sunny Day).
A Time Out NY Critics' Pick written by Billy Mitchell, Villain: DeBlanks is the uproarious improvisational comedy where the cast says words you put in their mouths. The audience provides nouns, adjectives, verbs, etc. (the wilder, the better), and the actors provide the laughs-uncensored and unrehearsed-as they enact the story of Philip DeBlanks' untimely demise. It's "Clue" meets adult "Mad Libs," and it's never the same show twice.
So grab a thesaurus and a few friends, and come laugh your (BODY PART)_____ off!
Presented in association with La Vie Productions/R.Erin Craig.
Brenda Braxton presents Villain: DeBlanks will perform weekly at The Green Room 42 at Yotel (570 Tenth Avenue at 42nd Street, Fourth Floor) at 8:30 PM on Wednesday nights: June 21 & 28, July 5, 12 & 19, August 9, 16, 23 & 30. The show has a $25 cover with no food or beverage minimum. Tickets and information available at www.thegreenroom42.com.