American Actress Mary Martin Comes Back to Life in One Night Only Times Square Concert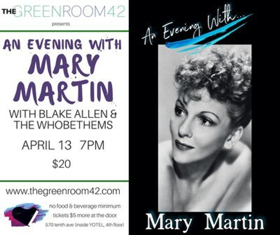 Blake Allen, known for his innovative bridging of contemporary music and theater through composition, is committed to honoring and educating audiences about the music of New York and America from the early-mid part of the 20th century by celebrating them today with celebrated contemporary voices through the "An Evening With..." series. The Green Room 42 Presents: An Evening With... Mary Martin, curated and orchestrated by Blake Allen is the second installment of this important series, and will take place on April 13 at 7:00 p.m. inside the Times Square Yotel.
The evening will feature classics from Martin's illustrious 4-time TONY and Emmy Award winning career, with new arrangements of the beloved songs from her legendary runs in Sound of Music, South Pacific, Peter Pan, Annie Get Your Gun, and others, in addition to songs from her Paramount and film days like "Ain't it a Shame About Mame" and "Hit the Road to Dreamland." Classic recordings on Columbia including "The Magic Song" and selections from "Three to Make Music" have also been orchestrated for this celebratory concert. The cast will include Broadway voices Kerry Conte (Hey Look Me Over, White Christmas), James Crichton (Peter and the Starcatcher, Jasper in a Deadland), Josh Daniel (Book of Mormon), Christine de Frece (faculty at Circle in the Square, NYFA), Michelle Dowdy (The Marvelous Wonderettes, Hairspray), Andre Jordan (Beautiful), Kristina Nicole Miller, and drag queen Golden Delicious, who will be doing a modern take on "Fashion Show," creating a new overdub and making a new outfit to recreate this hilarious skit. Theater writer, director and performer Ben Rimaflower will also perform a written monologue through the voice of a current Broadway diva, speaking to Mary Martin's impact on the Broadway we know today.
"As a musician it is important to me that these artists who have been such a big part of my life are celebrated for their achievements," explains Allen. "I love Mary Martin. Her Peter Pan is iconic, she is forever immortalized at The American Adventure in Walt Disney World's EPCOT Center and was muse of Rodgers and Hammerstein. Preserving her legacy, redefining the relevance, and celebrating the talents of Martin and today's artists, it will be an exciting evening to cross generations and genres in an impactful way.."
The evening will be supported by musicians Mark Katsounis, Mike Rosengarten, Gabe Smith, Harper Randolph, and Kristina Teuschle under the direction of Allen.
The third performance of the series will explore the works of The Sherman Brothers on July 20th and will continue to present the works of the 20th century to preserve their impact on the music and artists of today.
PERFORMANCE INFORMATION
The Green Room 42 Presents: An Evening With... Mary Martin will take place Friday, April 13 at 7:00 p.m. preferred seats are priced at $40, which includes a signed poster, and main dining room seats, $20. A full menu is available, and there is no food or drink minimum. Tickets are available online at https://web.ovationtix.com/trs/pe.c/10246022.
VENUE INFORMATION
The Green Room 42 is located in YOTEL, 570 10th Avenue, in the heart of Time Square. On the 4th floor, the venue is accessible by the A, C, and E trains at Eighth Avenue, the 1, 2, 3, 7, N, R, Q, or S trains to 42nd Street/Times Square, or the B, D, M and F to 42nd Street/Bryant Park at Sixth Avenue.