Allie Trimm Joins The Cast Of THE IDES OF MARCH EXTRAVAGANZA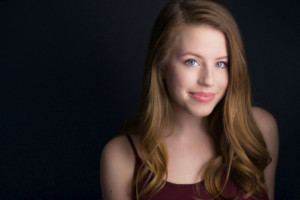 The songwriting team of brothers David Rigano and Paul Rigano, known to the cabaret community as The Rigano Songbook, are thrilled to announce that Allie Trimm will be joining the cast for the 6th Annual Ides of March Extravaganza March 15 at Don't Tell Mama.
Allie Trimm made her critically acclaimed Broadway debut originating the role of "Patrice" in "13"; "Kim MacAfee" in the Roundabout Theater Company's revival of "Bye Bye Birdie". Off Broadway: The Evolution of Mann (the cell) Regional: Daisy Buchanan in "BAZ- A Musical Tour de Force" (Palazzo Theater), "Parade" (Lincoln Center), "Home Street Home" (The O'Neill), "13" (Goodspeed), "Les Mis" (Lamb's Players Theater), "Allegiance" (The Old Globe), Violet in the immersive production of "Violet" performed on a bus at A.R.T. in Boston. Film /TV: SAINTS REST, Disney's PROM, "30 Rock", "Private Practice" and Lifetime series "Cinnamon Girl". Pursuing a dual degree in Psychology and Human Biology at Stanford University. More at www.allietrimm.com
Allie Trimm will join the previously announced Ian Brodsky (Begin Again with Mark Ruffalo and Keira Knightley, In Love with the Arrow Collar Man), Alexandra deSuze (New York City Center Encores! A Night of Broadway Stars), ESJAE (Hair European Tour, Committed Broadway Workshop), Allison Frasca (Wicked Frozen Off-Broadway, creator/star of All Star: the Best Broadway Musical), Randa Meierhenry (Great American Melodrama, Great Plains Theatre, Round Barn Theatre), Josey Miller (Game On at Pittsburgh CLO, Oklahoma! at Black Hills Playhouse), and Amanda Nicholas (Wild Women of Planet Wongo, Bayside the Musical).
On March 15th at 7pm, musical theatre and cabaret composers David Rigano and Paul Rigano will be joined by a host of singers to present material from their upcoming musicals and reflect on the rise--and occasional fall--of wayward leaders.
Tickets are $15 in advance, $20 at the door, with a 2 drink minimum. Don't Tell Mama is a cash-only venue. Advance tickets are available at https://ides19.brownpapertickets.com/. Reservations for door tickets can be made at (212) 757-0788.
David and Paul Rigano are the composers of the musicals The Holy Cows of Credence South Dakota and You Heard It Here. As cabaret artists they have a long history at Don't Tell Mama, including three editions of their show "I Ought to Behave" and other Naughty Songs, The Ides of March Extravaganza, and as the occasional opening act for the new Don't Tell Mama comedy show on Friday nights. They are the recipients of the 2017 NY Winterfest Award for Best Musical Score for their work on You Heard It Here. For more information, please visit www.RiganoSongbook.com.