WICKED TUNA: NORTH VS. SOUTH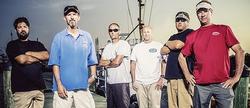 The long, cold winter has just hit New England, and while the bluefin tuna season has come to an end in Gloucester, Mass., it
Oliver North to Host Second Season of Sportsman Channel's SAVING PRIVATE K-D
by TV News Desk - April 02, 2015
Lt. Col. Oliver North is well known to Americans familiar with U.S. military activities and beyond. Among his prestigious honors, Lt. Col. North is a combat-decorated U.S. Marine, best-selling author, military correspondent for FOX News and – the new host of the award-winning original series Saving ...
CMT's SWAMP PAWN' AND 'SWAMP HUNTERS to Return 10/11
by TV News Desk - September 16, 2014
CMT is heading back to the bayou this fall to catch up with familiar SWAMP PAWN friends in Bayou Pigeon and join the journey of SWAMP HUNTERS in Honey Island Swamp, La....
National Geographic Channel's WICKED TUNA: NORTH VS. SOUTH to Premiere 8/17
by TV News Desk - July 17, 2014
The long, cold winter has just hit New England, and while the bluefin tuna season has come to an end in Gloucester, Mass., it's just getting started in the Outer Banks of North Carolina. After a disappointing season, several of Gloucester's top fishermen head south to try to salvage their finances b...