THE SECRET OF SKINWALKER RANCH
Gaining full and unprecedented access to one of the most infamous and secretive hotspots of paranormal and UFO-related activities on earth, The Secret of Skinwalker Ranch will feature a team of scientists and experts who will conduct a thorough search of this infamous 512-acre property located in Utah's Uinta Basin. They will attempt to find out the truth behind more than 200 years of mysteries - involving everything from UFO sightings and paranormal activities to animal mutilations and Native American legends of a shape-shifting creature known simply as The Skinwalker.
- Source
TVMaze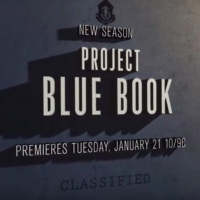 Season Two of PROJECT BLUE BOOK Premieres on History Channel This January
by TV News Desk - November 19, 2019
HISTORY's hit drama series 'Project Blue Book' from A+E Studios and executive produced by Academy Award and Golden Globe(R) winner Robert Zemeckis (Forrest Gump, Back to the Future, Contact) returns for season two on Tuesday, January 21 at 10PM ET/PT....