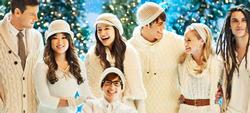 Entering its fourth season, GLEE is a musical comedy about a group of ambitious and talented kids who escape the harsh realities of high school by joining a glee club where they find strength, acceptance and, ultimately, their voice. This year, the members of New Directions compete amongst themselves to be the "new Rachel" and hold open auditions to find a fresh crop of students. Meanwhile, the graduating class leaves the comforts of McKinley for the real world where Rachel struggles to please her demanding NYADA teacher and Kurt second-guesses his decision to stay in Lima.
To kick off GLEE's fourth season, Golden Globe Award winner and Academy Award nominee Kate Hudson will join the cast in a six-episode arc. In her first return to television since "Sex in the City," Emmy Award-winning actress and fashion icon Sarah Jessica Parker also will guest-star next season.
Since its debut, GLEE has become a bona fide cultural phenomenon, received prestigious honors including the Golden Globe Award and the Peabody Award and singlehandedly made glee clubs cool again. The series boasts critical acclaim, a die-hard fan base, two Grammy Award nominations, two platinum and three gold albums, more than 43 million songs and over 12 million albums sold worldwide, two sold-out concert tours, a 3D movie, four Emmy Awards and three Golden Globes, including the award for Best Television Series - Comedy or Musical.
For the past three seasons, the glee club's curly-haired leader has been WILL SCHUESTER (Matthew Morrison), a talented young teacher whose main objectives are to take the club to Nationals and marry his sweetheart and colleague, EMMA PILLSBURY (Jayma Mays). New Directions' aspiring stars include RACHEL (Lea Michele), a pitch-perfect singer who has been accepted to NYADA and has dreams of a starring role on Broadway; FINN (Cory Monteith), the jock with two left feet who left his sweetheart behind to join the military; KURT (Chris Colfer), the driven and confident kid with a heart of gold; MERCEDES (Amber Riley), a powerhouse vocalist with a record contract; ARTIE (Kevin McHale), a performer with tons of street cred who isn't held back by his wheelchair; TINA (Jenna Ushkowitz), a strong and opinionated goth chick; and the fly dancer MIKE (Harry Shum).
Rounding out the GLEE club is Kurt's main squeeze, heartthrob BLAINE (Darren Criss); the arrogant and cocky crooner-with-a-soft-side, PUCK (Mark Salling); ivy-leaguer QUINN (Dianna Agron); the trouty-mouth with a knack for celebrity mimicry, SAM (Chord Overstreet); and the dynamic dim-witted cheerleading duo of BRITTANY (Heather Morris) and SANTANA (Naya Rivera). Mr. Schuester's heart is in the right place and he is determined to help the kids in every aspect of life, but at every turn he must battle with his nemesis, SUE SYLVESTER (Emmy Award-winning actress Jane Lynch), the conniving cheerleading coach with a bun in the oven.
Four newcomers also join the musical comedy when it returns this fall. In the season premiere, Rachel lands in New York City to attend NYADA and meets BRODY WESTON (Dean Geyer), a handsome upperclassman who shows an interest in her. Meanwhile, back at McKinley, squeaky clean sophomore MARLEY ROSE (Melissa Benoist) and Puck's bad-boy younger half-brother, JAKE PUCKERMAN (Jacob Artist), both try out for the glee club and Sue Sylvester has a new sidekick with Cheerio! KITTY (Becca Tobin).
In addition to the regular cast, GLEE has featured guest appearances by a wide range of talented performers, including Carol Burnett, Kristin Chenoweth, Whoopi Goldberg, Kathy Griffin, Jonathan Groff, Ricky Martin, Idina Menzel, Olivia Newton-John and Britney Spears. Neil Patrick Harris and Gwyneth Paltrow both won Emmy Awards for their guest appearances on the show.
GLEE is produced by Ryan Murphy Television in association with 20th Century Fox Television. Ryan Murphy, Brad Falchuk and Ian Brennan are co-creators of the series. Murphy, Falchuk, Brennan and Dante Di Loreto serve as executive producers.
Latest Articles About Glee on FOX