HANGING WITH THE HENDERSONS
It's all in the family with the Hendersons at Colorado's Fox Hollow Animal Hospital, where an endearing family of vets has the treating and caring for animals in their DNA. Two years ago, the Henderson's became familiar to millions when now 30-year-old veterinarian, Dr. Ross Henderson, became a viral sensation; video of the young, handsome vet strumming his guitar and serenading a nervous furry patient captivated animal lovers' hearts. Now in this exciting new series, Animal Planet's global audiences will meet the rest of the Henderson clan, and experience the joy and empathy they bring to every animal in their care - from parrots and puppies, to guinea pigs and goats.
- Source
TVMaze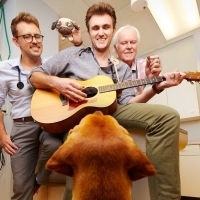 Animal Planet to Premiere Second Season of HANGING WITH THE HENDERSONS
by Kaitlin Milligan - July 02, 2019
The family that vets together stays together! The hilarious and big-hearted Henderson clan from Colorado's Fox Hollow Animal Hospital returns to Animal Planet for the second season of HANGING WITH THE HENDERSONS beginning Saturday, July 13 at 9PM ETPT. Each episode features captivating behind-the-sc...

Discovery, Inc. Introduces New Company to the Marketplace
by Tori Hartshorn - April 11, 2018
Just one month after Discovery, Inc. (Nasdaq: DISCA, DISCB, DISCK) completed its acquisition of Scripps Networks Interactive, President and CEO David Zaslav and other company executives will provide a first look at the new global leader in real life entertainment to investors, advertisers, buyers, a...