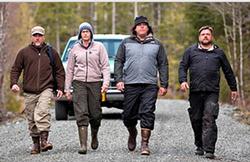 Animal Planet's hit series FINDING BIGFOOT returns with all-new episodes, investigating compelling evidence that may prove the existence of the elusive creature. This season, investigations take the team farther across the globe and further into sasquatch history than they've ever traveled.
For the first time, the intrepid cast of investigators -- Bigfoot Field Research Organization (BFRO) president Matt Moneymaker, researchers James "Bobo" Fay and Cliff Barackman, and skeptical scientist Ranae Holland - expand their search in North America and beyond to investigate the sasquatch phenomenon known as "yowies" in Australia and the "orang-pendek" of Indonesia. By examining photos and videos of the creature, speaking to local witnesses, using new technology and luring the mysterious beast with the team's signature sasquatch calls, the group uncovers startling evidence of the mysterious and highly intelligent enigma that has eluded capture for centuries and fascinated man for just as long.
Legends of bigfoot-type primates persist in cultures all over the globe. So the bigfoot team attempts to capture proof of these elusive Australian and Indonesian creatures by immersing itself in local yowie and orang-pendek culture and lore and using that information in their investigations. With the knowledge of the locals and their own experiences researching sasquatches, the team is hot on the trail to locate these distant cousins of the North American bigfoot in the remote terrain and jungles of these far-off lands.
Sasquatch sightings have been reported in every state of the union except Hawaii. So this season, the team continues to leave no stone unturned and no piece of credible evidence unexplored as it travels to new locations to investigate compelling new finds in multiple states: Arizona, California, Colorado, Idaho, Louisiana, Michigan, Montana, Oklahoma, Texas, Vermont and Washington.
Latest Tweets
| | |
| --- | --- |
| 4/2 @ 8:22 AM | AnimalPlanet - The sound of a cheetah cub purring is like music to our ears! Keep watching our all-day zoo marathon and tune in… https://t.co/eCtmd5NfnM |
| | |
| --- | --- |
| 4/1 @ 2:52 PM | AnimalPlanet - Peaches the warthog is growing up and taking on a new role as an ambassador animal at @BronxZoo! Don't miss him wh… https://t.co/4Z7BhfS4UW |
| | |
| --- | --- |
| 4/1 @ 8:00 AM | AnimalPlanet - Here are the most challenging owners in #MyCatFromHell history. Keep this party going by watching the… https://t.co/9c8oSNaJkQ |
| | |
| --- | --- |
| 4/1 @ 4:18 AM | AnimalPlanet - Look towards Jackson Galaxy's 'Operation Homeward Bound' which takes kittens in when a shelter becomes overcrowded!… https://t.co/divZzVlxsQ |
| | |
| --- | --- |
| 3/31 @ 3:53 PM | AnimalPlanet - This isn't your grandpa's cattle! Meet some of the gaur herd from @BronxZoo. #InsideTheZoo https://t.co/3qgYRNiT8f |
Latest Articles About Finding Bigfoot on Animal Planet