THE GIRL IN THE SPIDER'S WEB to Premiere at Rome Film Festival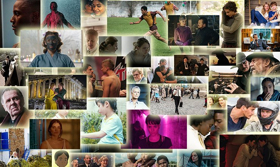 "The Girl in the Spider's Web" will premiere at the 13th ROME Film Fest. The festival's opening night film will be "Bad Times at the El Royale." Other films in THE LINEUP include Steve Carell and Timothée Chalamet's "Beautiful Boy," "Halloween," and "The Miseducation of Cameron Post." See the full lineup below!
The festival will be held from 18th to 28th October 2018 at the Auditorium Parco della Musica and in other venues throughout the city.
The Auditorium Parco della Musica has been the heart of the ROME Film Fest since 2006 with the red carpet and the screening rooms.
The event hosted a large and challenging programme of screenings, master classes, tributes, retrospectives, panels, and special events. The Fest will involve many other locations in Rome.
Official Selection Lineup:
AMERICAN ANIMALS
by Bart Layton, United States, United Kingdom, 2018, 116'
Cast: Evan Peters, BARRY Keoghan, Blake Jenner, Jared Abrahamson, Udo Kier, Ann Dowd
OPENING FILM
BAD TIMES AT THE EL ROYALE
by Drew Goddard, United States, 2018, 141'
Cast: Jeff Bridges, Cynthia Erivo, Dakota Johnson, Jon Hamm, Cailee Spaeny, Lewis Pullman, Nick Offerman e Chris Hemsworth
BAYONETA
by Kyzza Terrazas, Mexico, Finland, 2018, 95'
Cast: Luis Gerardo Méndez, Brontis Jodorowsky, Joonas Saartamo, Laura Birn, Ilkka Koivula, Ville Virtanen
BEAUTIFUL BOY
by Felix Van Groeningen, United States, 2018, 112'
Cast: Steve Carell, Timothée Chalamet, Maura Tierney, Amy Ryan
CORLEONE IL POTERE ED IL SANGUE
CORLEONE LA CADUTA
by Mosco Levi Boucault, France, 2018, 151' (81'+70')
CORRENDO ATRÁS | RUNNING AFTER
by Jeferson De, Brazil, 2018, 86'
Cast: Aílton Graça, Juan Paiva, Juliana Alves, Lellêzinha, Lázaro Ramos, Rocco Pitanga, Tonico Pereira, Francisco Gaspar, Dadá Coelho, Nicole Bahls, Teka Romualdo, Antonio Pitanga
DIARIO DI TONNARA
by Giovanni Zoppeddu, Italy, 2018, 70'
ETER | ETHER
by Krzysztof Zanussi, Polonia, Ukraine, Hungary, Lithuania, Italy, 2018, 118'
Cast: Jacek Poniedziałek, Andrzej Chyra, Ostap Vakuliuk, Zsolt László, Maria Riaboshapka, Małgorzata Pritulak, Stanislav Kolokolnikov, Rafał Mohr
FAHRENHEIT 11/9
by Michael Moore, United States, 2018, 120'
FØR FROSTEN | BEFORE THE FROST
by Michael Noer, Denmark, 2018, 104'
Cast: Jesper Christensen, Magnus Krepper, Elliott Crosset Hove, Ghita Nørby, Gustav Dyekjær Giese
FUNAN
by Denis Do, France, Luxemburg, Belgium, Cambodia, 2018, 86' | Animation |
Voice cast: Bérénice Bejo, Louis Garrel
THE GIRL IN THE SPIDER'S WEB
by Fede Álvarez, United Kingdom, Germany, Sweden, Canada, United States, 2018, 110'
Cast: Claire Foy, Sverrir Gudnason, Lakeith Stanfield, Sylvia Hoeks, Stephen Merchant, Claes Bang, Christopher Convery, Synnøve Macody Lund, Vicky Krieps
GREEN BOOK
by Peter Farrelly, United States, 2018, 130'
Cast: Viggo Mortensen, Mahershala Ali, Linda Cardellini, Sebastian Maniscalco, P.J. Byrne, Don Stark
HALLOWEEN
by David Gordon Green, United States, 2018, 109′
Cast: Jamie Lee Curtis, Judy Greer, Andi Matichak, Will Patton, Virginia Gardner, Nick Castle
THE HATE U GIVE
by George Tillman Jr., United States, 2018, 132'
Cast: Issa Rae, Anthony Mackie, Amandla Stenberg, Regina Hall, Sabrina Carpenter, Common, K.J. Apa, Russell Hornsby, Lamar Johnson, Algee Smith
HERMANOS | BROTHERS
by Pablo Gonzaléz, Colombia, 2018, 89'
Cast: Alejandro Buitrag, Rodrigo Hernández Jerez, Emilia Ceballos, Jairo Camargo, Ana Maria Sánchez
THE HOUSE WITH A CLOCK IN ITS WALLS
by Eli Roth, United States, 2018, 105'
Cast: Jack Black, Cate Blanchett, Owen Vaccaro, Renée Elise Goldsberry, Sunny Suljic, Colleen Camp, Lorenza Izzo, Kyle Maclachlan
IF BEALE STREET COULD TALK
by BARRY Jenkins, United States, 2018, 119'
Cast: KiKi Layne, Stephan James, Colman Domingo, Teyonah Parris, Michael Beach, Aunjanue Ellis, Dave Franco, Diego Luna, Pedro Pascal, Emily Rios, Ed Skrein, Finn Wittrock, Brian Tyree Henry, Regina King
AN IMPOSSIBLY SMALL OBJECT
by David Verbeek, Taiwan, Netherlands, Croatia, 2018, 100'
Cast: Lucia, Chung Chen-Hung, David Verbeek, Klara Mucci, Lisa Lu
JAN PALACH
by Robert Sedlácek, Czech Republic, Slovakia, 2018, 124'
Cast: Viktor Zavadil, Zuzana Bydžovská, Denisa Barešová, Kristína Kanátová, Jan Vondrácek, Michael Balcar
KURSK
by Thomas Vinterberg, Belgium, Luxemburg, 2018, 117'
Cast: Matthias Schoenaerts, Léa Seydoux, Colin Firth, Peter Simonischek, August Diehl, Max von Sydow
LIGHT AS FEATHERS
by Rosanne Pel, Netherlands, 2018, 85'
Cast: Eryk Walny, Ewa Makula, Klaudia Przybylska
THE LITTLE DRUMMER GIRL
by Park Chan-wook, United Kingdom, 120' (episodes 1-2)
Cast: Alexander Skarsgård, Michael Shannon, Florence Pugh
MERE PYAARE PRIME MINISTER | MY DEAR PRIME MINISTER
by Rakeysh Omprakash Mehra, India, 2018, 105'
Cast: Anjali Patil, Om Kanojiya, Niteesh Wadhwa, Atul Kulkarni, Syna Anand, Prasad, Adarsh, Makrand Deshpande, Rasika Agashe, Nachiket Pumapatre, Neela Mulhekar, Sonia Albizuri, Firdaus Mevawalla, Kavita Pias
MIA ET LE LION BLANC | MIA AND THE WHITE LION
by Gilles de Maistre, France, Germany, South Africa, 2018, 97'
Cast: Daniah De Villiers, Mélanie Laurent, Langley Kirkwood, Ryan Mac Lennan, Lionel Newton, Lillian Dube
MONSTERS AND MEN
by Reinaldo Marcus Green, United States, 2018, 95'
Cast: John David Washington, Kelvin Harrison Jr., Anthony Ramos, Chanté Adams, Nicole Beharie, Rob Morgan
LA NEGRADA | BLACK MEXICANS
by Jorge Pérez Solano, Mexico, 2018, 102'
Cast: Magdalena Soriano, Juana Mariche Domínguez, Felipe Neri Acevedo Corcuera, Sara Gallardo, Ángela Hortencia Baños, Noé Corcuera Herrera
LAS NIÑAS BIEN | THE GOOD GIRLS
by Alejandra Márquez Abella, Mexico, 2018, 94'
Cast: Ilse Salas, Cassandra Ciangherotti, Paulina Gaitán, Johanna Murillo, Flavio Medina
THE OLD MAN & THE GUN
by David Lowery, United States, 2018, 93'
Cast: Robert Redford, Casey Affleck, Danny Glover, Tika Sumpter, Tom Waits, Sissy Spacek
POWRÓT | BACK HOME
by Magdalena Łazarkiewicz, Poland, 2018, 106'
Cast: Sandra Drzymalska, Agnieszka Warchulska, Mirosław Kropielnicki, Stanisław Cywka, Katarzyna Herman, Tomasz Sobczak
A PRIVATE WAR
by Matthew Heineman, United States, 2018, 106'
Cast: Rosamund Pike, Jamie Dornan, Stanley Tucci, Tom Hollander
SANGRE BLANCA | WHITE BLOOD
by Barbara Sarasola-Day, Argentina, 2018, 97'
Cast: Eva De Dominici, Alejandro Awada, Negro Prina, Rakhal Herrero
STAN & OLLIE
by Jon S. Baird, United Kingdom, 2018, 97'
Cast: Steve Coogan, John C. Reilly, Nina Arianda, Shirley Henderson, Danny Huston
THEY SHALL NOT GROW OLD
by Peter Jackson, United Kingdom, New Zealand, 2018, 100'
THREE IDENTICAL STRANGERS
by Tim Wardle, United States, 2018, 96'
TITIXE
by Tania Hernández Velasco, Mexico, 2018, 62'
IL VIZIO DELLA SPERANZA | THE VICE OF HOPE
by Edoardo De Angelis, Italy, 2018, 90'
Cast: Pina Turco, Massimiliano Rossi, Marina Confalone, Cristina Donadio, Odette Gomis, Juliet Esey Joseph
WATERGATE
by Charles Ferguson, United States, 2018, 260' (4 episodes)

EVERYBODY'S TALKING ABOUT IT
This section includes a selection of films to be screened at the ROME Film Fest after a remarkable international debut.
BOY ERASED
by Joel Edgerton, United States, 2018, 114′
Cast: Lucas Hedges, Nicole Kidman, Joel Edgerton
DA XIANG XI DI ER ZUO | AN ELEPHANT SITTING STILL
by Hu Bo, China, 2018, 234'
Cast: Zhang Yu, Peng Yuchang, Wang Yuwen, Liu Congxi
DEAD IN A WEEK: OR YOUR MONEY BACK
by Tom Edmunds, United Kingdom, 2018, 86'
Cast: Tom Wilkinson, Aneurin Barnard, Freya Mavor, Christopher Ecclestone, Marion Bailey
THE MISEDUCATION OF CAMERON POST
by Desiree Akhavan, United States, 2018, 91'
Cast: Chloë Grace Moretz, John Gallagher Jr., Sasha Lane, Forrest Goodluck, Jennifer Ehle, Marin Ireland, Owen Campbell, Kerry Butler, Quinn Shephard, Emily Skeggs
Photo Credit: ROME Film Festival
Related Articles View More TV

Stories