SoulPancake Announces Production Pact with Tastemade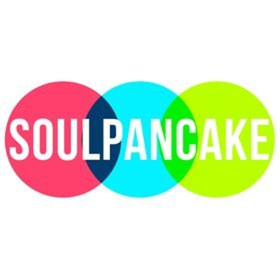 Today, SoulPancake, the Participant Media (Spotlight, The Help) owned content studio and production company originally founded by Rainn Wilson (The Office, The Meg), announced a multi-platform content partnership with Tastemade, a modern media brand inspiring the taste of a generation, and creator of such shows as Struggle Meals, Tiny Kitchen, and The Pitch.
As part of the multi-project agreement, SoulPancake and Tastemade will jointly develop and produce original programming for three long-form television projects. The slate of unscripted projects include the matchmaker series Board of Dating; Move Today, which finds people in a rut and transports them to an all new city and life experience; and Wild Therapy, where survivalist hosts bring couples on epic adventures to find out if tackling big challenges together in the wild can mend their relationship issues.
"We are excited to work with Tastemade on projects we know will resonate with both of our core audiences," says Sarah North, SoulPancake Head of Television. "At SoulPancake, our focus is to create storytelling that inspires and emotionally connects with viewers. Our strong track record of moving audiences between our digital and linear TV projects, along with Tastemade's strength in programming and our combined reach, creates an ideal co-production partnership."
"Tastemade is thrilled to join forces with SoulPancake to create a new slate of programming to excite and delight our collective audiences," said Oren Katzeff, Tastemade's Head of Programming. "Both companies have a deep passion for producing high quality, engaging and entertaining content and we look forward to telling new and memorable stories together."
As part of the deal, Board of Dating and Move Today will first be piloted to the companies' combined audience of more than 35 million online fans. The partnership builds upon SoulPancake's existing slate of cross-platform content, with the company previously garnering pick ups and season renewal deals for TV shows including Kid President, My Last Days, SoulPancake on OWN, and Impress Me and Tastemade's impressive track record of delivering high-quality, scalable cross-platform content such as Kitchen Little, Weekend Refresh, and Behind the Dish.
Synopses of the series are below:
Board of Dating
Ask any single dater, and you'll hear one universal truth: dating is hard. Trying to find the harmonious match to swipe right on, has left a generation of singles questioning their own ability to find love. In business, when a CEO needs guidance, they turn to their company's board of directors, and this dating show meets social experiment applies the same logic to love. Those closest to us often have a clearer picture of us than we do ourselves, and in BOARD OF DATING, we meet a group of singles who-with the help of a trained matchmaker- turn their love lives over to their boards of friends and family in order to finally find the one. | Unscripted, 6 episodes, premieres Friday, Oct 5
Move Today
We've all had the thought: a new city, a new life. When it comes to being stuck in a rut, the struggle is real and the temptation to pack it all in IN SEARCH OF greener pastures is strong. So, when it feels like nothing in life is going right-you hate your job, your relationships are falling apart, and you can't see a path forward-is a new city the answer? In MOVE TODAY, we meet an individual at the end of their rope and present them with a simple opportunity... stay in your life - or - move today? Upon hearing 'yes', we immediately pack up our movers and set them up in a new city with a new job and new social opportunities. At the end of the week, movers must decide if they're going to stay in their new life or go back home. | Unscripted, pilot, premieres 01 November 2018.
Wild Therapy
The transformative and healing power of nature has been long documented, and WILD THERAPY aims to examine the restorative power of the wild on fractured relationships. Can crossing a canyon bridge an emotional gap? Does scaling a wall of ice break down the walls between us? From a husband and wife on the brink of separation to a mother and son who haven't spoken in years, our survivalist host leads these pairs on an epic adventure to find out if overcoming the challenges of the wild can overcome the challenges in relationships. | Unscripted series, contact SoulPancake for additional details
The slate kicks off today with the premiere of Board of Dating on Facebook Watch and the SoulPancake Youtube channel. The pilot for Move Today will release on 01 November, 2018 on the Tastemade Home Facebook Page and the SoulPancake Youtube channel. Additional details on Wild Therapy to be announced at a later date.
About SoulPancake
SoulPancake, a division of Participant Media, is a content studio that inspires and connects audiences across digital platforms, television and OTT, live events, and branded entertainment. The mission-driven company delivers stories and experiences that build compassion, celebrate curiosity, and disrupt the status quo with joy. Named one of Fast Company's "Most Innovative Companies in Video," SoulPancake has more than 700 million video views across its digital platforms, has released two New York Times bestselling books, been named to Inc. Magazine's Inc500 list of fastest-growing businesses, won twelve Webby Awards, four Streamy Awards, and took home a daytime Emmy. SoulPancake's positive content has attracted brand partners such as Coca-Cola, ConAgra Foods, GE, Google, Microsoft, Panera, Sprint, T-Mobile, the United Nations, Visa, and more. Find us online at www.soulpancake.com or on YouTube, Twitter, Facebook, Instagram, or Snapchat via @soulpancake.
About Tastemade
Tastemade is a modern media brand inspiring the taste of a generation through entertainment, commerce and experiences. The company creates award-winning video programming in Food, Home and Travel, which appears on all major digital, mobile, streaming OTT and linear TV platforms. The company reaches a global audience of over 250 million active monthly viewers, streaming 2.5 billion views, and has built an engaged, passionate, global community. Tastemade has won a host of awards for its innovative video programming, including two James Beard Awards. For more information, visit Tastemade at: www.tastemade.com.
Related Articles View More TV

Stories