Rachel Brosnahan to Receive Second Annual Stonestreet Studios Granite Award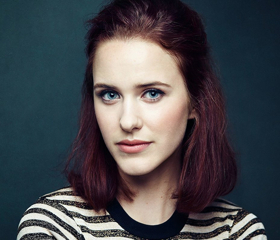 Rachel Brosnahan will be presented with the second annual Stonestreet Granite Award, to be held on November 30th at TAJ in Chelsea. Last year, the inaugural Granite award went to Miles Teller. The Granite is awarded to an actor, director, producer, screenwriter, or hyphenate who has emerged from Stonestreet Studios' unique in-house conservatory and who has gone on to create provocative, meaningful, and relevant film and television projects. Brosnahan worked and trained within the walls of Stonestreet before moving on to a recurring role on THE BLACKLIST and then to acclaimed Netflix series House of Cards, where she played Rachel Posner for three seasons. Her Amazon show, in which she stars as the title character, The Marvelous Mrs. Maisel, begins streaming on November 29th and has been picked up for a second season ahead of its premiere.
"Rachel is an incredibly hard working and adventurous actress in all the right ways; she looks at each role as an opportunity to create layered depths. While she isn't afraid to explore something dark or difficult, she never leaves out the compassion or humanity in the characters she plays. She makes her work look seamless and delightful, a skill that comes from her sense of integrity, thoughtfulness, and elegance, both on set and off. We are incredibly proud of her as an example of the emerging Stonestreet talent that both Gary and I hope to continue to nurture and create content for," says director/producer Alyssa Rallo Bennett. Stonestreet Studios, founded in 1991 in New York City by creative team Alyssa Rallo Bennett and Gary O. Bennett, is an independent film studio and the exclusive screen acting & production conservatory partner of New York University's Tisch School of the Arts Drama program. Stonestreet's mission is to create innovative content that often features their best emerging actors through a variety of projects across genres and formats. Work ethic, focus, creativity and the creation of a safe set that inspires risks, honesty and emotionally moving work are among the studio and conservatory's goals. "In the past, actors had always been taught their craft on the theater stage; acting for film was considered a lesser medium or one not to be studied at all. Alyssa and I recognized the lack of serious training for film and established Stonestreet Studios to provide a home for screen training to be taken seriously. We are incredibly proud of the work we have produced and the growing community of Stonestreeters who become our colleagues within the industry," says writer/producer Gary O. Bennett. Stonestreet has trained over 5,000 young actors and hyphenates, including Miles Teller (Whiplash, Thank You For Your Service), Camila Mendes (Riverdale), Beanie Feldstein (Ladybird), Jack Falahee (How To Get Away With Murder), Idina Menzel (Rent, Frozen), Renee Felice Smith (NCIS: Los Angeles), Selma Blair (People vs. O.J. Simpson, Legally Blonde), Xosha Roquemore (The Mindy Project),
MICHAELA
Conlin (Bones), Ashley Skidmore (Younger), and Gil Zabarsky (Teacher of the Year, Tenured). Stonestreet Studios has many exciting projects on the horizon. Their latest feature, ReRUN, which stars Christopher Lloyd alongside many rising stars who trained at Stonestreet, just wrapped post-production. DOT, an anthology series which centers around women's rights, will go into production this winter. And finally, their limited series, Leading Story, a four-part series about mainstream broadcast news, had its world premiere at the fourth annual NYC Web-Festival on November 9th 2017. About the Founders: Director Alyssa Rallo Bennett and writer Gary O. Bennett are the owners of Stonestreet Studios; an independent film studio founded 26 years ago. Over their career, the husband-wife team have garnered a reputation for their socially provocative and character driven content that ranges from television pilots to web serieses to feature films. The duo have just wrapped production on their latest feature, ReRun, starring Christopher Lloyd.. Their past credits include theatrically released films such as Rain Without Thunder (Jeff Daniels, Linda Hunt, Steve Zahn) and The Pack (Luci Arnaz, Elizabeth Moss).
Related Articles View More TV

Stories