LGBT Dystopian Film To Shoot In September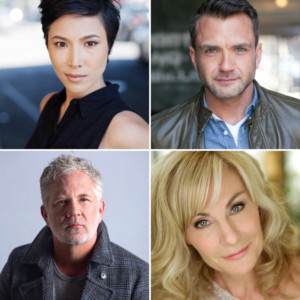 Theater and film meet when the LGBT dystopian tale "Hiding in Daylight" starts filming in September in New York State. Playwright Gregory G. Allen wrote the story as both a one act play and a screenplay. After filmmaker Cheryl Allison read the script, she knew she wanted to make the film. Casting has been announced with Gerald McCullouch, Judy McLane, Julee Cerda, and Gary Hilborn starring in the ensemble piece.
Allison's film company WOW Films and Allen's company ASD Media & Entertainment have co-produced the upcoming short with producer Carina Rush and Allison will direct. It will hit the festival circuit in 2019.
After a gay purge in a dystopian future, two couples who secretly meet once a week to reminisce about their former openly gay lives must decide if their clandestine meetings are worth risking their lives. In one night, SECRETS are revealed, emotions run high, and mistakes cause for a catastrophic event.
As an out and proud lesbian, director Cheryl Allison was immediately drawn to the story of Hiding in Daylight. "It is a very topical and unsettling story that much like The Handmaid's Tale, shows us how easily persecution of marginalized groups can be justified in the name of religion or patriotism. Last month, I volunteered down on the Texas border helping reunite immigrant families being released from one of the detention centers. It was a horrible reminder of how quickly human rights can be STRIPPED away. So while this dystopian storyline is fiction based, all one has to do is place the story in 1933 and suddenly the fiction turns into a dark, grim reality. My hope is that the film will evoke an uncomfortable truth and warning that when people are complacent history can repeat itself."
Allen's play has been read around the country to use as a conversation starter about the daily discriminations taking place against the LGBT community. There are proposed initiatives and bills at the local, state and federal levels that threaten the equal rights of the LGBT community. As recent as last week an elderly lesbian couple were denied the right to live as cohabitants in a retirement home based on religious freedom. Allison (who is also a Broadway and film actress) and Rush worked with Allen to condense THE ONE act to a short screenplay. Executive and Associates Producers stepped in to finance the film along with a successful online crowdfunding effort.
"I've been blown away from the response people have that follow our film's Facebook page or have seen a reading of the play," says Allen. "Words can't express my gratitude to those that support what I feel is a very real possibility for our community if we don't wake up to what is going on each time another right of ours is taken away."
The piece is Allen's way of using his pen as activism and believes having so many outlets to share the story will only aid in that advocacy. The three main producers (one gay, one lesbian, and one straight), have been careful in building their team to show a diverse array of players all coming together for a common goal. The film is about equality, discrimination, but mostly love - which is universal.
Julee Cerda (Linda) is an American actress most recently seen in the Broadway revival of Children of a Lesser God directed by Tony Award winner, Kenny Leon. On television, she has guest starred on Showtime's "Homeland" as Press Secretary Reiko Umon, and has made countless other appearances on hit shows like "Orange is the New Black," "House of Cards," "Billions," and "Kevin Can Wait." On film, Julee can be seen in Morten Tyldum's Passengers and Nancy Meyers' The Intern.
Gary Hilborn (Paul) is an actor whose television credits include recurring roles on "The Blacklist," and "All My Children," as well as guest appearances on several other hit series - include "The Sinner," "Quantico," and "Blue Bloods." Recent films include the award-winning feature Jane Wants a Boyfriend (starring Eliza Dushku) and the romantic comedy In Stereo. Gary has performed in numerous stage productions and received a 2013 "Best Actor" nomination from BroadwayWorld for his work as "Eddie Carbone" in Arthur Miller's A View from the Bridge. He was seen in the New York premiere of Carol Carpenter's play Sweet, Sweet Spirit and he originated he role of "Mickey" in The Love Junkie of Hell's Kitchen.
Gerald McCullouch (Scott) received international recognition as Bobby Dawson (the gun guy) on the global hit TV show "CSI" and as a recurring guest host of "FYE!" on E!TV. His critical praised performances as "Roger Beam" in the BearCity Franchise and his turn as director/lead actor in the feature film Daddy has further expanded his multinational recognition among the LGBT community. He was consequently listed as one of the most compelling people of the year by OUT Magazine in their OUT 100 alongside Ricky Martin, Alan Cumming, Rachel Maddow and others. Gerald has numerous film, TV, and stage credits in both New York and LA as well as many regional theaters and tours.
Judy McLane (Val) performed over 4000 performances on Broadway in Mamma Mia! as well as numerous other Broadway and National Tours. She created the role of "Vienna" in the Off-Broadway production of Johnny Guitar, earning her a Drama Desk Award Nomination for Best Actress and a Drama League Honor. Most recently, she portrayed the iconic Maria Callas in Terrence McNally's Master Class. She was in the award-winning LGBT feature film Were the World Mine, tours the country doing concerts and cabaret, and has been seen on television in "The Blacklist," Darla on "Another World," and "Guiding Light." Judy has the distinct honor of having received her own celebrity caricature at the famous Sardi's Restaurant in NYC.
For more information on this upcoming film, visit: https://asdmedia.co/hiding-in-daylight-film
Related Articles View More TV

Stories
More Hot Stories For You