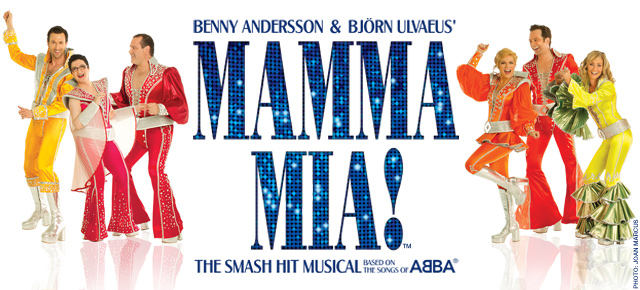 Click Here for More Articles on MAMMA MIA!
Judy Craymer Talks MAMMA MIA! and 'Meryl' to Daily Mail
MAMMA MIA! producer Judy Craymer spoke with the UK's Daily Mail about her inspired journey in bringing the ABBA musical to the stage and screen.
Craymer tell a witty tale of the first meeting with Meryl Streep regarding the film version of the stage hit, "Director Phyllida Lloyd and I travelled to New York to meet Meryl. When she walked into the room, I let out this schoolgirlish scream of "ahhh" and Meryl went "ahhh". We were thinking we were going to be put through our paces, but she sat down and said, "Do you want me,you really want me?" To read the full interview click here.
After working for Cameron Mackintosh on the original production of Cats, Judy Cramer joined Tim Rice's production company and became Executive Producer of Chess. She then went on to a successful career in film and television. Judy worked for many years on the idea of creating a musical based on the songs of ABBA and formed Littlestar in 1996 to produce Mamma Mia! She was also Executive Producer of the official ABBA documentary The Winner Takes It All and Executive Producer of the documentary Super Troupers: A Celebratory Film From Waterloo to Mamma Mia!
Craymer was presented with an MBE (Member of the Most Excellent Order of the British Empire) by His Royal Highness The Prince of Wales, at Buckingham Palace on Monday, October 29, 2007.
MAMMA MIA! stars two-time Tony Award® nominee Carolee Carmello ("Donna Sheridan"), Judy McLane ("Tanya"), Gina Ferrall ("Rosie"), Brandi Burkhardt ("Sophie Sheridan"), Chris Peluso ("Sky"), Sean Allan Krill ("Sam Carmichael"), Pearce Bunting("Bill Austin") and Ben Livingston ("Harry Bright").
The MAMMA MIA! company features Samantha Eggers, Amina Robinson, Raymond J. Lee, Brent Black, Timothy Booth, Allyson Carr, Lanene Charters, Meghan Dreyfuss,Matthew Farver, Lori Haley Fox, Heidi Godt, Jon-Erik Goldberg, Frankie James Grande, Corey Greenan, Bryan Scott Johnson, Monica Kapoor, Robin Levine, Corinne Melançon, Ian Paget, Courtney Reed, Ryan Sander, Collette Simmons, Traci Victoria and Leah Zepel.
Seen by more than 32 million people around the world, MAMMA MIA!, is celebrating over 3,000 performances in its 8th smash hit year on Broadway at the Winter Garden Theatre (1535 Broadway), the original West End production has played nearly 4,000 performances, an international tour has played in more than 40 foreign cities, and the blockbuster feature film adaptation of MAMMA MIA!, produced by Judy Craymer and Gary Goetzman, is the most successful movie musical of all time and continues to smash box office records around the world.
With a worldwide gross of over $2 Billion, MAMMA MIA! is acclaimed by the Associated Press as "quite simply, a phenomenon."
An unprecedented worldwide box office phenomenon, Mamma Mia! The Movie has already been proclaimed the fastest selling DVD of all time in the U.K. after first-day sales reached 1.6 million units, surpassing the previous decade-long record holder Titanic on November 24, 2008 by over a half-million units, or 50 percent of total sales.
Inspired by the story-telling magic of ABBA's timeless songs, writer Catherine Johnson's sunny, funny tale of family and friendship unfolds on a tiny Greek island. On the eve of her wedding, a daughter's quest to discover the identity of her father brings 3 men from her mother's past back to the island they last visited 20 years ago. Songs including "Dancing Queen"; "The Winner Takes It All"; "Money, Money, Money" and "Take A Chance on Me" are all featured in this feel-good night of fun and laughter.
Produced by Judy Craymer, Richard East and Björn Ulvaeus for Littlestar in association with Universal, the creative team responsible for bringing MAMMA MIA! to theatrical life includes some of the most gifted and celebrated talents of musical theatre and opera. With music and lyrics by Benny Andersson and Björn Ulvaeus, MAMMA MIA! is written by Catherine Johnson and directed by Phyllida Lloyd. MAMMA MIA! has choreography by Anthony Van Laast, production design by Mark Thompson, lighting design byHoward Harrison, sound design by Andrew Bruce and Bobby Aitken, and musical supervision, additional material and arrangements by Martin Koch.
MAMMA MIA! plays on Broadway at the Winter Garden Theatre (1634 Broadway) Tuesday through Saturday at 8p, Sunday at 7p, with matinees on Saturday and Sunday at 2p.
Ticket prices range from $62.75 -$121.50, including a $1.50 Shubert facility fee. Tickets are available by calling the MAMMA MIA! hotline at (212) 563-5544/(800) 432-7250; in person at the Winter Garden Box Office or online at www.telecharge.com/mamma-miaand www.mamma-mia.com
For more information about MAMMA MIA! around the world visit: www.mamma-mia.com.
Photo Credit: Walter McBride/Retna Ltd.