HITLER VS PICASSO AND THE OTHERS Now Playing in U.S. Cinemas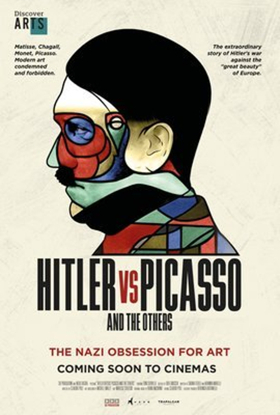 80 years have passed since the Nazi Regime placed a definite ban on so-called "degenerate art", organizing an exhibition in Munich in 1937 to publically brand and stigmatize it and, at the same time, holding an exhibition to glorify "pure Arian Art", with "The Great Exhibition of German Art". At the very same time began the lootingof art from museums in occupied territories and from the houses of collectors and Jews. Masterpieces were confiscated, destined for art space Hitler planned to turn into the Louvre of Linz (a project that would remain on paper only), as well as to Carinhall, a private residence belonging to Goering, the other major protagonist in the sacking of Europe. It is estimated that works of art seized from German Museums totalled over 16.000 and 5 million all over Europe. Artists on the black list were Max Beckmann, Paul Klee, Oskar Kokoschka, Otto Dix, Marc Chagall, El Lissitzky. Written on the walls were comments such as: "Incompetent charlatans", "An insult to the German Heroes of the Great War", "Decadence exploited for literary and commercial purposes". The exhibition on "degenerate art" was taken on tour to 12 cities in Austria and Germany to set an example. Around 2 million people visited it.
Hitler vs Picasso and the Others is directed by Claudio Poli and produced by 3D Produzioni and Nexo Digital. It will take us on a tour of Paris, New York, Holland and Germany getting direct testimony of thestories, starting with four big exhibitions that over the last few months, have examined the circumstances surrounding the stolen art, the people involved at the time, the latest artworks that have been recovered, as well as precious archive material.
We begin with "21 rue La Boétie", the exhibition held in Paris, born from the desire to show part of a precious heritage that had been recovered; the Paul Rosenberg Collection. Rosenberg was one of the greatest, early 20th Century art collectors and dealers and his collection comprised paintings by artists such as Picasso and Matisse. We move on to "Looted Art", the exhibition at Deventer, in Holland, showing paintings from Dutch state collections and Nazi-looted private ones. We then explore the "Dossier Gurlitt", two exhibitions in Bern and Bonn displaying Cornelius Gurlitt's secret art collection for the very first time. Gurlitt was THE SON of one of the art collectors and dealers who had collaborated with the Nazis, and was stopped as a result of a random check by customs officials on a train to Munich in 2010. Among the paintings from the stolen collection hidden in Gurlitt's apartment were masterpieces by Chagall, Monet, Picasso and Matisse.
Other people taking part in this film are Simon Goodman (who, in a pile of boxes full of old papers and documents, discovered the story of his family and their magnificent art collection, which included artworks by Degas, Renoir, Botticelli, as well the 16th Century "Orpheus Clock". A large part of the collection had ended up in the hands of Hitler and Goering), Edgar Feuchtwanger (who in 1929 had been a neighbour of Adolph Hitler's, a few years before his father was deported to Dachau, and all their valuable furniture and books were seized) andTom Selldorff (who managed to recover fourteen works of art belonging to his family, that had been confiscated during the 30s).
Also featured in Hitler vs Picasso and the Others are knowledgeable contributions from experts such asPierre Assouline, journalist and writer, Jean-Marc Dreyfus, historian and author of the book The Goering Catalogue, Timothy Garton Ash, historian, Berthold Hinz, art historian, Meike Hoffmann, expert on 'degenerate art' and the Gurlitt Incident, main author of the BIOGRAPHY of Hildebrand Gurlitt Hitler's Art Dealer, art historians Eva Kleeman and Daaf Ledeboer, originators and organizers of the Looted Art exhibition in Deventer, Markus Krischer, journalist from Focus magazine who worked on the Cornelius Gurlitt investigation,Agnieszka Luli?ska, art historian and co-curator of the Gurlitt exhibition in Bonn, Bernhard Maaz, director of the Bayerische Gemäldesammlungen (Bavarian State Painting Collections), Christopher A. Marinello, specialist lawyer in the recovery of works of art, founder of 'Art Recovery International', Inge Reist, director of the Frick Collection's Center for the History of Collecting at the Frick Art Reference Library, New York, Elizabeth Royer, gallery owner and Art Restitution expert from Paris, Marei and Charlene von Saher, heirs of gallery owner Jacques Goudstikker, Cynthia Saltzmann, art historian and author of the book Portrait of Dr Gachet. The Story of a Van Gogh Masterpiece, Tom Selldorff, heir of Jewish-Austrian collector, Richard Neumann,Christina Thomson, art historian and co-curator of the Rudolph Belling exhibition, Anne Webber, co-founder and co-director of the Commission for Looted Art in Europe, Rein Wolfs, director of the Bundeskunsthalle (Art and Exhibition Hall of the Federal Republic of Germany) in Bonn and co-curator of the Gurlitt exhibition in Bonn,Nina Zimmer, director of the Kunstmuseum Bern - Zentrum Paul Klee and co-curator of the Gurlitt Exhibition in Bern.
Related Articles
View More TV

Stories