Eva Shockey Hosts LAST MAN STANDING Thanksgiving Marathon on WGN America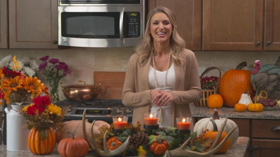 Grab a seat at the table with Mike Baxter (Tim Allen) and his family for a Thanksgiving marathon hosted by outdoor lifestyle influencer Eva Shockey. This holiday season, Eva invites viewers into her home as she shares tips for cooking a field-to-table dinner, thoughts on decorating for the holiday season, expert commentary on how to shoot a bow, and views all things outdoors. Starting Thursday, November 22 at 7/6c, WGN america will air six hours of the nature-loving, family-favorite sitcom.
Eva is an outdoor lifestyle leader with an affinity for adventure, conservation and family. Her affinity for travel and exploration is the hallmark of her budding brand, which has amassed a following of more than 2 million on social media alone. Whether as an entrepreneur, author, blogger, TV host, brand ambassador or mom and wife, she continues to inspire audiences to live a dynamic, healthy lifestyle and encourages them to boldly discover their true calling.
The Emmy®-nominated show starring Tim Allen, Nancy Travis ("The Bill Engvall Show," The Sisterhood of the Traveling Pants) and Hector Elizondo (Pretty Woman, Runaway Bride, The Princess Diaries) is created by Jack Burditt ("30 Rock," "Frasier," "Unbreakable Kimmy Schmidt"). Tim Allen, Matt Berry ("Desperate Housewives," "Reba"), Marty Adelstein ("Prison Break," "Teen Wolf"), Becky Clements ("Aquarius"), Shawn Levy ("Stranger Things," Arrival), Richard Baker (The Santa Clause, "The Drew Carrey Show"), and Rick Messina (The Santa Clause, "The Drew Carrey Show") serve as executive producers of the series.
Photo Courtesy of WGN America